Meet Zakaria Elkawa, 2023 Climate Ready Boston Intern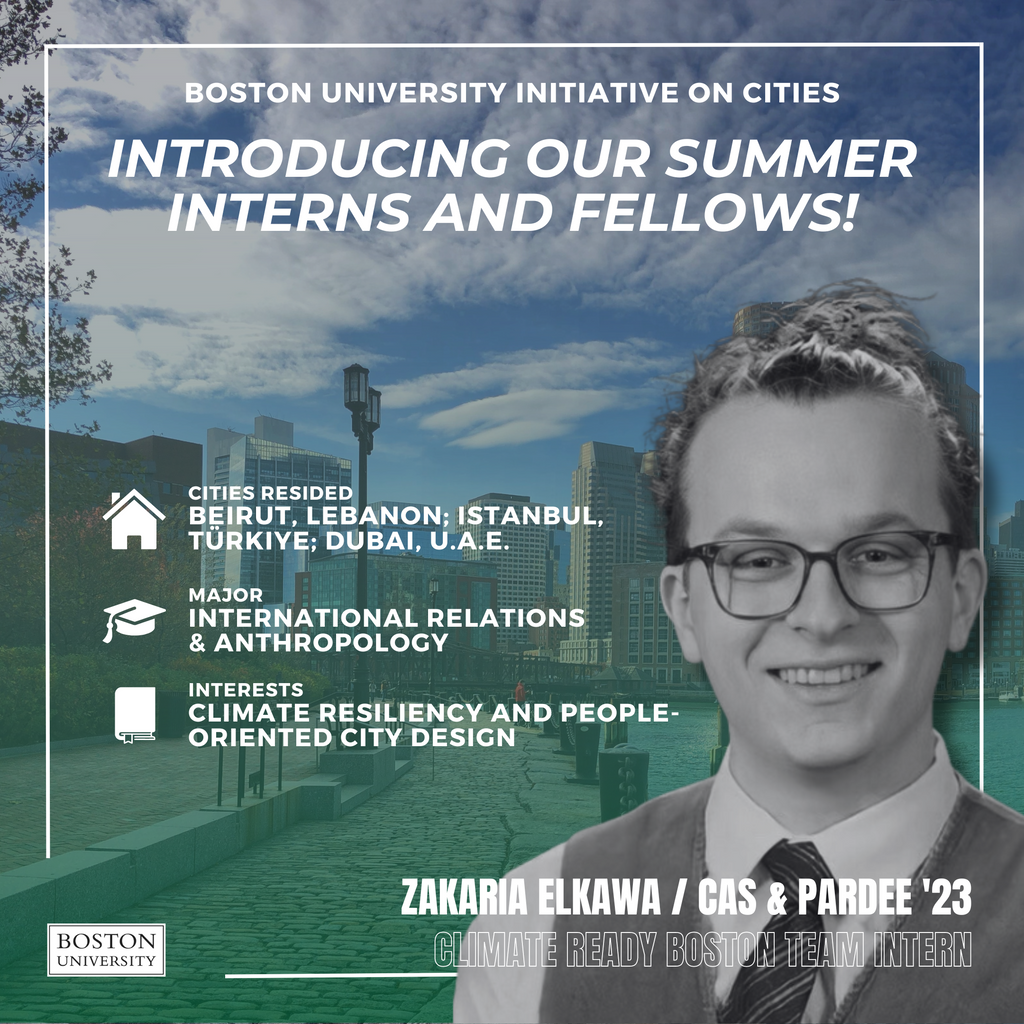 The Boston University Initiative on Cities is happy to announce that Zakaria Elkawa (CAS, Pardee '23) has been selected for the summer internship with the City of Boston's Environment Department Climate Ready Boston team on heat resilience projects and communications and community engagement work. The intern will have the opportunity to work in Boston City Hall and "on-the-ground" work in many of Boston's neighborhoods. Climate Ready Boston is the City's initiative to prepare for climate change's impacts. The Climate Ready Boston team works to implement the City's 2022 "heat plan," Heat Resilience Solutions for Boston, which identifies strategies to address existing and future impacts of extreme heat.
Zakaria is a young professional finishing his undergraduate education at Boston University with a Magna Cum Laude distinction. The breadth of his International Relations and Anthropology studies has inspired him to pursue a career in urban planning. His focus is to center climate resiliency and people-oriented city design within the work he has already done, such as with BU's Campus Climate Labs, and in his future work, beginning with the Boston Climate Ready Team. Zakaria has lived in several cities, including Beirut, Istanbul, Dubai, and Boston, and has gathered diverse perspectives on public space and belonging, city design, and historic socioeconomic trends, particularly in Southwest Asia and North Africa (SWANA). He has developed essential relationships with volunteering, advocacy, and community groups in all these cities. He has also published articles for various outlets, including the now-defunct Lebanese newspaper The Daily Star, the Boston University Pre-Law Review, and the Institute for Palestine Studies. 
We asked Zakaria several questions about his interests, passion, and why he selected the Climate Ready Boston team for his summer internship.
Why did you apply for the Climate Ready Boston team?
My interest in this internship stems from my motivation to enter the field of urban planning: to take the knowledge and experience I have gathered to make the cities I care about better places to live. The Climate Ready Boston team is doing vital transformational work to ensure the City of Boston can adapt to the extraordinary challenges it will face in a manner that emphasizes the need to incorporate the neighborhoods most vulnerable to climate change within the transformative process. This approach is vital if Boston is going to fulfill its tremendous potential, and as someone who has grown to feel at home in this city, it is an exciting opportunity for me to be part of the progress we all benefit from, while I improve my professional capabilities in the field.
How did you first become interested in climate/heat resiliency?
I first became interested in urban heat resiliency while furthering my architectural knowledge. Reading about historical and society-wide architectural practice is vital to being a better urban planner. Temperature management has been and continues to be a significant issue for building design, especially in the age of greater consciousness of the challenges climate change will present us. My view is that we have enough knowledge and resources to deal with this problem, and I appreciate how much the Climate Ready Boston team has used maps, amongst other markers, to clearly show that it is poorer and more marginalized communities that require the most attention when implementing better city-wide urban heat resiliency practices. I can contribute to innovative solutions being theorized by the Climate Ready team, and I hope to facilitate greater community collaboration that utilizes the intellectually rich Boston community while doing so.
What are you most looking forward to this summer?
I look forward to setting down a clear marker for myself as I transition from the schedule of a university student to the working world as a young professional. I mean this in terms of establishing a clear, effective work practice and using the relationships I gather inside and outside the office to my strength. I am excited to further relationships I have begun to make, such as with the many amazing people I met at the Boston University URBAN professional networking fair, working with organizations like Mass Audubon, The Trustees of Reservations, and Speak for the Trees. Everyone I met clarified that they have excellent working and personal relationships with the City of Boston's Environmental Office. That alone made me feel like I was part of a unit that I strive to establish my influence within. I hope the Climate Ready Boston team will begin to see me as an indispensable part of that unit.