Meet Destiny Perkins, 2023 City of Boston's Equity & Inclusion Cabinet Summer Intern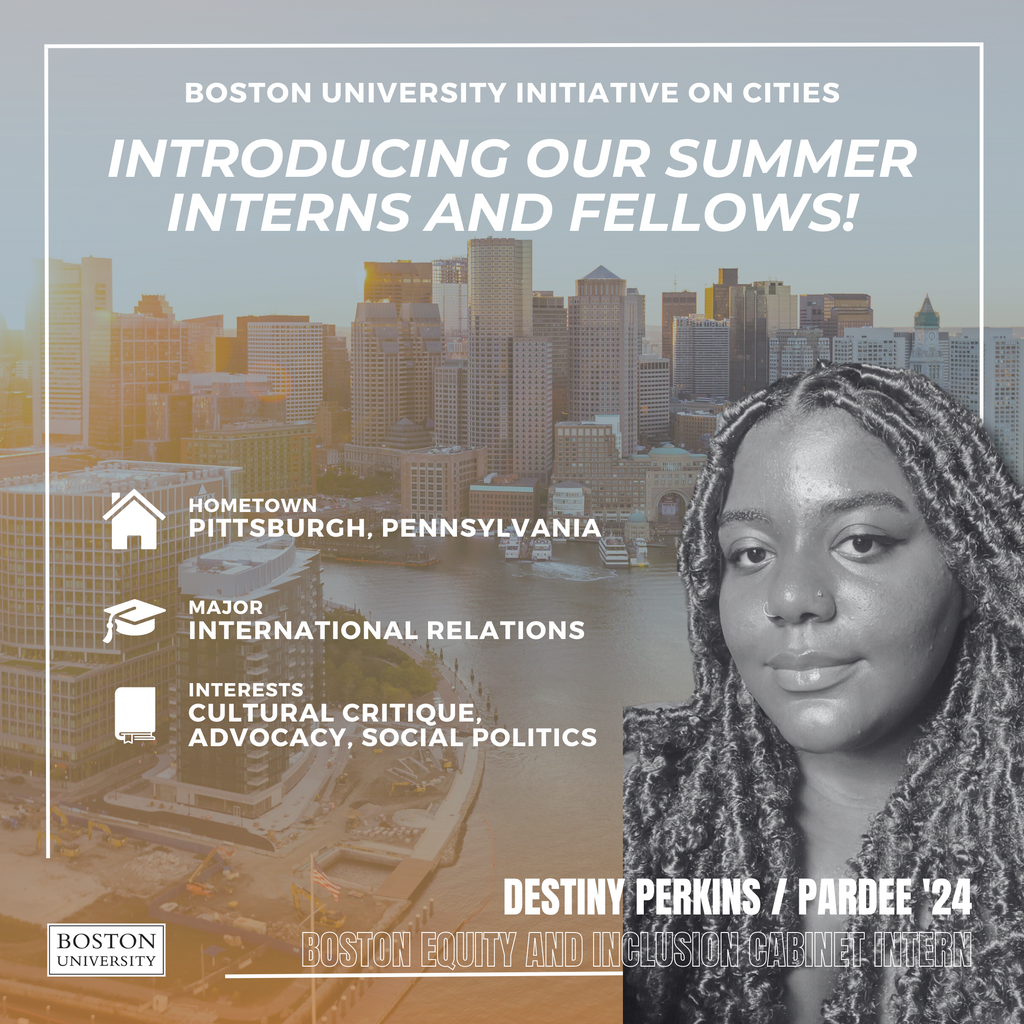 The Boston University Initiative on Cities and the Howard Thurman Center for Common Ground are happy to announce that Destiny Perkins (Pardee '25) has been selected as this year's summer intern with the City of Boston's Equity & Inclusion Cabinet. The Intern will work directly with the Senior Advisor on Racial Justice, Ms. Lori Nelson, and the team to support activities overseen by her office. As Senior Advisor, Ms. Nelson is responsible for leading the development and implementation of Boston's Resilience Strategy, specifically advancing racial equity, social justice, and social cohesion through community engagement, public policy initiatives, collaboration with non-governmental institutions, and research projects. This internship is the successor to a longstanding partnership with what was formerly known as the Mayor's Office of Resilience & Racial Equity (MORRE).
Destiny Perkins is a sophomore International Relations major at Boston University from Pittsburgh, PA. Destiny is excited to be interning with the Boston Equity and Inclusion Cabinet for the summer of 2023 and has previously worked extensively with nonprofits, local government, and grassroots organizations, including the City of Pittsburgh's Mayor's Office and the Neighborhood Learning Alliance. A published writer, Destiny is interested in cultural critique, advocacy, and social politics. Destiny enjoys making art and spending time with her younger siblings in her free time.
We asked Destiny several questions about her interests, passion, and why she selected the Cabinet & Inclusion Cabinet for her summer internship.
Why did you apply for the Cabinet & Inclusion Cabinet internship?
I applied for the internship primarily because, as a new transfer student to Boston University and a newcomer to Boston in general, I really wanted to make an effort to get to know the lives of the local communities and the efforts that communities of color here are making to advocate for one another. Boston has a preceding reputation for being one of the unfriendliest cities for black travelers, and coming from a school located in rural Pennsylvania, I was definitely aware and wary of the potential for discrimination and exclusion. But Boston also has some of the oldest linkages to African American history in the United States–from slavery to the present day, African Americans and other communities of color have continuously built rich lives, livelihoods, and relationships in this city, and they deserve to be included in Boston's lasting legacy. It was very important to me to not only venture outside of the borders of BU's campus but to acquaint myself with the Boston community because I don't want to be a visitor for the next two years; I actually want to become a member of this community.
How did you first become interested in racial equity?
I've been advocating for racial equity since high school, when a local high school student, Antwon Rose II, was shot and killed by police in East Pittsburgh in 2019. Almost everyone in my school was shaken and angry about his death. He was only a couple of years older than us at his death, and many of us were very familiar with the neighborhood where he was shot. Some students knew him personally. A lot of us saw ourselves in him. As the president of my school's Black Student Union at the time, I reached out to the leadership of other schools' Black Student Unions as well as other grassroots organizations, and, together, we organized a student walk-out in which over a thousand students would march to demand justice for Antwon. Since then, I have worked with numerous grassroots organizations, nonprofits, and city government to advocate for lasting change and intersectionality in political reform and community-based action.
What are you most looking forward to this summer?
I am really looking forward to getting to know the leadership, entrepreneurs, and professionals in Boston, as well as having the opportunity to explore Boston outside of a university schedule. I am very familiar with the history of Pittsburgh, but I am very excited to learn more about Boston and what it has to offer. I think there are a lot of hidden gems that I'm excited to uncover, and I think that this summer will also help me trace a shared legacy of American culture. I've never had a summer away from home before, and I think that after the pandemic, especially, it has been easy to look at the American culture and political systems in a pessimistic mass, but I think that there is definitely a lot of vibrance and joy to be found. I am also super excited to try a bunch of new restaurants and 'Bostonian' foods (lobster rolls, I'm coming for you)!