Meet Andrea Catania, 2023 Mayor's Office of New Urban Mechanics Fellow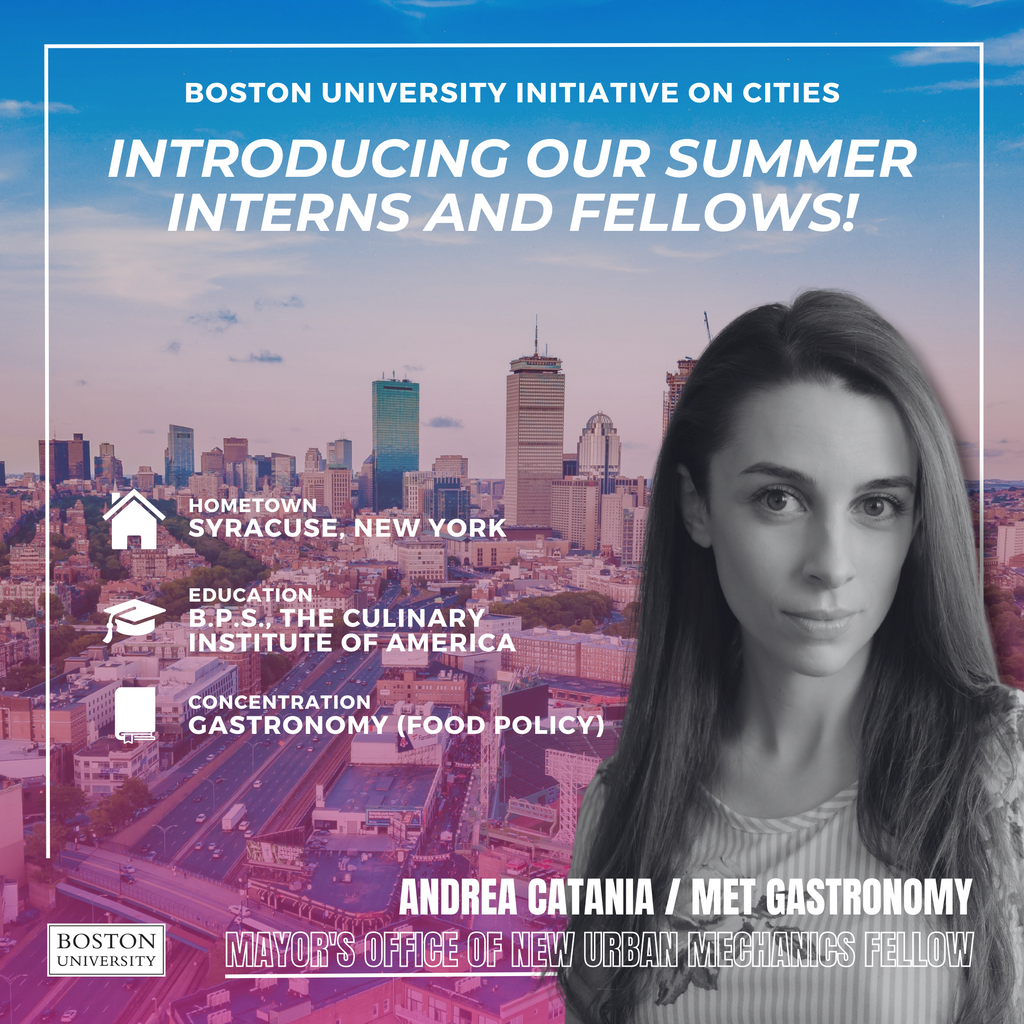 The Boston University Initiative on Cities (IOC) is happy to announce Andrea Catania (MET Gastronomy) has been selected as the 2023 City of Boston Mayor's Office of New Urban Mechanics (MONUM) Fellow. This fellow will have the opportunity to explore an interest in public service and civic innovation while positively impacting the surrounding community. The MONUM Fellow will work with a larger cohort of MONUM summer fellows to implement creative and thoughtful new prototypes and experiments to benefit the residents of Boston. The fellow will also take part in professional development opportunities to get a broad view of careers in City government. The Office of New Urban Mechanics is Boston's civic innovation team, responsible for promoting participatory urbanism, along with smarter city infrastructure and innovative service delivery. They are the catalyst and clearing house for civic innovation projects involving the City of Boston and its partners, from residents and community groups to universities, companies, and other government agencies.
Andrea is a graduate student in the Gastronomy program focusing on Food Policy at Boston University. She hails from Syracuse and is a proud graduate of The Culinary Institute of America in Hyde Park, NY. Since then, Andrea has spent her career working across several roles of food and beverage operations in the Los Angeles, Las Vegas, and Denver areas. She currently works as a Graduate Assistant for the Gastronomy program and as an Intern for Sustainability at BU Dining Services. In the fall of 2022, she was selected as a Student Fellow for the Menus of Change University Research Collaborative, a network that focuses on sustainability principles through menu development and behavioral change. In her free time, she serves on the executive board of the Gastronomy Student Association at BU and can usually be found reading, traveling, or trying out a new place to eat.
We asked Andrea several questions about her interests, passion, and why she selected the Cabinet & Inclusion Cabinet for her summer internship.
Why did you apply for the MONUM Fellowship?
I was really drawn to the fact that graduate students of all disciplines were able to apply. While my interests are based in the politics of food and food justice those concepts certainly don't exist in a vacuum. Acknowledging the intersectionality of issues and folding in people from a variety of backgrounds sounds like an excellent strategy for positive change.
How did you first become interested in civic innovation?
My background in kitchens taught me to use the proper tool for the proper job. So as we move toward a future that centers equity I believe we must approach systemic issues with systemic solutions. I love that the MONUM team has been empowered to develop approaches and take action on improving the lives of the people of Boston.
What are you most looking forward to this summer?
I'm thrilled for the opportunity to engage with a group of such passionate and knowledgeable people. I'm also looking forward to using the experience I gain from this position to support future civic innovation initiatives in Boston and beyond.