#BUandBoston: Maggie Kormann and Boston's Racial Justice Office
#BUandBoston: Maggie Kormann & Boston's Racial Justice Office
This post is part of our #BUandBoston series, highlighting the work and research of BU students, faculty, and staff throughout the City of Boston and the Greater Boston region. Interested in having your Boston-related work featured? Tag us on Instagram or Twitter (@BUonCities) using the #BUandBoston or send us an email at ioc@bu.edu.
Maggie Kormann is a senior at Boston University, double majoring in Political Science and Psychology, and has become highly involved in social justice work at Boston's City Hall since the summer of 2022. From working as a summer fellow with the Mayor's Office of Resilience and Racial Equity (MORRE) to conducting research for the Reparations Task Force for Black Americans in Boston, Maggie has fueled her passion for civil and racial justice in the numerous projects she has led and collaborated on at City Hall.
Now part of the Mayor's Equity & Inclusion Cabinet, the Racial Justice office formerly known as MORRE at City Hall runs a plethora of initiatives, events, and programs to ensure social and economic resilience for Boston residents. One of Maggie's main tasks as a summer fellow was attending and contributing to weekly workshops with an organization called Resilient Cities, which partnered with City Hall for the Embrace Festival. Resilient Cities has offices across the country working on racial equity and climate resilience policies, and during the weekly workshops, people from various offices presented and discussed their current work on policy in each city. Maggie reflects fondly on her experiences working with people from all over the United States:  "After participating in the workshops, we went around Boston to see the different policies being implemented here. It was so fascinating to meet people from other cities and see what they are doing in places like Charleston, Detroit, New York City, [and] Chicago, in comparison to Boston." 
Another main project which led to Maggie's current position at City Hall was her work on a student program called "Artivism," which partnered with local high school students and gave them the opportunity to learn from different artists and discover how to use art for social change. At the end of the program, the students put on their own performances, and Maggie assisted with the premier of a documentary for the first cohort. Among other projects and tasks, Maggie discusses the positive and inspiring work environment fostered during her summer fellowship. "I came in with a lot of passion, interest, and eagerness, so I meshed really well with the office, and it was truly a great environment the whole summer."
The fellowship with Racial Justice was only the beginning of Maggie's work at Boston's City Hall. After the summer fellowship, which is now known as our Equity and Inclusion Summer Internship, Maggie became the assistant administrator and project coordinator for the Task Force on Reparations. In this role, Maggie mainly multitasks on her research, attending meetings, and coordinating various programs and events. Established through a city ordinance in 2022 and appointed by Mayor Michelle Wu, the Task Force on Reparations currently works diligently on three main focus areas: 
Working with a research partner to release a study on the legacy of slavery in Boston and its impact on descendants today

Engaging the community throughout the process to include input from lived experience

Providing recommendations to the Mayor for reparative justice solutions for Black residents

When discussing the most valuable experiences during her time with City Hall, Maggie says of her work with the Task Force: "Working on the Task Force on Reparations right now is the most interesting thing I could have ever imagined to do coming out of an internship. It is such a cool opportunity to be a part of, so young, with all of these qualified people." Apart from the Task Force, Maggie also highlights the incredible opportunities she has had to meet many influential people that work directly on the policy floor of City Hall, such as the Chief of Policy, Mike Firestone. In addition to the people, Maggie has enjoyed coordinating important events held by City Hall, especially during Black History Month and Women's History Month. Specifically, Maggie helped organize and create social media advertisements for Boston's "Breakfast for Extraordinary Women" event. Maggie describes all these opportunities have culminated into a truly valuable experience for someone so interested in policy and social justice.
One of the biggest challenges Maggie faces working at City Hall is balancing her work with her life as a busy student. Apart from work, Maggie is in a sorority and dances for Edge Dance Company. "It is definitely a lot. It has been more manageable because I am a senior, and my class load is a little lighter than it was when I was overloading every semester, but I think I function best when I am super busy," Maggie says. To balance her life's many different activities and responsibilities, aside from organizing her schedule in Google Calendar, Maggie has learned to give herself grace and take breaks when necessary.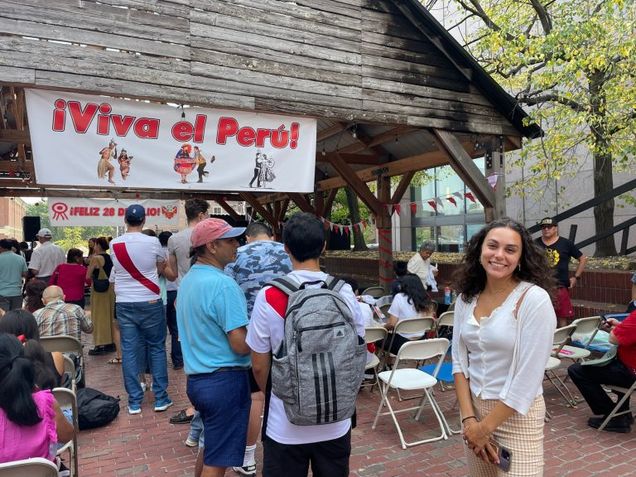 With graduation approaching, Maggie's work at City Hall has yet to near an end. Maggie is excited to be joining City Hall full-time in August, when she will be shifting her primary focus at City Hall to the NAACP convention run by the Racial Justice office. Envisioning a future career working in policy, Maggie looks forward to further exploring her interest and gaining experience in policy through this opportunity.
When asked about advice she may give to other students interested in policy, equity, or social justice for involving themselves in opportunities like hers, Maggie says, "Definitely take whatever opportunity you can get for the things that feel like they matter. I did a lot of campaign work when I was an underclassman, and that work is obviously important, but I didn't feel like I was making the change I was passionate about. It took a lot for me to step away from that culture when I had already made so many connections, but it ultimately led me to the opportunities I have had now." From Maggie's prior experience on campaign work to the Equity and Inclusion Summer Internship and all of her work at City Hall beyond, Maggie expresses gratitude for these opportunities and excitement for her future.
Are you a BU student interested in our summer internships? Check out more of our offerings here.