#BUandBoston: Assisting Refugees Through Initiative, Service, and Education (ARISE)
This post is part of our #BUandBoston series, highlighting the work and research of BU students, faculty, and staff throughout the City of Boston and the Greater Boston region. Interested in having your Boston-related work featured? Tag us on Instagram or Twitter (@BUonCities) using the #BUandBoston or send us an email at ioc@bu.edu.
For the past three months, a newly formed student organization called Assisting Refugees Through Initiative, Service, and Education (ARISE) has collaborated with volunteer programs and community service organizations to work with forcibly displaced, shelterless, and at-risk communities in the city of Boston.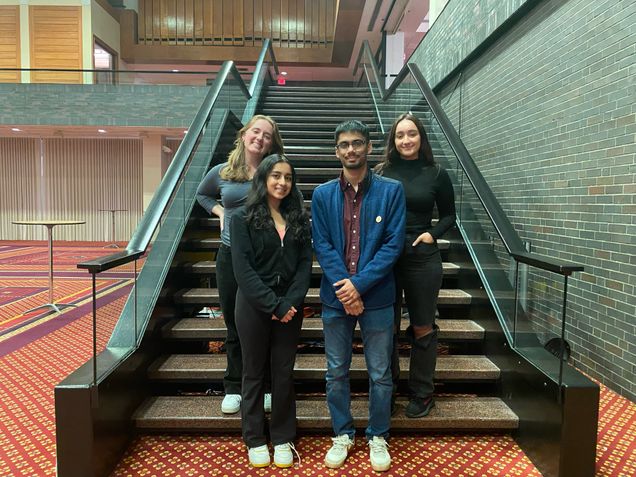 Co-Founders Faisal Ahmed, a junior in the College of Arts and Sciences studying Economics, and Samaa Rasheed, a junior in the Sargent College of Health and Rehabilitation Sciences studying Human Physiology, described ARISE as a club seeking to "tangibly impact our community with respect to forced displacement." ARISE's mission is distinct from other refugee advocacy organizations. In addition to improving the conditions of forcibly displaced peoples by engaging in short-term and long-term service projects, the student organization also emphasizes learning and seeks to increase education around the topics of forced migration and displacement. On a broader level, in Rasheed's words, ARISE exists to "prepare the next generation of students to work with forcibly displaced populations."
Before founding ARISE, both Ahmed and Rasheed worked as interns at the Center on Forced Displacement (CFD), a research center that fosters interdisciplinary research and engagement with the global challenge of forced displacement. Inspired by the educational aspects of CFD's work, the two students wanted to expand involvement through a more student-centered and service-based organization, and subsequently created ARISE.
However, their personal motivations and passions for humanitarian work long predate their internships with the CFD. For Ahmed, growing us as a Muslim Indian in Saudi Arabia and India caused his family to frequently move, citing political instability and discrimination. Ahmed also took part in CFD's Border Studies program, where he witnessed firsthand the inhumane treatment of migrants at the U.S. Mexico border. According to Ahmed, seeing migrants "criminalized" was the most "explicit, visceral, and angering moment" when he knew needed to do something when he got back to campus. Rasheed's motivations stem from her experience with the homelessness crisis in her home of San Francisco, which, in her opinion, is largely met with cynicism and helplessness. "I want to eventually impact the people I grew up with," said Rasheed, "founding ARISE and continuing to advocate for forcibly displaced peoples was the most tangible step I could take to create a difference in the community I have here in Boston." 
On an educational front, ARISE has hosted two major speaking events focused on careers in humanitarian work and climate refugees, respectively. On October 20th, ARISE collaborated with Amnesty International BU to host a guest lecture by Samer Saliba, the Head of Practice of the Mayor's Migration Council. Saliba, who is a Boston University alumnus, discussed ethical, sustainable, and tangible ways students can contribute to ongoing humanitarian efforts affecting displaced peoples,
a message that embodied much of ARISE's core mission. Less than a month later on November 17th, ARISE held a joint panel with notable Earth Science scholars, including Boston University Assistant Professor of Earth & Environment Andrew Bell, Oregon State University Associate Professor of Natural Hazards David Wrathall, and Boston University PhD student Naeem Salarzai. The event discussed a wide variety of contemporary issues affecting climate refugees, including sustainable irrigation techniques, achieving water equity, and the threat of rising sea levels.
The organization's work has also extended past the classroom. Throughout October and November, ARISE collaborated with multiple local community service organizations to address food insecurity, which, according to Ahmed, is a condition "disproportionately experienced by people affected by displacement." On every other Wednesday, volunteers spent their afternoons packaging and distributing food to families in need in the Fenway community with Fenway Cares, which is a collective of six Fenway-based organizations working together to support the Fenway community. ARISE Executive Board members Samaa Rasheed and Sarah Benhalima also volunteered with Allston-Brighton Food Pantry, a local food distribution center that hosts community suppers and creates food baskets.
Their work has even impacted macro-political events, most notably the Martha's Vineyard migrant resettlement. ARISE's faculty advisor, Professor of English and Women's, Gender, & Sexuality Studies and Director of Kilachand Honors College Carrie Preston, connected students with Jewish Family Services of Metrowest in Framingham to help resettle migrants in Brookline. "Many of the migrants are not allowed to work or have ambiguous work status at this time," said Ahmed, "and [JFS] were looking for young people to help them socialize." ARISE's volunteer work continues to expand, with planned collaboration with larger institutional organizations including the Refugee and Immigrant Assistance Center and the Mayor's Office for Immigrant Advancement.
In addition to direct service, ARISE has also fundraised throughout the month of November for Y2Y, a student-run overnight shelter located in Cambridge that employs a youth-to-youth model to provide a safe and affirming environment for young adults experiencing homelessness. "There's always going to be a shortage of financing in humanitarian-related organizations," said Ahmed, "and this is the place where money needs to be, not in big bank accounts." As of the end of November, ARISE has fundraised over $700 through ethically-sourced chocolate chip cookie bake sales.
On a broader scale, ARISE hopes to push BU to be more proactive with empowering student organizations to contribute to broader community service in the city of Boston. As pointed out by Ahmed and Rasheed, whether it is homelessness, refugees, or asylum-seekers, Boston is not immune to these humanitarian crises, and Boston University needs to do a better job of supporting ambitious students wanting to give back. "Boston University should be doing more to connect student organizations on campus to larger city organizations," said Rasheed, "student groups like ARISE are filled with motivated students seeking to make a difference, and with institutional support, there's so much potential to create larger, more tangible change in the city we live in."
ARISE has a number of exciting volunteer opportunities and educational initiatives open to all BU students planned in the coming months. If interested, sign up for their newsletter and follow their Instagram to stay up to date on the latest opportunities to get involved.