Maggie Kormann: My Summer at the Boston Mayor's Office of Resilience and Racial Equity
By Maggie Kormann (CAS '23). Maggie was the Initiative on Cities' 2022 Boston Mayor's Office of Resilience and Racial Equity (MORRE) Summer Fellow.
In our modern world riddled with climate disaster, pandemics, and war, local governments in progressive cities on the cutting edge of innovation and policy such as Boston need to ensure they are resilient in every sense of the term. Too often resilience programs fail to consider the needs of minority communities within cities, thus widening the racial gap in resources, wealth, and quality of life. The Mayor's Office of Resilience and Racial Equity (MORRE) is taking on engaging work that plays a pivotal role in directly serving minority communities in Boston and increasing equity throughout the city. This summer, through the Boston University Initiative on Cities, I had the privilege of working closely with the dedicated civil servants at MORRE to ensure that policies and programs to increase the resiliency of Boston not only reached but focused on our most underserved neighborhoods.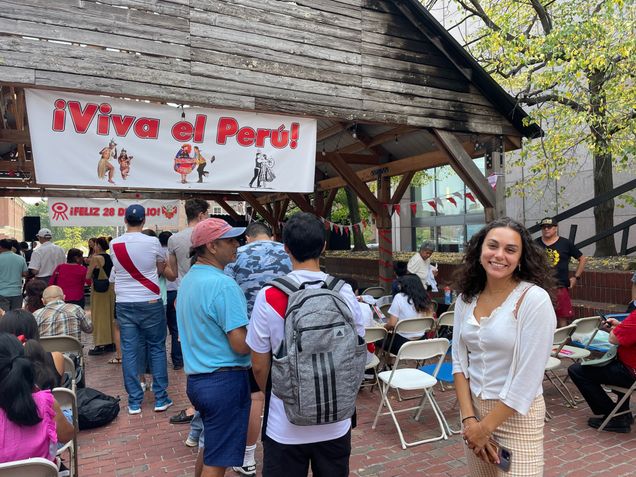 During my time at MORRE, I had the exceptional opportunity to work directly under Program Coordinator Susan McCollin and learn multitudes from the experienced Chief Lori Nelson. I hit the ground running in my first week, as I was given a major role in coordinating the R-Cities Community of Practice and Embrace Festival. I coordinated important details on the back end such as transportation for the duration of the week, restaurant bookings, and a presentation on the work of our office. Throughout the conference, I had the privilege to network with and learn from Chief Resilience Officers from cities across the country such as Charleston, Atlanta, and Chicago about the work they are doing to make their cities more equitably climate resilient. I also partook in site visits, policy presentations and demonstrations, and museum tours as part of the conference. Throughout the week I created a briefing document for Chief Nelson highlighting the key information about the other cities' policy programs and the new R-Cities framework for resilience. This experience was incredibly rewarding as I had countless opportunities to ask questions and have conversations with accomplished members of local government, policy think tanks, and advocates about their work and experience.
The next long-term project I was assigned to was Susan's passion project entitled Artivism. The Artivism program granted young artists across the City of Boston from ages 13-17 to engage in meaningful art-making that was rooted in storytelling and social justice and to learn directly from accomplished artists from diverse backgrounds. I was tasked with creating promotional material for and planning the execution of the Artivism documentary premiere. I had the opportunity to attend and work the Premiere, which occurred at the Strand Theatre and welcomed the artists, their families, and dozens of prominent community members. It was truly inspiring to see and facilitate young, primarily POC Bostonians get the opportunity to express themselves and their feelings about the world around them through art.
Another crucial project I took on this summer was mapping out a calendar for "Black People on the Rise", a tour of Black-led events leading up to the 2023 NAACP conference that will be hosted by the Mayor's Office of Resilience and Racial Equity in Boston this upcoming summer. I explored local community groups focused on art, advocacy, music and more to compile a comprehensive, living calendar of Black-led and Black-centered events for the 2022-2023 year.
Perhaps my favorite project this summer was policy centered. Chief Nelson and Susan recognized my passion for policy and made it a priority to give me experience and build my network with Mayor Wu's policy team. I was placed on a reparations project, as the City Council has signaled interest in moving forward with paying some type of reparations to descendants of Bostonians who were victims of the slave trade and subsequent discriminatory policies that led to the extreme racial wealth gap that exists today. Chief Nelson tasked me with researching the constitutionality of a reparations program, and I cross-referenced both the Massachusetts and federal constitutions to create a detailed brief for her to present to the Reparations Committee. The next step was to then research other cities across the country that have begun to implement reparations and create a detailed brief on those programs and their efficacy. This project was particularly exciting for me as I hope to affect policy change in the areas of civil rights and social justice in my future career, and I had the honor of giving direct input for Boston's formulation of a reparations policy program.
Overall, my work with the Mayor's Office of Resilience and Racial Equity was extremely rewarding, exciting, and growth-inducing. The team at City Hall and specifically Chief Nelson and Susan were tremendously welcoming and kind and created an atmosphere of comfort, humor, and fun. I learned so many practical as well as experiential skills from each person I had the honor of working with while increasing my network and understanding of the inner-workings of the City of Boston. I was able to furnish my research and planning skills while also enhancing my abilities in areas of community engagement, social justice and equity, and local policy. My experience with MORRE was overwhelmingly positive and I am extremely grateful to have been offered to return to work both part-time with them throughout this school year and full-time upon my graduation. This has undoubtedly been one of my most memorable experiences, and I cannot thank IOC and MORRE enough for this amazing summer!