Proposing Solutions to Homelessness in Downtown Framingham
Boston University students supported the City of Framingham in determining how to best assist individuals who are chronically homeless in the City's downtown area. During the fall 2021 semester, Lecturer Kaytlin Eldred taught an undergraduate course on Cultural Humility, Racial Justice, and Health in the Sargent College of Health and Rehabilitation Sciences. Through the MetroBridge Program, students in this class researched the barriers to helping populations experiencing homelessness  and suggested best practices for the City, with a focus on racial equity and marginalized identities.
The MetroBridge Program is the Initiative on Cities' experiential learning program, which helps connect BU students and faculty to local governments in a series of real-world projects. These projects provide students the unique opportunity to work on impactful projects with neighboring cities, while also offering partner organizations valuable insights for addressing urban challenges.
The course explored how "societal understandings and conversations around race have direct impacts on the health and well-being of individuals, and how we as public health professionals or medical professionals can take that understanding and knowledge and apply it in our career and in our relationships to hopefully work towards racial justice," Eldred explained. This course and MetroBridge project was featured in BU Today.
Throughout the semester, Eldred's students met with community leaders from City Hall several times before completing their final consulting reports and presentations, which provided detailed recommendations for Framingham based on peer city case studies. Students noted that mental health challenges and substance use disorders were the greatest indicators of homelessness rates, and that those issues were both made worse by racial inequality.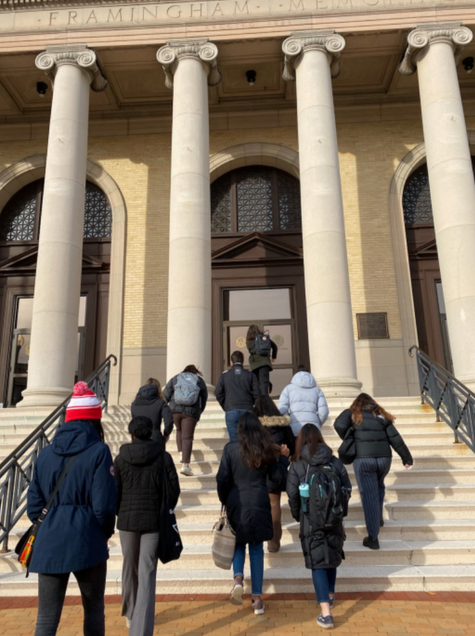 Students in Cultural Humility, Racial Justice, and Health visited City Hall in Framingham.
"We took more of a public health approach by understanding that this is a problem that's happening right now, but the only way to make significant long-term impacts will be to prevent it from happening for future people," said Eldred. "We took a preventative approach and identified ways that the City of Framingham could get involved early on."
Eldred explained that the intervention strategies were divided into three stages: early in a person's life, when they are showing significant signs of homelessness risk, and when they are actively experiencing homelessness. The students were divided into three groups and applied these frameworks to address the issues of mental health, substance abuse, and racial inequality in Framingham. The groups synthesized their research into a final report, available here. 
"The point of college is to train you, but this was very real, and I think that was a bit intimidating for my students. They didn't want to do anything wrong because the stakes were a bit higher," said Eldred. "I was very proud to see them grow into their confidence and feel comfortable giving someone recommendations. I think that's a really empowering position for a student to have, because so many times undergraduates are just the receivers of knowledge. This was flipping it upside down and allowing students to be creators and innovators in talking about social challenges."
Students met with community leaders in Framingham to discuss the challenges in addressing homelessness.
Learn more about other fall 2021 MetroBridge projects here, and find the spring 2022 course list here! To stay up-to-date, follow us on Twitter, Instagram, or Facebook, or subscribe to our newsletter.