Professor Lucy Hutyra to Serve as IOC Faculty Director (Interim) for the 2021–22 Academic Year
The Boston University Initiative on Cities (IOC) is pleased to announce that Lucy Hutyra, Professor of Earth & Environment, will serve as Faculty Director (interim) for the 2021-2022 academic year, leading the Initiative alongside Co-Director Katharine Lusk. Professor Hutyra is one of the country's leading urban climate scientists. Her research lab investigates carbon dynamics in forest systems and urban areas, studying forest ecology, urban carbon and nitrogen cycling, land use change impact on ecosystem productivity, fossil fuel emission patterns and determinants, and climatic controls on ecosystem carbon exchange. She has long been a close partner to the Initiative on Cities. Professor Hutyra co-leads the BU Urban Climate Initiative, serves as an IOC Faculty Fellow, is a former member of the IOC's Faculty Advisory Board, and has led numerous federally-funded research projects and programs engaging the IOC.
We asked Professor Hutyra a few questions about her work and new role as Faculty Director: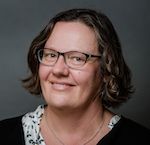 Tell us about yourself. What projects are you currently working on?
I'm a Professor, mom, forest ecologist, atmospheric scientist, and lover of cool technology that tracks CO2 moving between tail pipes, ecosystems, and the air. My work focuses on cities since it's where greenhouse gas emissions are concentrated. Cities are undertaking huge efforts to transform how we live, work, and power our cities to improve sustainability.
Can you tell us about some of the past work you've done with the IOC? 
I am a trained scientist, but much of my work takes place in cities and is very policy – relevant. Working with the IOC community has changed how I frame and communicate my research, connecting me with stakeholders in new ways to do basic scientific research that can be put into practice to improve the livability of our cities.
I have worked formally and informally with the IOC since its founding – it's greatly influenced my lab's research. From directly engaging with cities in greenhouse gas accounting to deploying new sensor arrays to measure water movement through plants, the IOC has been a partner, convener, and sounding board for so much of what my lab does.
What are you most looking forward to in your role as IOC Faculty Director?
I want to get out of the lab and my comfort zone. I'm excited to advance the IOC mission to "engage with urban leaders, policymakers, academics, and students from around the world to work toward sustainable, just, and inclusive urban transformation." I strive to make a difference through my work. The IOC has grown to be a powerhouse for impacts across the humanities, social sciences, and the natural sciences.
What's your favorite thing about Boston?
I love and miss the Mei Mei Double Awesome; if they're reading—please bring it back! I also love the water, the greenway, and living in a city with so many great universities.
Read more about Professor Hutyra.