Meet Kimberly Rhoten, JD, the summer 2021 MONUM Fellow
The Initiative on Cities (IOC) is proud to announce that Kimberly Rhoten (they/them) has been selected as the summer 2021 MONUM Fellow. Kimberly will spend the summer working with the City of Boston, within the Mayor's Office of New Urban Mechanics(MONUM). MONUM is Boston's civic innovation team, responsible for promoting participatory urbanism, along with smarter city infrastructure and innovative service delivery. They are the catalyst and clearing house for civic innovation projects involving the City of Boston and their partners, from residents and community groups to universities, companies and other government agencies.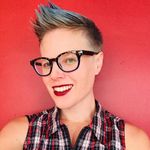 Kimberly is an attorney, academic, and advocate. They are a PhD student in Sociology at the Graduate School of Arts and Sciences, whose research focuses on the legal treatment of non-traditional families and non-monogamous sexualities as well as the structural inequities of mass incarceration. Before starting their PhD, Kimberly worked on a wide variety of social justice and public service projects including housing insecurity, digital privacy, and public health. Kimberly has a Juris Doctorate from The University of Chicago Law School and a dual BA in Anthropology and Integrative Biology from the University of California, Berkeley.
We asked Kimberly a few questions about their interest in MONUM, and what they're looking forward to:
What made you want to apply for the fellowship?
The Mayor's Office of New Urban Mechanics is on the cutting edge of civic creativity, designing and implementing municipal interventions to improve the lives of those who live here. Given the ever-changing challenges of covid-19, it has never been more paramount for municipalities to embrace flexibility and creativity. The MONUM fellowship provides an exceptional opportunity to work directly in public service, testing innovations to respond to community needs. MONUM has conducted a wide variety of projects to improve civic life here in Boston, and I am thrilled to be a part of it!
How did you first become interested in civic innovation?
I first became interested in civic innovation while working as a social worker and resource provider for persons experiencing homelessness in the City of Chicago. At the time, the city had designed and launched a coordinated entry program to streamline and expedite housing services. I was fascinated by the city's process in making the once unimaginable system, not only imaginable, but implementable.
What are you most looking forward to this summer?
I'm really looking forward to working with such an exceptional group of people at MONUM, while tackling some BIG challenges! The inequitable impact of covid-19 is far from over, and the City of Boston has a great deal of work ahead of it. I am excited to be a part of the city's response and dedication to our communities during this unparalleled time. On weekends, I am most looking forward to getting back into nature with my friends and fiance, one fishing trip at a time.