#TerrierMade: Zachary Halvorson (ENG'20), founder of Espresso Vision
After learning to make traditional Greek coffee from his grandfather, Zachary Halvorson (ENG'20) was hooked. From there, he got his own espresso maker and started mastering a variety of brewing methods. Now, he's combining his love for high-quality espresso with his engineering skills to provide home users, cafes, and restaurants with the tips and tools to keep the world buzzed on great tasting espresso.
INNOVATE@BU: How do you create innovation and what problem are you hoping to solve?
ZACHARY HALVORSON: Espresso Vision is a mobile app and web app platform that helps home users, small cafes, and small restaurants without extensive barista training programs produce great tasting espresso more easily and consistently.
Espresso making has a very steep learning curve and home users new to the craft often experience frustration, waste coffee, and ultimately fail to produce a high-quality espresso. For small cafes and restaurants with variance in staffing skill and technique, their customers experience a subpar, inconsistent product that decreases overall customer satisfaction. Cafe and restaurant staff also experience frustration with the process, and due to a much larger volume of espresso being sold compared to a home user, have a much greater financial incentive to provide better espresso.
Tell us, where did the inspiration for Espresso Vision come from and how did you get started? 
Visiting my grandparents with family always included lots of Greek coffee made by my Papu (Greek for grandfather) or uncles. As I got older, I was taught how to make Greek coffee and soon took over that responsibility during family vacations and trips. Eventually, I started making Greek coffee at home for my parents and siblings even when we were not visiting our grandparents. This was around my sophomore year of high school when I started making Greek coffee at home more consistently (often before going to the gym to lift for track). 
I purchased a subscription to Drift Mag, a coffee magazine that features a city and their coffee culture per volume, and through that, I learned many different brewing methods like Cafe Cubano, Andytown Snowy Plover, Cafe de Olla, and Lattes, Cortados.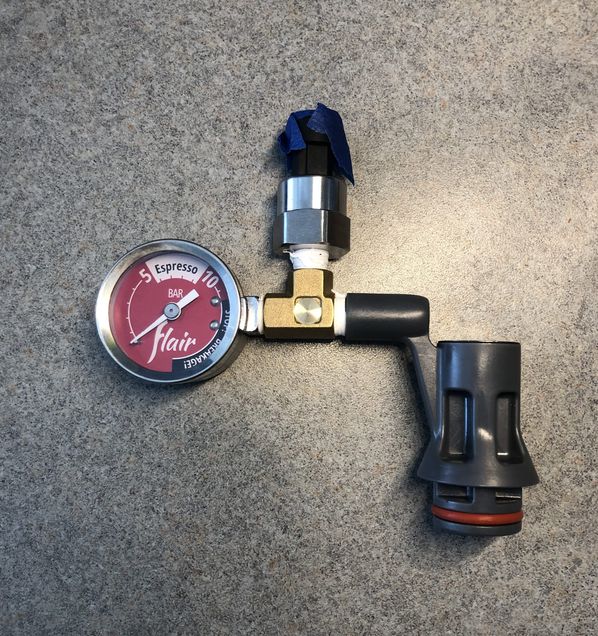 Eventually, I purchased my first espresso maker, a Flair, in the summer of 2019, and wanted to track all of the inputs and outputs (being an engineer with an analytical mind). One of the factors I wanted to track was the pressure during a shot, and the current methods were incredibly expensive, so I set out to come up with a cost-effective alternative. Instead of using digital pressure transducers, the idea was to use a camera and take a video of an analog pressure gauge, and convert the video to digital values with a computer vision algorithm.
And hence, the basis for Espresso Vision. Initially focused on providing a way for users to track pressure at a much lower cost, during our research through Spark! we learned of the pains current users have and the potential benefit that could be provided by providing guidance and intelligent recommendations to help teach someone how to make great espresso. This venture will help anyone make great quality espresso, whether it be a home user for their personal enjoyment, or a small restaurant looking to provide the best experience for their customers.

What has been the biggest challenge or obstacle you had to overcome while getting started?
The biggest challenge was expanding the original project idea (pressure profiling for home enthusiasts) to a larger market in order to solve a problem that affects many more individuals, as well as working to create a viable business model.
Working with the mentors in the BUild Lab and participating in the curriculum here has been an integral part of making those changes.
I learned the importance of soliciting strong feedback early and often, as well as setting your intentions about whether or not you are working on a "hobby" or a "business".
What advice would you give to someone starting their own innovation journey right now?
Talk to the people that you think you are building your product/project for. Ask for brutally honest feedback. In most cases, do not become attached to ideas for your project. Allow them to change over time.
What meaningful impact are you hoping to create from this venture? What are you and your team working on to get there?
Success looks like a new home user that just bought a new espresso machine, going home, setting up their device, and instead of struggling for weeks or months to learn the techniques and still be inconsistent, opening up Espresso Vision and being guided and assisted through the process and making an amazing shot of espresso, on the first day.
Success for a small cafe or restaurant looks like an impeccably consistent product, of high standard and quality, served to any customer, at any time of day, month after month without disappointment.
Currently, we're preparing to release our web app and are developing the mobile app, talking to cafes and restaurants, as well as some espresso machine manufacturers.
What resources have been most helpful to you along the way?
Spark!, Innovate@BU, and the generous and welcoming specialty coffee community that is so open to sharing their experiences
I'd also like to thank my two previous teammates, Skye Tse and Stathis Karatsiolis for their commitment to the project during fall 2019 for Spark!
When you're not working on Espresso Vision, where can we find you? 
Other coffee projects like this! 
I enjoy cooking for my family, and when I'm home in San Diego, I love to go hiking and surfing.
Learn more about Espresso Vision.
More Innovation, More Inspiration