#TerrierMade: Anindita Lal is Keeping Traditional Folk Art Alive
Anindita Lal (CAS'23) is a biology major with a passion for teaching and sharing Madhubani art, a traditional folk art that originates from women in northern India. Since learning about this style of art when she was in high school, Anindita has developed workshops and teaching tools to ensure that its cultural significance is not forgotten. At BU, she was part of the First-Year Innovation Fellowship, a program that has helped her continue to work on ideas and strategies for celebrating and teaching Madhubani art.
INNOVATE@BU: Tell us a little about your project focused on Madhubani art.
ANINDITA LAL: My goal is to have a series of virtual workshops and, ultimately, an exhibition in which I can teach students about Madhubani art. Madhubani is a traditional folk art form practiced by women in rural, northern India. Knowledge of the art has been dying out, so my hope is to spread it to others interested in art and be able to keep its tradition and significance alive.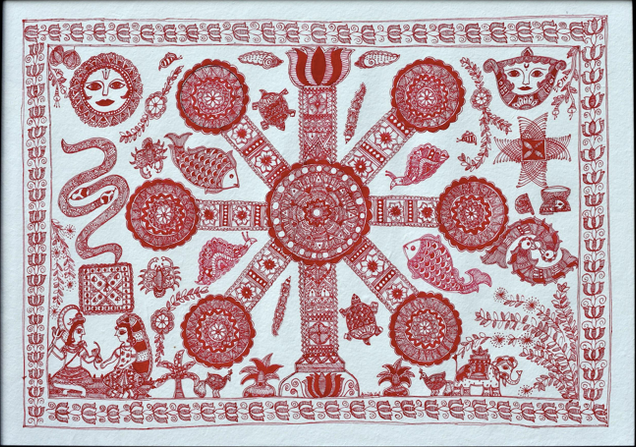 Where did the inspiration for this idea?
I have always loved art, but I only started learning Madhubani about six years ago, when I found out about it from a family friend. She is a master of the art form and introduced me to it, and I have been learning from her ever since.
In tenth grade, I was awarded a grant from the Mass Cultural Council in a program that is meant to encourage starting artists like myself to master and then spread dying art forms. My project with the First-Year Innovation Fellowship (FYIF) is my way of continuing that journey and bringing further awareness of Madhubani art to the community.
What has been the biggest challenge or obstacle you had to overcome while getting started?
Since my original plan was to conduct these workshops in person and then have a culminating exhibition at BU, the hit of the pandemic was a rather significant obstacle in the execution of my project.
However, with the help of my teacher, we figured out how to best conduct classes over Zoom using digital tools. I was able to see how she did it with her younger students and was inspired to do the same this fall with my own project.
How about your biggest win so far?
My favorite moment so far was being able to post some drawing sheets that I digitally created for the kids in my neighborhood. I've taught art classes with some of them in the past, so it was really gratifying to see that their interest in Madhubani had continued since then and to see the amazing artwork they all created.
What advice would you give to someone starting their own innovation journey right now?
For anyone else on their own innovation journey, I'd just like to say think outside of the box and don't hesitate to reach out for help! You never know who might be able to help you on your path and if nothing else it's always good to make connections with those around you.
What meaningful impact are you hoping to create from this venture? What are you and your team working on to get there?
Madhubani art is traditionally practiced by women in rural India, and was passed generation to generation within families. Eventually, it became an independent source of income for the women of the families while their husbands were out working in the fields.
This history of female empowerment rooted in cultural tradition is what makes Madhubani art so special, so keeping it alive and flourishing is culturally, socially, and globally significant.
What resources have been most helpful to you along the way?
So far, my most helpful resources have been the people around me and at Innovate@BU, such as my art teacher and mentor Sunanda Sahay, and the Innovate@BU staff and community members. Each was very forthcoming with advice and new ways to further my project and the support throughout was incredibly meaningful.
More Innovation, More Inspiration