Simran Singh
2022 First-Year Innovation Fellow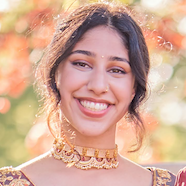 Title

2022 First-Year Innovation Fellow

Education

CAS'25
Born in Plymouth, Massachusetts, Simran is currently pursuing a degree in both computer science and neuroscience at the College of Arts & Sciences.
With knowledge from these disciplines, she plans to research mechanisms of central nervous system pathologies as well as wide-scale prevention and potential treatments. She also takes great interest in combatting cybercrime and hopes to work towards eliminating the dangers that the internet houses today. She's currently involved in the BU Debate Society, uWISE, and the Chess Club.
Simran has always felt for victims of injustice and intends to pursue her career as a lawyer for international human rights in the future.