Seed Grants Help Fine Arts Students Launch and Scale Ideas
During the fall 2018 semester, Innovate@BU partnered with the College of Fine Arts to provide seed grants to students working on creative ideas, ventures, and projects. The projects ranged from after-school music programs to circus performances to murals. Equipped with grants of up to $500, see how these seven students plan to create social impact and innovation through the arts.
Boston After School Music (BAM) –
Hannah Hooven (CFA'21), Emma Chrisman (CFA'20,'21), and Isaac Boll (CFA'21)
"As an artist, innovation means bridging the gap between the arts and the community at large, and finding new pathways for underrepresented populations to express themselves creatively," said Hooven.
She and the team behind BAM do just that with their with the after-school music program at the Higginson-Lewison School in Roxbury, Massachusetts.
Hooven said that the seed grant will allow BAM "to purchase instruments for our expansion to a semi-private lesson program next fall! This gives our students the chance to develop advanced and independent musicianship."
While their program currently operates in just one school, the team has their eyes site on expansion. In two years, they want to see BAM operating in with additional community centers, "giving students from all around the Boston area access to affordable and high-quality general music lessons, and instrumental lessons."
---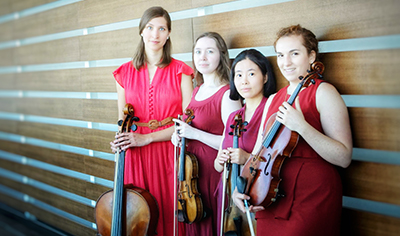 Dmitri in the Dark – Jess Cooper (CFA PD'19), Alyssa Lawson (CFA MM '18), Alenka Donovan (CFA MM '18), and Subaiou Zhang (CFA DMA '20),
Led by a group graduate students, Dmitri in the Dark will use their grant to create a  "unique performance that combines a live string quartet with circus arts…that will come to life on May 4, 2019," said Jess Cooper. Beyond the performance in May, the performance group has "other ideas involving live classical music with folkloric dance, live painting, and more that we hope to perform in years to come."
"As musicians and artists, innovation means to look for new ways to excite people about the art that we dedicate our lives to," said Cooper, "We find that classical music in particular has the power to stretch the boundaries of our imaginations and we want to create innovative performances to connect with both experienced listeners and new audience members alike."
---
BU Hillel Mural – TJ Bergeron (CFA'20)
"This grant has given me the ability to create the mural that Hillel and all those who visit deserves. With these additional funds, I can push the project further and form a lasting work of art that will bring people together through reflection and communication for years to come," said Bergeron.
Once completed, he hopes that the mural will be enjoyed by students, alumni, and community members "who find Hillel and/or BU to be a capital of spiritual, academic, and cultural experience. If I have done my job right, two-plus years from now, this mural will hold the same influence and impact on all of its viewers as it does to those who have helped me create and design it."
Bergeron said that "as an aspiring artist, I am in a field that relies on the idea of innovation; therefore, I have come to see an innovator as a person who can take an idea and completely reimagine it. The trick to innovation, however, is taking this reimagined idea and translating it in a way that is digestible to all."
---
Boston Art Song Society –
Ann Schaefer (CFA DMA)
Boston Art Song Society is a non-profit performing arts organization dedicated to creating opportunities for emerging artists, promoting the performance of art song, and giving back to the community. The seed grant will support its February fundraising concert to benefit local youth music groups.
Now in its fourth season, Schaefer said that the team is "committed to establishing a three-tiered operating model wherein Boston Art Song Society gives professional exposure to up-and-coming young artists, promotes the performance of art song in Boston, and provides a platform for audiences and performers to give back to the community."
"At Boston Art Song Society, innovation means creating meaningful opportunities for connection and engagement through the music we love.  Innovation is breaking down barriers between audiences and performers.  Innovation is enabling performers to give back through their art.  Innovation is the moment an audience member connects with the way text and music join together in a single phrase of a Schubert song…we work to capture and preserve these moments, as we know how crucial it is to protect this type of connection in our current world. Innovation is turning these moments of connection into actionable support for local community arts organizations," said Schaefer.
---
Squinch Magazine – Olivia Williams (CFA'20), 

Sofija Chroneos (CFA'21), Kabita Das (CFA'20), and Rachel Kubrick (CAS'20)
Squinch magazine is a student-run publication that promotes a cross-college art community at BU.
"This grant will enable Squinch to print a second printed edition of the magazine. Last year, our team was fortunate to raise the funds needed to publish a printed issue of our work. We saw our first print issue as a unique opportunity to showcase existing and new content, as well as promote the magazine," said Williams.
Looking forward, the Squinch team hopes to extend its mission beyond Boston University to build an even larger and more diverse community of undergraduate art lovers. "We firmly believe in Squinch's mission of providing an inclusive platform for undergraduates to engage with the art world and know that establishing a presence outside of BU with better serve this mission."
---
98 Lights: How Do We Find Light in this Moment? – Mallika Chandaria (CFA'20)
For Mallika Chandaria, "the most powerful works of art can be distilled down to a concoction of spontaneity and listening to what is happening around you. It demonstrates and attention to detail of the moment we are living in and embraces generosity as its foundation."
Chandaria will be leading a cross-disciplinary collaboration with 20 different artists that culminates with an experimental pop-up called "98 Lights: How Do We Find Light in this Moment?"
"The seed grant will be instrumental in providing the resources to elevate the 98 pop-up exhibition series. It provides freedom both curatorially and artistically to the collective by allowing us to purchase niche artistic materials that fit our visions and aesthetic for spontaneous artwork," said Chandaria.
Looking beyond the next pop-up installation, the projects long-term goal is  "to be able to connect artists with each other on an international scale in order to create exhibitions that converse with each other simultaneously. Eventually, I would love to collaborate with museums to create traveling exhibitions that shift depending on their environment; as living, growing entities."
---
This Is Not a True Story (by Preston Choi) – Michael Rosegrant (CFA'21) and Sarah Shin (CFA'19)
In collaboration with five students, Rosegrant and Shin will mount a play by Preston Choi that reckons with the problematic history and impact of Miss Saigon, Madame Butterfly and Kumiko the Treasure Hunter. The play will be performed by an Asian American cast.
They said that "this grant will allow us to actually pay the artists who will make this project happen, and reach an audience past BU into the Greater Boston community. We want to make sure our work is seen and heard by a wide audience while simultaneously ensuring that the work creates economic justice for the collaborators."

"This project is part of a series of work we want to make through our collective, Asian American Theatre Artists of Boston. We want to amplify our community's voices so the city sees how important it is to tell our stories, not only because we can share an underrepresented perspective, but in doing so we are able to create more opportunities for Asian American actors, playwrights, and artists," said Rosgegrant, "On top of that, we want to show that there are a wealth of plays and works by artists of color that theatre companies can find and choose to produce."