Announcing the Winners of the 2022 New Venture Competition!
For the first time in three years, the 12 New Venture Competition finalist teams were able to give their pitches to more than 200 enthusiastic in-person attendees at Innovate@BU's annual Innovators Night, where more than $64,000 in cash prizes were awarded.
The teams spent the afternoon giving 10-minute pitches to judges comprised of innovation and entrepreneurship experts before heading to the top floor of Boston University's Photonics Center to give spirited 2-minute versions to the public.
In addition to the New Venture Competition prizes listed below, the Innovate@BU's Interim Director Ian Mashiter presented the Henry Morgan Award to Former Executive Director Gerry Fine for his years of leadership within the department, and Program Director Tom Samph presented the Innovate@BU Student Innovator of the Year to fellow emcee Glo Robinson (COM'22) who has participated in a wide variety of Innovate@BU programs including NVC during her time at BU.
Introducing the Winners of the 2022 New Venture Competition
General Track
For for-profit ventures focused on creating value for a large market with a scalable model.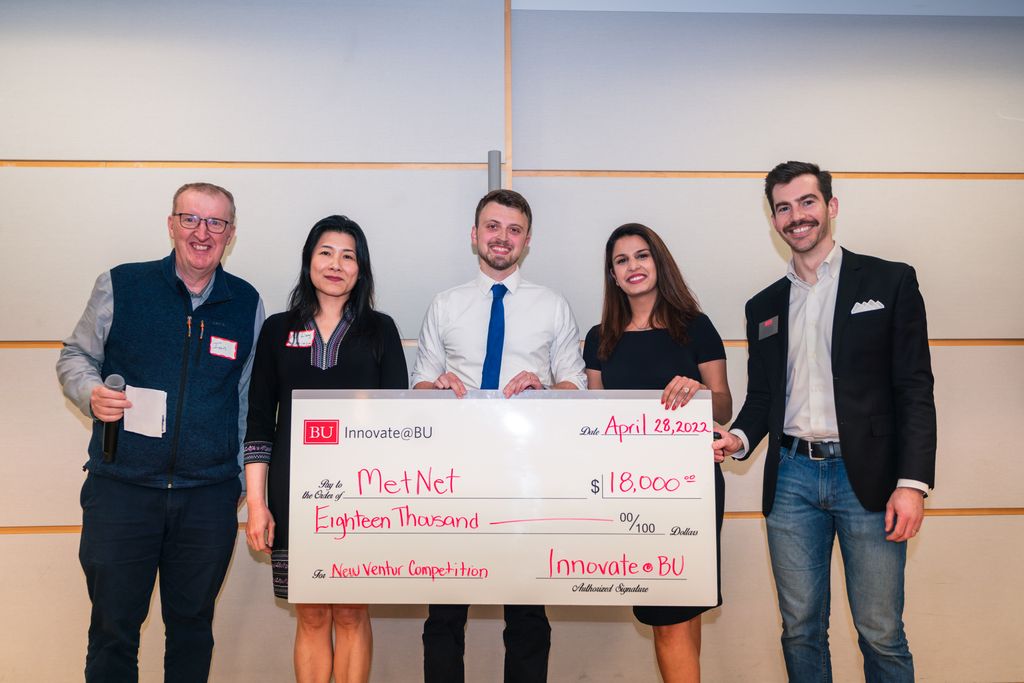 First Place ($18,000) – MetNet
MetNet provides a suite of cheminformatics tools that aid in analysis of drug candidate toxicity and reduction in R&D costs associated with the drug development process.
Second Place ($8,000) – Airflow Seating System Technologies
Airflow Seating System Technologies is solving the problems presented by the prevention and treatment of pressure injuries for people with limited mobility by creating a medical cushioning system that moves pressure based on sensor inputs.
Third Place ($6,000) – CompSciLib
CompSciLib is an all-in-one ed-tech web app that revolutionizes computer science learning and comprehension. We use technology to enhance technological calculations, contribute professional explanations, and provide learning resources for students and professionals.

Audience Choice Award ($500) – CrewLab
CrewLab has created an app that makes it fun and addicting to be an athlete while enabling wholesale, widespread sports data collection. Teams then hire the CrewLAB platform as an assistant coach to automate tedious record keeping and provide unprecedented insight into athlete performance and engagement.
Social Impact Track
For nonprofits, for-profit or hybrid venture whose main objective is social value (intentionally positive economic, social, cultural, or environmental change) that has large-scale potential.
First Place ($18,000) – Ollie
A toy doll series that addresses different situation kids go through that may affect their self-esteem and later diminished the confidence in school, relationships, and even career choice in life. The doll has recording of different affirmations (to target different things children go through) that allow the child to repeat them and even listen as they fall asleep.
Second Place ($8,000) – Daily Living
Daily Living Recovery House will open its doors and increase the availability of affordable and substance-free housing in Massachusetts. We are uniquely focused on equity. As a Black-founded and -led recovery house, our priority is to provide Black people who are reentering citizens and/or are frequently unhoused with an affordable, safe, healthy, and inclusive environment promoting recovery.
Third Place ($6,000) – Hutch
Hutch is on a mission to facilitate homeowners in making energy efficiency and electrification upgrades to their home, eliminating 20% of this country's carbon pollution in the process. Hatch's platform combines multiple dimensions of data about a customer's home with advanced marketing analytics capabilities to serve as a trusted advisor that conveniently shepherds homeowners through the complicated process of of electrifying and decarbonizing their home, whatever their motivation to do so.
Audience Choice Award ($500) – Dollars & $ense
Dollars & Sense is an edtech platform that provides a fun, easy-to-use behavior management system for K-6th that exposes students to financial literacy concepts in line with their state standards to provide repetitive and consistent reinforcement of financial literacy concepts over the years.
---
About Innovate@BU's New Venture Competition
For more than 20 years, hundreds of BU Terriers from every BU school and college have put forth new and innovative ideas through the New Venture Competition. For some, the competition has served as a launching point to take their venture and social impact projects to the next level or to make entrepreneurship their full-time role. And for others, it's given them the skills, confidence, and mindset needed to create impact through their careers and in their communities.
How it Works
The New Venture Competition is open to BU student-led or recent alumni (graduated within one year) ventures in the seed, start-up, or early stages. Ventures of all kinds – tech, consumer, creative, social impact, nonprofit, etc – are welcome to apply and participate in either the General Track or the Social Impact Track.
Teams compete in up to three rounds that ultimately awards $6,000-$18,000 to the top six teams (three from each track). Audience Choice Awards also come with additional prize money.
More Innovation, More Inspiration