BUild Lab
The BUild Lab IDG Capital Student Innovation Center is home to people, programs, and collaboration space that helps all BU students and recent alumni transform their ideas into something real and develop innovation skills, an entrepreneurial mindset, and a strong community along the way.
We welcome BU undergraduate and graduate students from all disciplines and offer a wide range of programs to support students who:
have a start-up or project idea
are seeking inspiration for an innovative idea
are not working on a new idea, but are eager to build innovation skills that can be used to create impact in any career and in their communities
Join our community: 
New to the BUild Lab? Attend our next monthly info session!
---
What can you do at the BUild Lab?
Launch ideas.
Our range of programs, including the Innovation Pathway, can help you launch a new idea of any kind including new business ventures, nonprofits, and projects that create a positive impact on campus and beyond.
Learn new skills.
From creative problem-solving to leading a team, our events and workshops will teach you innovation skills that you can use in start-ups and any career.
Get inspired.
In our community, you can attend programs and meet people from across the University and beyond that can help you find inspiration for a new idea or career path.
---
Connect with our people & partners
Find resources
At BU, you are surrounded by resources and people who are here to help you create meaningful impact. We'll help you tap into these resources at BU and beyond.
Learn more.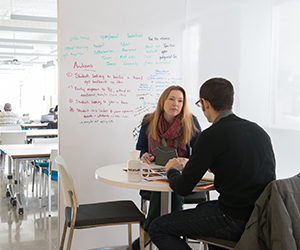 Get Advice
Our community is filled with friendly staff, faculty, and mentors who want to help you succeed. Book office hours to brainstorm, get advice, and to map out a plan for your own innovation journey.
Learn more.
---
Visit the BUild Lab
Beginning September 2, the BUild Lab will reopen to offer students and alumni a co-working and meeting space. It's also where you'll find our friendly staff members who can help you navigate our resources and programs.
Until then, if you're a member of the BU community being tested regularly, you can sign up to use our study space to work via bu.edu/studyspace.  Select EMA 101 to see available times and for reserving a space.
Watch this space for more updates as fall semester approaches!