Dorothy Robyn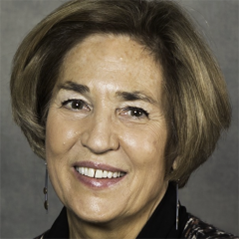 Senior Fellow, IGS
Public Policy Expert
Education

PhD, Public Policy, University of California at Berkeley
MPP, University of California at Berkeley
BA, Southern Illinois University

Email
Dorothy Robyn, a Senior Fellow with the Boston University Institute for Global Sustainability (IGS), is a public policy expert who writes on policy issues related to energy, transportation, and infrastructure. She has 40 years of experience in government, academia, and consulting. Dr. Robyn served in the Obama Administration as the Deputy Under Secretary of Defense for Installations & Environment, where she had DOD-wide oversight of U.S. military bases around the world (2009-2012) and as Commissioner of Public Buildings at the U.S. General Services Administration (2012 to 2014). From 1993 to 2001, she was a Special Assistant to the President for Economic Policy on the staff of the White House National Economic Council, where she coordinated policy related to transportation and aviation, defense and aerospace, international telecommunications, and science and technology.
Dr. Robyn previously was an assistant professor at Harvard's Kennedy School of Government; a Principal with The Brattle Group, an economic consultancy; and a Guest Scholar at the Brookings Institution. Since leaving government in 2014, she has chaired the planning committee for a National Academies workshop series on "Enhancing Federal Clean Energy Innovation"; chaired a task force on infrastructure finance for the District of Columbia; and participated in a Department of Energy Task Force on Federal Energy Management. She is a member of the National Academies Board on Infrastructure and Constructed Environment; the World Resources Institute's Global Leadership Council; and the boards of a technology-oriented think tank (the Information Technology & Innovation Foundation) and a smart cities non-profit (U.S. Ignite).
Dr. Robyn's recent research and writing have focused on federal energy management and the role of the Department of Defense in clean energy innovation. She is currently looking at how federal procurement can drive clean energy innovation.
Dr. Robyn is the author of Braking the Special Interests: Trucking Deregulation and the Politics of Policy Reform (University of Chicago Press, 1987); and (with William Baumol) Toward an Evolutionary Regime for Spectrum Governance: Licensing or Unrestricted Entry? (Brookings Press, 2006).
Blog Commentary
Publications
Events & Webinars
Media Commentary