Thanks to a generous three-year grant from the Teagle Foundation, since July 2021 the Center has been home to The One and the Many at BU, a humanities-based summer program for local high school students. We are proud to partner with Boston Summer Search and the Teagle Foundation on O&M at BU. All of our students have been participating members of Boston Summer Search's program.
Summer 2023 — Information for Students and their families
Session dates:  Sunday, July 9, 2023 – Friday, July 21, 2023
Exploring Justice Together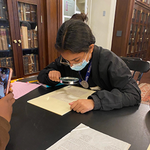 The overarching theme for summer 2023 was Justice. Students explored this fundamental theme through examining archival documents, watching and critiquing documentary films, and reading classic works in morning seminars each weekday with BU faculty. Afternoons featured thematically related labs with experiential activities that were led by the associate directors.
To see what "A Day in the Life" was like in summer 2023, click here.
To read the "Residential Guidelines" for summer 2023, click here.
To view the "Packing List" for summer 2023, click here.
To view the PowerPoint from the Orientation Session for enrolled students and their families held over Zoom on Tuesday, April 18, 2023, click here.
Living in a Brownstone
Students will live on campus in a beautiful (air-conditioned) brownstone on Bay State Road, together with their residential advisors. The dining hall is a short walk down a tree-lined street in one direction, and the seminar room is a short walk in the other. With its small garden, common rooms, and kitchenettes, the brownstone promises to foster a warm community of learners and friends.
As in the past, the program will provide students with passes for their meals at nearby Marciano Commons and passes for the Fitness and Recreation Center (FitRec), where they can work out individually or together.
Field Trips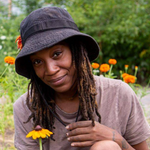 Field trips will include a visit to the Boston Athenæum, Boston University's Howard Gotlieb Archival Research Center, and Sabrina's Garden in Roxbury.
Past Summers
Summer 2022
Summer 2021