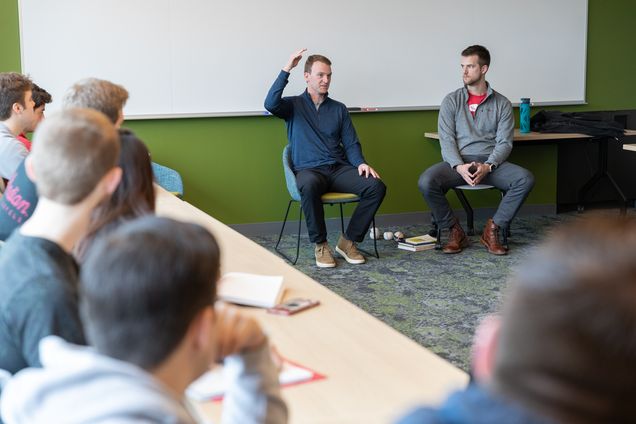 Partner Expectations
Thank you for engaging with the BU Hub's Cross-College Challenge (XCC)! We are excited to work in partnership with you to make this a mutually successful experience. The first step in the process is for you to submit a proposal. Shortly thereafter, an XCC staff member will contact you. Project proposals that are not initially accepted may be reconsidered for a future term.
Once we have confirmed your engagement and matched you with an XCC section, you will work with the faculty pair and student team.  Below are some of the expectations for working with an XCC project team.
Roles and Responsibilities:
Partners communicate with the faculty regarding their project proposal, which is then provided to the student team.
Partners agree to provide all necessary information and resources to address the challenge.
Partner and Student Team Meetings (x3):
The student team is expected to set the initial client meeting to clarify objectives described in the online project submission form and to establish a timetable for the completion of the project.
Partners or their representatives agree to meet with students 2 more times during the semester for status updates.
Partners attend the final presentation on campus, receive the report/work product, and provide feedback.
Partners, faculty and students understand that all associated photos and deliverables may be published online as a record of project work.
Sample Timeline:
Initial Meeting (early September)
Status Updates  (October/November)
Final Presentation (mid-December)
The partner recognizes that the students are not professionals, that the work product will not have been thoroughly tested, and that the work product will be delivered "as is." The partner agrees to indemnify, defend, and hold harmless the students, the faculty and administrators of XCC, and Boston University for use of the work product. Two faculty members supervise the team throughout the term and provide a grade based on the learning objectives set out for the course.
Cost:
BU budgets approximately $100 per team for project-related expenses such as transportation and materials. While there is no charge, XCC partners may provide additional funds or resources as they deem necessary to the success of each project.
Start the Conversation
Still unsure of what makes a suitable project? Contact XCC Manager, Phillip Jacob, to discuss your project idea or complete the form above.
---