Matrix Absence Management
The Role of Matrix Absence Management
Matrix Absence Management administers the Paid Family and Medical Leave benefits, which fully comply with or exceed the new Massachusetts Family and Medical Leave Act (MAPFL) requirements.
All leave benefits are administered by Matrix Absence Management
If your employee expects to be absent for a week or more and has a need for family or personal medical leave, they should contact Matrix Absence Management online or by phone to initiate the process:
Your employee should contact Matrix Absence Management immediately upon an unplanned leave, or up to 30 days before a planned leave
Matrix Absence Management will work with your employee and/or their doctor to verify claim eligibility and administer their leave and return to work
Leave benefits are paid through BU payroll according to your employee's direct deposit election on file
Communication from Matrix
Matrix will communicate with you, as a supervisor, regarding your employees who are out on leave.
Following the first time one of your employee's initiates a leave with Matrix, you'll receive a welcome email from Matrix Absence Management notifying you that an account has been set up on your behalf. Starting on September 10, 2021, you will be able to use your Kerberos username and password when you log into your Matrix Absence e-Services Account.  Additionally, Matrix Absence will send a one-time verification code to your BU email address as an added layer of security before you can access e-Services.  Please note, if you previously bookmarked the e-Services webpage, the old link will not reflect the new Kerberos log-in capabilities. Please resave your bookmark using this new url for Matrix Absence e-Services.
A sample message is shown below: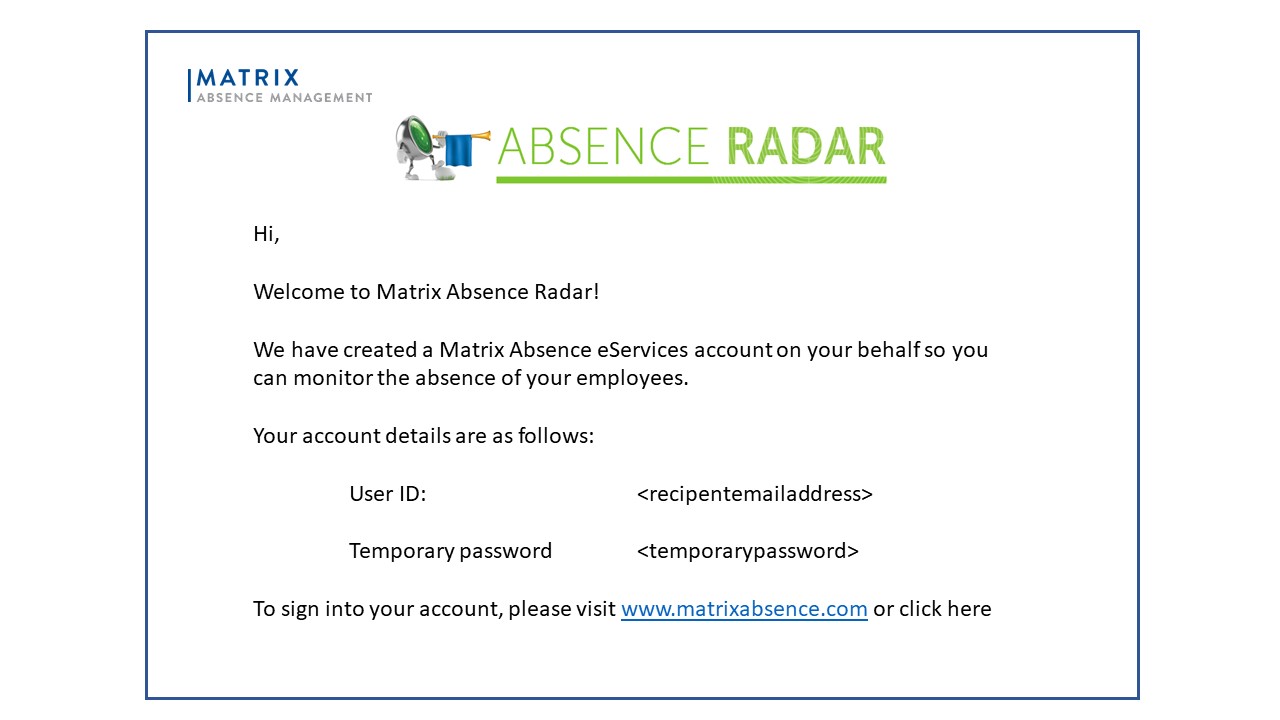 In addition to having an account set-up, Matrix will provide you with information on your employees' leaves in two ways.
Status Notifications
These emails inform you of new or updated information about absences on your team.  Please add no-reply@matrixcos.com to your address book to make sure you don't miss an email. Human Resource Business Partners also receive the Status Notifications.
Sample Report
Watch the Video
Absence Calendar
The absence calendar provides a detailed, interactive view of employee absences over a 12-month period, allowing you to review previous absences and plan around future ones.
The information on your calendar will be customized for your role and responsibilities within your team.
Sample Report
Watch the Videos