COVID-19 Vaccine Documentation Upload Instructions
Boston University requires COVID-19 vaccinations and COVID-19 booster shots for students, faculty, staff, and affiliates.   Below are instructions to assist you in uploading your COVID-19 vaccination and booster documentation to your Occupational Health Connect Portal.
Please note, employees who are newly hired will not be able to log in to the Occupational Health Connect Portal until their first day of employment.
How to Upload your COVID-19 Vaccine  Documentation
Log in to the Occupational Health Connect Portal using your BU username and Kerberos password.
 Select the "Upload COVID Documentation" option from the left sidebar menu .
3. Indicate the type of document you are uploading from the available dropdown selections.
4. Choose your file (PNG, PDF, or JPG files only).
5. To complete your document upload, select the green SUBMIT button.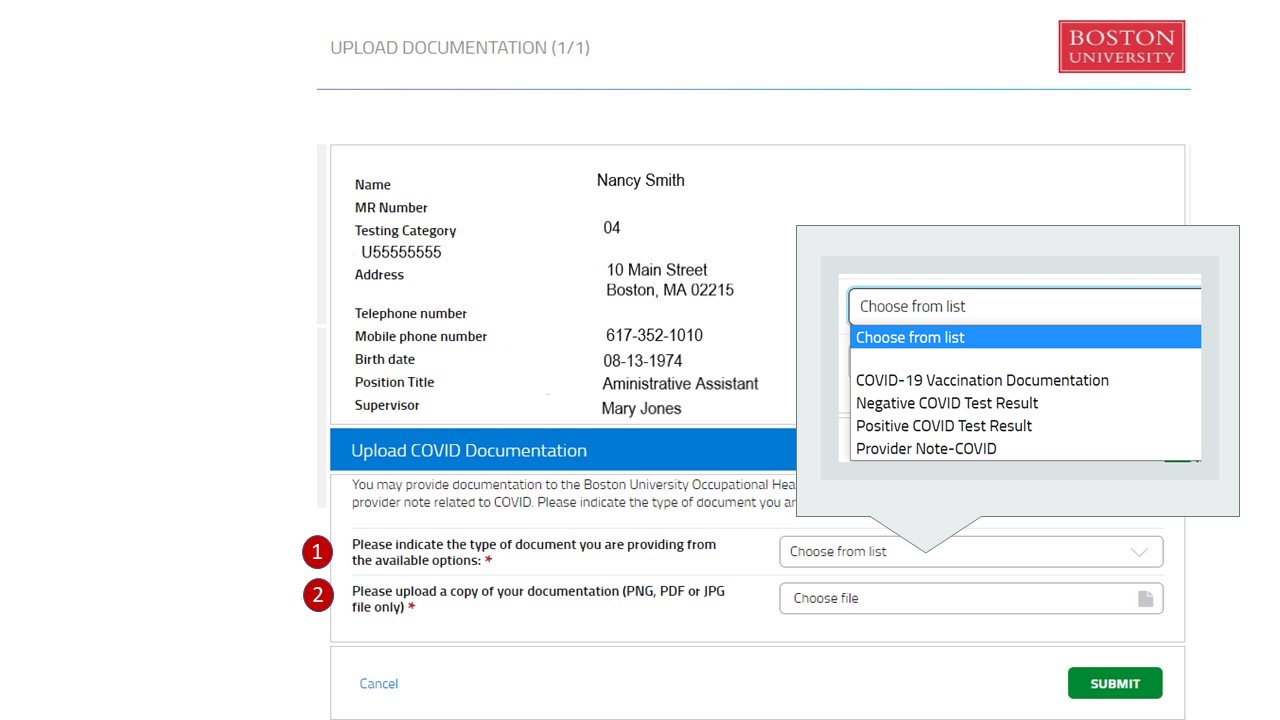 6. After you select SUBMIT:
You will see a brief Thank You message. You will be brought back to the Home screen.
You will receive an email from ohcinfo@bu.edu within 5 minutes of submission to confirm your upload is complete.
An additional email will arrive when your document has been reviewed and accepted by clinical staff.
If you need to upload multiple documents (e.g. test results and a provider note), complete one submission process for each document.
How to Look Up Your Vaccine Documentation
Log into the Log in to the Occupational Health Connect Portal
Select "Message Center"
Select "show all"
Scroll down to the date that the document was uploaded and select the date to view the detailed document information
If you have lost your vaccination card and don't have a copy:
Individually identifiable health information you share with Occupational Health will be confidential and will not be shared.