Recovery Plan Resources for Faculty & Staff
---
For more information on BU's plans to reopen, please visit our Back2BU website.
---
As we hear from employees regarding the return to campus and questions you may have, we will continue to develop resources and information that support the return to campus.  Those resources and information will be posted here.  The COVID-19 Support Line at 617-358-4990 or covidhelp@bu.edu will continue to be an available resource, as will the Human Resources Service Center at 617-353-2380 or hr@bu.edu.
As we continue our phased return to on-campus work, we hope our faculty and staff will find this BU-specific webpage  helpful.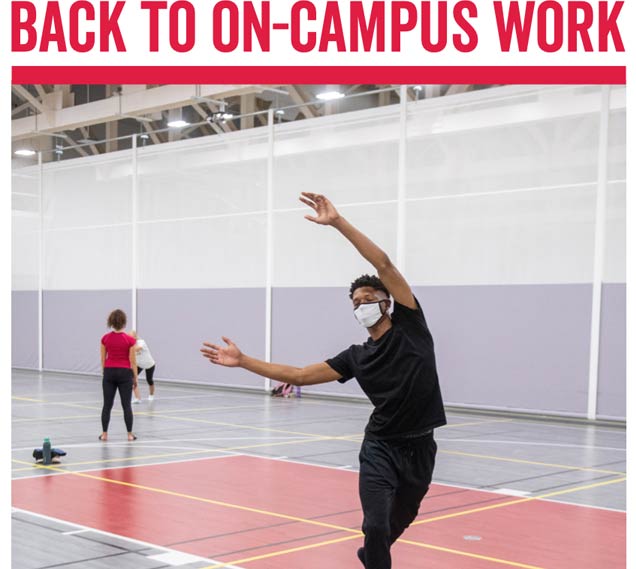 General Return to Campus
Are there safety and health compliance protocols for faculty and staff to follow?
Is there a mandate that requires face coverings for the entire community while on campus?
How is screening, testing and contact tracing be handled?
If a return to campus is encouraged, would it be possible to exempt those who are immunocompromised or care for people who are immunocompromised?
When we return to campus, will staff members be able to have different 'regular' work hours, or is this at each supervisor's discretion?
Do the restrictions on events and gatherings on the Charles River Campus also apply to the Medical Campus? Does the Medical Campus research activity operate on the same timeline as the Charles River Campus?
Are there units or departments that are not student-focused or do not provide direct service to any on-campus efforts that you will ask to remain remote in order to minimize density on the University's campuses?
If staff will not be returning to campus for several months, will it be possible to have people enter their workplace to retrieve work and/or personal items?
What changes have been made in offices and buildings to help keep us safe?
What guidelines are in place about cleaning and disinfecting equipment and surfaces that are high-touch within our office spaces?
What preparations are being made for working parents who are juggling work and childcare?
What efforts (outside of physical safety) are taken to help faculty and staff re-adjust to working on campus?
What mental health services are available for employees who are having a hard time transitioning back to the workplace?
Who answers the COVID-19 Support Line?
How are staff assigned to COVID-19 testing categories?
My manager has designated me as a testing category #2 or #3. I am planning to come to campus, but I have an underlying health condition and would like to be tested more frequently. How can I change my testing category?
How is the frequency of testing each individual student, staff, and faculty member be determined?
Benefits and Pay
Have there been any changes to the Benefit Plans as a result of the pandemic?
Is there any change to the Tuition Remission benefit since classes are now offered remotely?
Parking
Is there discounted parking for faculty and staff who are not comfortable taking the T?
Time Off
For staff members who are close to accruing the maximum number of sick and/or vacation days, are we be allowed to accrue above the maximum number allowed, given that we are not able to take vacations due to travel restrictions?