Air conditioned housing options
In Summer 2018, Summer Session students will have the option to apply for air conditioned housing located in two large residences – 33 Harry Agganis Way and Kilachand Hall. Additionally, certain apartments in South Campus will be equipped with window air conditioners in each units common areas (not in bedrooms). Summer residence assignments are made in the order completed applications are received.  As air conditioned spaces are limited and not guaranteed; please submit your completed application (available on the How to Apply page of our website) as soon as possible
33 Harry Agganis Way, also known as Student Village II, is our newest residence on campus. Available units for the summer will be four-bedroom apartments for four students, including a separate bedroom for each student, as well as a kitchen, bathroom and common area to share. Other amenities include laundry facilities and a mail room within the residence. 33 Harry Agganis Way is located in BU's West Campus, steps away from the Fitness and Recreation Center.
More information about the apartments in 33 Harry Agganis Way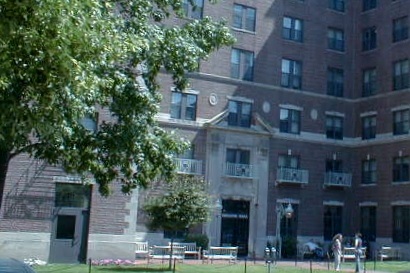 Kilachand Hall, home of Kilachand Honors College during the academic year, will be used for summer student housing in 2018. Located on beautiful Bay State Road on the eastern side of campus, Kilachand Hall offers suite-style living in two bedrooms for four students and stand-alone single-occupancy rooms. All rooms include air conditioning and private bathrooms. Private bathrooms are attached to one of the bedrooms in the suite, meaning students living in the other bedroom will have to walk through the bedroom to reach the bathroom. Additional amenities in the residence include laundry facilities, a mail room and study lounges with panoramic views of Boston.
More information about Kilachand Hall 
Select South Campus and Bay State Road apartments are also air conditioned. Air conditioners are placed in common areas only. Not all South Campus and Bay State Road apartments are air conditioned, and students are prohibited from bringing their own air conditioners into any on-campus residence.