Spring 2022 Move-In
Welcome back to campus housing!
All students (including returning students from fall 2021) will schedule their return to campus housing in spring 2022. Students must select an appointment date and time for their move-in from Friday, January 14, 2022, through Wednesday, January 19, 2022, in the My Housing Portal.
Please note: Only students who are compliant with the BU COVID vaccine requirements will have access to the BU Housing Portal to schedule their move-in time and date.
After receiving confirmation of compliance with the COVID vaccine requirements, please allow three business days for access to be granted to schedule your move-in date and time.
Each move-in day offers two different appointment times: Group A has a move-in window from 8 am – 12 pm, while Group B has a window from 1 pm – 5 pm. Please view the calendar schedule with appointment dates and times.
When the scheduler becomes available, you will select your preferred day and group in the My Housing Portal.
You will have four (4) hours to complete your move-in, so you are advised to arrive as early as your move-in appointment allows.
Please note that each group on a given date and time has a limited number of slots and is subject to availability, so you may need to select an alternative date/time if your initial choice is not available.
Please note that students must have a confirmed appointment before arrival.
How do I reschedule my move-in appointment?
If you need to change your move-in day or time, log back into the My Housing Portal, cancel your original selection, and select a new day and time from the remaining available appointment times.
Who needs to check in?
Upon arrival, all students should go to their designated Move-in Location to officially check-in. Please do not begin to move-in until you have completed this critical step. New spring residents may bring two helpers to assist you with moving into your room. All other family members must remain outside of the building and will not be permitted to visit the student's room. Students returning to their fall room assignment are not permitted to bring a helper.
All students and their helpers must wear a face covering at all times.
How do I check in?
Before you arrive at your check-in location, you must sign in to the My Housing Portal on a mobile device and navigate to the Assignment History section. There will be a QR code in this section, which you must show to a Residence Life staff member to check in. Please do not begin to move in until you have completed this critical step.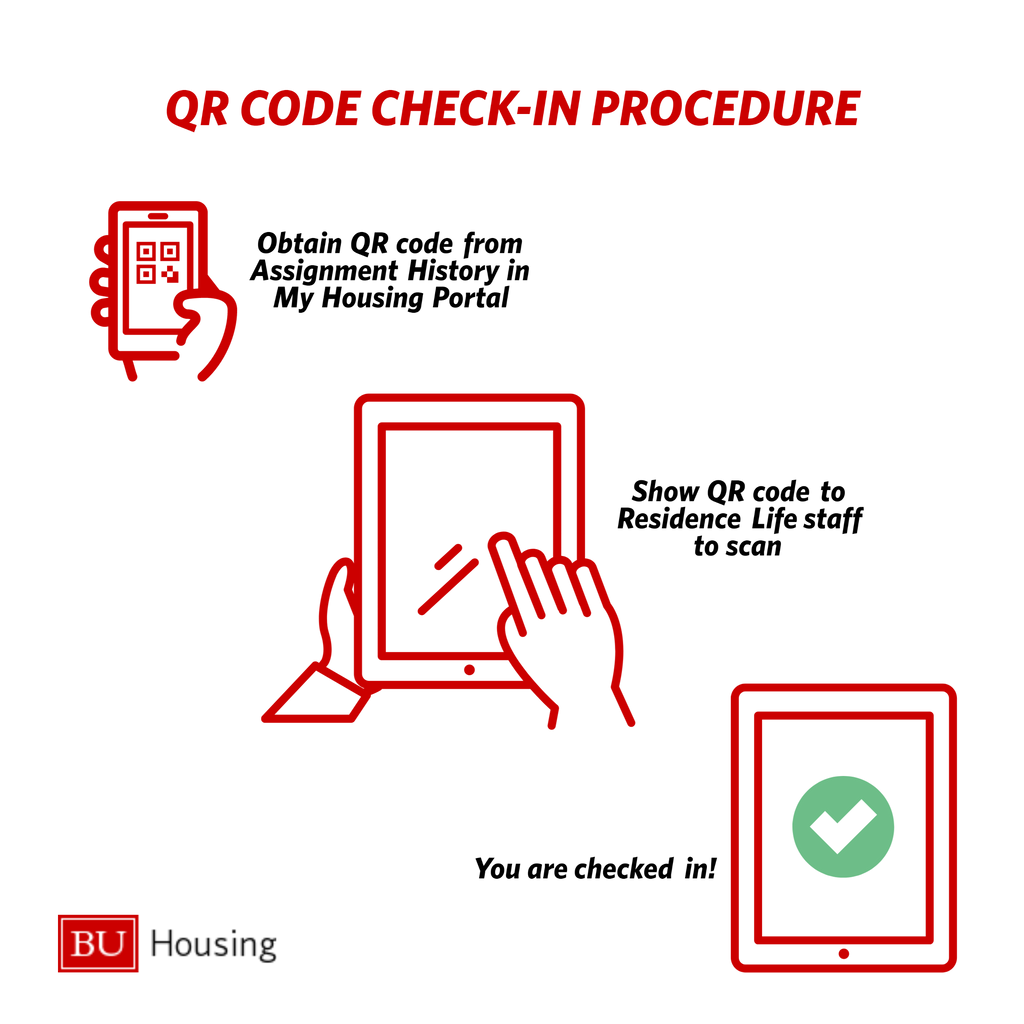 Required COVID-19 Testing on Arrival Day
As a part of BU testing protocols, you must complete a COVID-19 test on the day you arrive on campus.
Upon arrival to campus you will be required to stay in place until one negative COVID-19 test result is received from a Boston University collection site. Test results take approximately 24 hours. You may not attend classes in person or access any BU sponsored programming until the negative test result is received.

For more detailed information click here.
Terrier Card
If you are a new student, your BU Terrier Card will be available upon arrival at your check-in location. Previously you were invited to upload your photo to the Terrier Card Office so that your card could be ready on arrival. If you have not submitted your photo, please follow the instructions to upload your photo. You must have a Terrier Card to complete COVID-19 testing requirements and access your campus residence and the dining halls.
Parking
Please download and print your temporary Move-In Parking Permit. This should be displayed on the dashboard of your vehicle when parked in approved BU parking locations. Some of the approved parking lots may have a lowered parking gate. The QR code found on your permit can be scanned at entrance and exit kiosks to raise gates during your move-out period. You may also use your phone to capture the QR code for use when scanning to raise these gates; however, your permit must still be printed and displayed on the dashboard of your vehicle.
BU Dining Halls and Retail Operations
Information regarding dining services this spring, including hours of service at four all you-care-to-eat dining rooms and over 20 on-campus eateries, can be found here.