Boston University School of Hospitality Administration 2023 Hospitality Leadership Summit Highlights Experience Innovation
(Updated March 14, 2023) Boston, MA – Boston University School of Hospitality Administration (BU SHA) is proud to announce the annual Hospitality Leadership Summit on Friday, March 24, 2023, 8am-6pm at Hotel Commonwealth (500 Commonwealth Avenue in Boston). The Summit brings together students and faculty with hospitality industry colleagues for a day-long conference of inspiration and networking, spotlighting exceptional speakers who are revolutionizing the bounds of hospitality. Further highlighting "Experience Innovation" in hospitality, student teams vying for top prizes at the inaugural $50k Poyiadjis Hospitality Innovation Competition will give their final presentations pitching new ventures, followed by awarding the $50k in cash prizes to the winning teams by a panel of judges. To cap off this exhilarating day, the 2023 ICON Award will be bestowed upon the industry leader who has significantly transformed the paradigms of hospitality.
For registration and information, visit BU SHA Hospitality Leadership Summit.  
"Our greatest responsibility at SHA is inspiring the next generation of hospitality leaders," said Arun Upneja, Ph.D., Dean of Boston University School of Hospitality Administration. "At BU School of Hospitality Administration, we create platforms, such as this Hospitality Leadership Summit, to connect our students with people who are not afraid to dream big and are committed to turning aspiration into reality."  
This year's launch of the annual $50k Poyiadjis Hospitality Innovation Competition further demonstrates SHA's entrepreneurial vision and spirit. The Competition is made possible by the generous support of Roys and Donna Poyiadjis. Roys Poyiadjis is the Founder of Platinum Capital Partners, Inc, a family office that focuses on technology investments, traditional private equity activities, real estate, and special opportunities. Donna Poyiadjis is involved in a number of philanthropic initiatives. This competition offers Boston University students a one-of-a-kind opportunity to pitch ideas for new ventures within the hospitality industry that embrace innovative ways to solve problems and create value for all stakeholders. The finalist teams will present their pitches at the Summit before a panel of judges who will determine the top three teams to win cash prizes totaling $50,000. For Competition application information, visit $50k Poyiadjis Hospitality Innovation Competition. 
Summit Speakers – "Experience Innovation" 
Throughout this day-long event, the speakers (listed below) will inspire us all to imagine new ways of sparking the power of hospitality to improve wellness and wellbeing. Addressing the theme of "Experience Innovation" from a variety of angles, highlights include the founder and CEO of the world's largest vegan fried chicken manufacturing company; a scientist redesigning the food experiences via the "air we eat" for improved health outcomes; and the director of the MIT-Ukraine Program, which is leveraging hospitality and innovation to assist with preservation and reconstruction of war-devasted Ukraine. Among the forward-thinking leaders is a CEO of a company designing premium sneakers that come with NFTs to access exclusive experiences. 
Deborah Torres, Founder and CEO, Atlas Monroe of the world's largest vegan fried chick'n manufacturer. On ABC's hit show, Shark Tank, in a viral episode, Ms. Torres turned down $1 Million dollars from Mark Cuban and Rohan Oza. 
Bennett Collen, Cofounder & CEO of Endstate, enriches retail experiences by combining the physical and the digital to connect people with what they are passionate about. 
David A. Edwards, Ph.D., Founder & CSO, Sensory Cloud, scientist, author, and pioneering inventor, explores new ways of improving human health and wellness through the air we breathe and the food we eat.  
Svitlana Krasynska, Ph.D., manages the newly launched MIT-Ukraine program, implementing the vision of capitalizing MIT's world-class technical expertise, internal resources, and external reputation to assist in the preservation and reconstruction of war-devastated Ukraine.  
Robert Vail, Head of Innovation and Activation, Boston Beer Company, stewards this iconic company's expansion into new products that include Twisted Tea, Angry Orchard, Truly Sparkling, 26.2 Brew, Tura Kombucha and Wild Leaf Hard Tea brands.    
For more information on the Speakers and Agenda, visit the Summit website.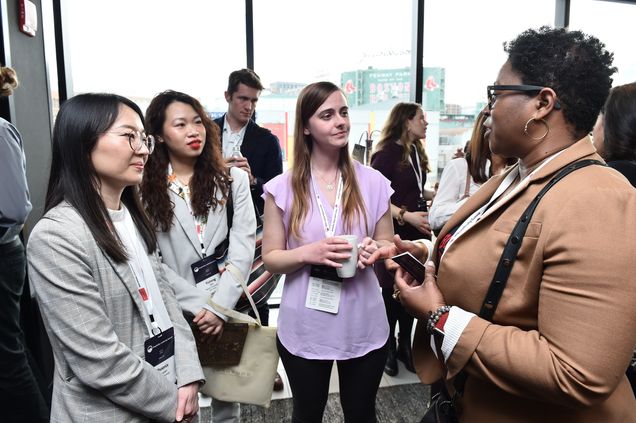 2023 ICON Award
Niki Leondakis, CEO of CorePower Yoga 
The Summit culminates with the much-anticipated annual ICON award announcement and ceremony. The ICON award is presented to a leader who has been a pioneer in the industry and whose accomplishments have paved the way for enduring, transformative contributions of deep value in the world of hospitality and in our society as a whole.  
With more than 30 years of experience in the hospitality industry, building lifestyle brands and creating award winning workplace cultures to drive innovation and customer loyalty, Niki Leondakis has consistently built and lead some of the most diverse and customer-centric teams in the industry.  Most recently as CEO at CorePower Yoga, the largest yoga studio chain in the United States with over 200 studios. Read full bio for Niki Leonakis.    
Past awardees include the co-founders of Airbnb Brian Chesky, Nathan Blecharczyk, and Joe Gebbia; restaurant pioneer Danny Meyer, Founder and CEO of Union Square Hospitality Group and Shake Shack; and in 2020, Richard L. Friedman, President and CEO of Carpenter & Company Inc., credited, among a long list of accolades, for reshaping the Boston skyline with The Four Seasons Hotel & Private Residences at One Dalton. For a list of ICON awardees, visit: ICON Award Winners 
Photos and interviews available upon request.
Contact: Mara Littman, Co-Chair of the Hospitality Leadership Summit and Director of Corporate and Public Relations, at mlittman@bu.edu
2023 Hospitality Leadership Summit Sponsors*
BU SHA is grateful for the generous support from:
Diamond Level: Hotel Commonwealth 
Gold Level: Meet Boston, PEAK Event Services, Seaport Hotel, and Sonesta Hotels and Resorts 
Silver Level: Aramark Sports + Entertainment, Postmates, and Ruth's Chris Steak House
Supporters: Blue Ribbon Restaurants, Boston Park Plaza, Boston Red Sox, Hyatt Regency Boston, La Colombe Coffee Roasters, and The Colonnade, Boston   
Sponsor List is current as of 3/16/23 
About Boston University School of Hospitality Administration: Established in 1981 and celebrating over 40 years of Innovating the Business of Hospitality, Boston University's School of Hospitality Administration (SHA) offers students a combination of rigorous academics, liberal arts curriculum, and international experiences for the pursuit of success in lodging, restaurants, food service, and other avenues of the hospitality industry. SHA has a unique relationship with the city of Boston, where the area's hotels and restaurants provide students with numerous opportunities for internships to satisfy work experience requirements for their degrees.  
Information on graduate and undergraduate degrees at BU School of Hospitality Administration:
SHA graduate programs