BU Hospitality students join SAHIC in Havana, Cuba to discover the islands growing hotel development opportunities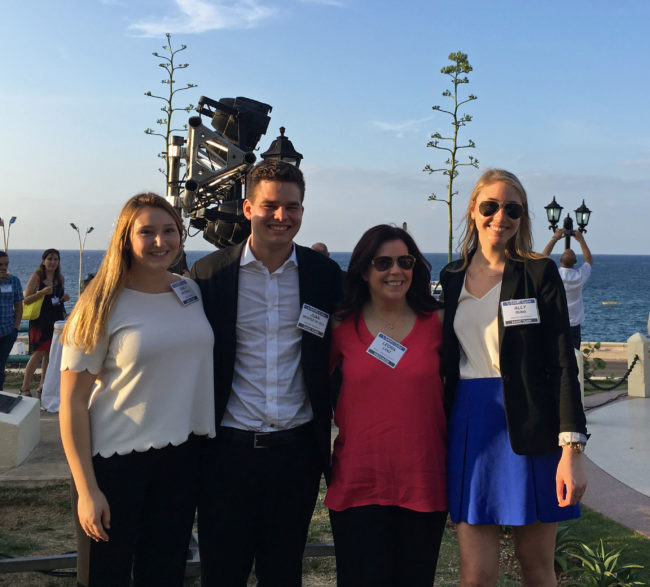 Between May 13-17, 2017 Ally Rung (SHA '17), Carly Antonioli (SHA '17), and Juan Montes de Oca Angarita (SHA '17) joined Professor Leora Halpern Lanz at the South American Hotel Investment Conference (SAHIC) in Havana, Cuba organized by the Latin American Hotel & Tourism Investment Conferences. This was the first time the event was held in Cuba.
…the Cuban people expressed great passion for their culture. They embodied a sense of Hospitality that appeared so natural and genuine. – Allyson Rung (SHA '17)
While at the conference, the recent Boston University School of Hospitality Administration (SHA) graduates had the opportunity to learn not only about Cuba's budding hotel development opportunities but also meet the key players in the island's hospitality industry.
"The biggest takeaways for me include how excited the Cubans are to embrace development and how ready they are for more hotels to be built. And they're not only building to welcome more tourism, but also to increase the standards they have now. There are lots of buildings and parts of the city that are beautiful, but falling into disrepair. New hotels would, hopefully, restore them to their original "glory" and keep Cuba's architecture and culture alive," said Carly Antonioli.
Despite the local enthusiastic attitude towards higher standards and a revitalized hotel and tourism industry, the students experienced plenty of reminders of how far the island still has to come to meet modern expectations.
"Exploring the city of Havana opened my eyes to a different type of lifestyle," said Allyson, "The limited amount of communication that the country allows is still a concept that I have trouble wrapping my brain around. Unless you're staying in an upscale hotel with wifi routers in every room or you visit an internet cafe often, there is limited access to wifi."
Eager and excited individuals and companies outside of Cuba will have to remain patient as well.
Carly pointed out that "there are still many barriers to buying and building in Cuba, especially for US based companies. Companies based in Europe and Asia did not have the travel restrictions that the US did until a few years ago so it will be a bit easier for them, but there are still many regulations and difficulties, such as limited resources, that all hotel companies face.  Although there is a lot of excitement right now, it will still be quite a few years until we see drastic changes in the Cuban hotel market."
In addition to sitting in on the keynote speakers and participating in networking sessions, the students volunteered their time and hospitality expertise to help organize conference logistics.
Carly had the opportunity to help "with social media throughout the conference so I was taking photos, conducting mini/informal interviews, and doing Facebook live streams," and said she "learned what it takes to put on a conference of this size and importance, and the value it holds for the attendees."
"During the conference, we were lucky to have met industry experts from around the world including Dubai, Indonesia, and various countries throughout South America. In addition, we were able to work alongside David Scowsill,  President and CEO of the World Travel & Tourism Council," said Allyson Rung, "that's one of the tremendous benefits I've had from attending these conferences over the past two years (CHICOS 2015) is that we students are exposed to different companies and industry leaders from around the world."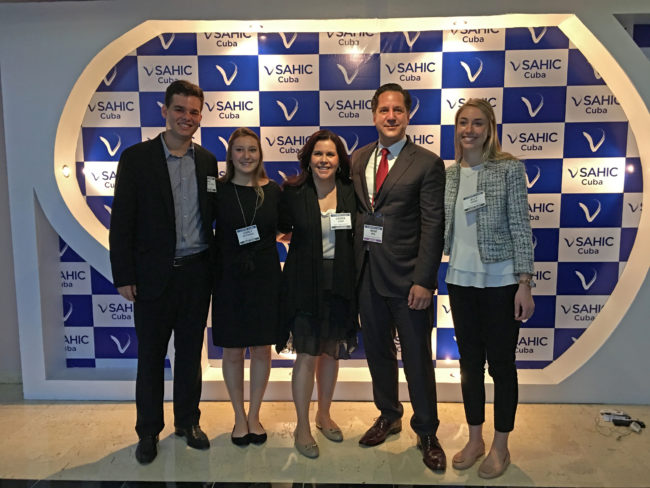 In addition to meeting new industry leaders and hospitality students, the group had a chance to connect with alum René Beil (SHA '97), Managing Director of Beaufort Global Partners, based in Dubai, UAE, and a former member of the School's advisory board.
Allyson said they were joined by counterparts "from the Universidad de La Habana and École hôtelière de Lausanne. It was truly incredible to work with these students from different parts of the world and to be able to stay connected with them after the conference through Facebook!"