Celebrate Passover with Hillel YOUR Way!

Undergraduate Passover Seders
BU Hillel is excited offer you fun and friendly Passover seder experiences! Options include 1st night seders at Hillel and hosting (or joining) a 2nd night seder with your friends. We'll help you make it happen.
Hillel will be hosting the Seders for undergraduates on Wednesday, April 5th. The
evening will begin at 6:45pm with a communal gathering featuring special guest, Rabbi
Micah Shapiro, to usher Passover in through song and blessing. Then, Hillel is eager to
offer the following Seder options:
7:00pm – Community Seder Singing All Your Favorites with Rabbi Brandon and Special Guest Rabbi Micah Shapiro
7:00pm – Story Slam Seder: I, Too, Was a Stranger in Egypt with Reb Danny and Micha
7:00pm – Greatest Hits: "30-Minute" Seder with Jesse
This year we are excited to once again help students host their own Seder meals on Thursday, April 6th. We will reimburse hosting your friends up to $15 per BU student. Prior signup required here.
PS – take a peek at the yummy menu for our first night seders!
Vegetable Matzo Ball Soup
Sectional plate crudities (Colorful Vegetables), Olive Dip, Roasted Eggplant Dip, Cucumber Salad, Charoset, & Deviled Eggs with Gremolata
Roasted Sugar Beet Salad, Spicy Young Arugula, Honey Balsamic
Coq au Vin, Forest Mushrooms
Braised Brisket, Natural Jus, Horseradish
Quinoa Stuffed Acorn Squash (V)
Rosemary Roast Marble Potatoes
Maple Glazed Roasted Root Vegetables
Seasonal Fruit Salad
Chefs Petit Dessert Plates
Register here for a seder!
The deadline to sign up for seders is Sunday, April 2nd at 11:59pm. You will receive a confirmation email with all of your Passover seder meal information by Tuesday, April 4th. If you have any additional questions or Passover needs on campus, please reach out to Rabbi Brandon (bbernste@bu.edu) or Leah (lross@bu.edu).
Looking to sell your chametz? If you would like to sell your chametz, please fill out this form by Monday, April 14th.
Undergraduate Passover Programming
Volunteer! 

Sun 4/2 – 3-6pm – Join the Care Fellowship and New England Jewish Family & Children's Services for a Mental Health Seder. The seder is designed for adults living with intellectual and developmental disabilities, and BU Hillel students will help by setting up, serving food, cleaning up, and engaging their tables in conversation. Students are expected to arrive by 3:00pm and will leave by 6:00pm. All are welcome –

 

register here

! 

Passover Pop-Up Giveaway! Mon 4/3 – 1-3pm – BU Hillel is ready to help you celebrate Passover with Matza, candy and goodies!! Stop by Marsh Plaza or West Campus on Monday, April 3rd from 1-3pm to pick up some delicious Passover snacks and a big box of matzah or a plush plague frog. Register here.
Prince of Egypt Screening – Mon 4/10 – 7pm –Join Film at Hillel for a special showing of perennial Passover favorite, The Prince of Egypt. Register here.
Matzah Pizza Making! – Wed 4/12 – 6-8pm – Reb Danny is excited to welcome students into his home (in Allston, next to west campus) on Wednesday, April 12 th from 6-8pm to make their own matzah pizza. Register Here.
Mimouna – Thu 4/13 – 8pm (part of Mishelanu group) –Experience the traditional Moroccan dinner to celebrate the end of Passover right here at BU Hillel. Email Lior (lltibi@bu.edu) if you'd like to get involved with Mishelanu.
Graduate Passover Programming
More Passover and Seder Resources!
There are literally 1000's of versions of the Passover Haggadah published over the centuries. Each Haggadah help present the story of our freedom through a different lens. Check out the below for a few of our suggested Haggadahs or seder supplements.
Not sure what to do on Passover? Check out a few ideas below: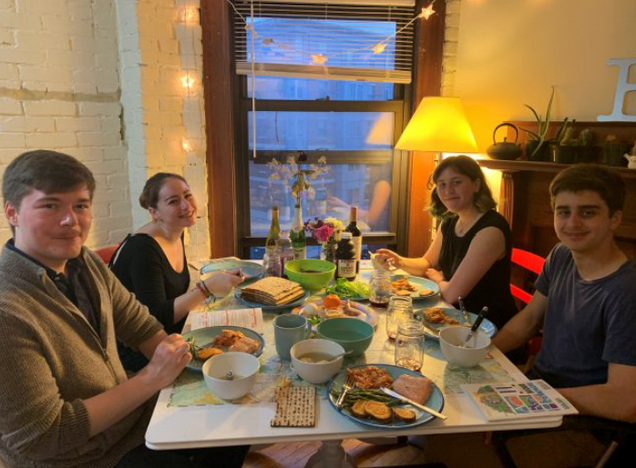 For any and all Passover questions, email Rabbi Brandon (bbernste@bu.edu) or
Leah (lross@bu.edu).