Leveraging AI to Examine Disparities and Bias in Health Care
Focused Research Program
Our Focus
The Leveraging AI to Examine Disparities and Bias in Health Care FRP will explore the application of machine learning and artificial intelligence (AI) in health care. AI experts from the Charles River Campus will converge with faculty from the Medical Campus and will leverage AI to determine the role of social determinants in health and the presence of racial, ethnic, gender, or other forms of bias in health care. In addition, the FRP will seek to identify and understand the role of misinformation in public health. The FRP's objective is not only to discover how biases affect health and healthcare, but also how AI can help mitigate their effects.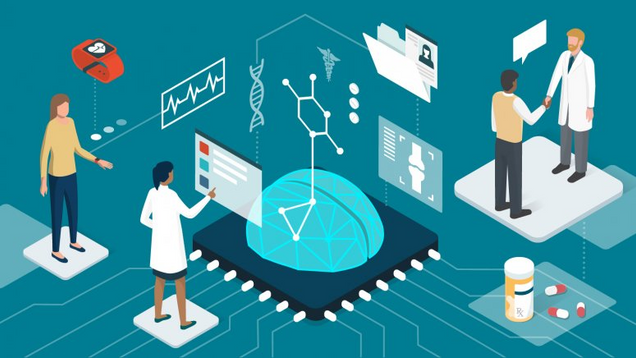 Focused Research Programs led by
Yannis Paschalidis, Professor, Electrical & Computer Engineering, Systems Engineering, Biomedical Engineering and Computing & Data Sciences

Gianluca Stringhini, Assistant Professor, Electrical & Computer Engineering and Computing & Data Sciences
Research Thrusts
Social Determinants of Missed Medical Imaging Appointments
Explore the role of Social Determinants of Health (SDH) and the presence of bias in training models that predict breast cancer based on mammograms and prior health history available from Electronic Health Records (EHR). The goal is to develop ensemble models that combine deep learning models based on the mammography images and the EHR data. We will assess SDH as predictive features of the severity and type of the cancer and we will explore bias that could exist in the developed models. 
Thrust Leaders
Core Participants
Social Determinants of Poorly Controlled Hypertension
Explore the role of SDH and the presence of bias in deep learning models that diagnose Alzheimer's Disease and Related Dementias (ADRD) based on brain magnetic resonance imaging (MRI) and neurophysiological exams. 
Thrust Leaders
Core Participants
Prescriptive Models for Hypertensive Patients
Explore the role of SDH in predicting blood pressure at the next office visit for hypertensive patients. The goal is to assess the impact of SDH in achieving good blood pressure control. In addition, develop methods that leverage the predictive models to recommend an appropriate blood pressure control medication, seeking to improve upon physician prescriptions. This thrust will also consider blood pressure control for postpartum women, the role of poor blood pressure control during the postpartum period in future health outcomes, and dosage control to prevent hypertensive episodes.
Thrust Leaders
Core Participants
Predicting COVID-19 Outcomes in a Safety-Net Hospital
Explore the role of SDH in predicting COVID-19 outcomes. Using data from Boston Medical Center (BMC), we are interested in predicting who is more likely to be hospitalized, admitted to an ICU, intubated, or die from the disease. Do socioeconomic factors and SDH variables play a role in such models? 
Thrust Leaders
Core Participants
Tracking Health Misinformation on Social Media
In this thrust we will combine network analysis, natural language processing, and computer vision to develop tools that can track health misinformation on social media. By analyzing billions of social media messages and millions of images, we will gain an unprecedented view of how health misinformation on social networks spreads and is discussed. The project will focus on understanding which misinformation narratives are prevalent in different countries, with the goal of identifying effective public health policies at a country level. Additionally, we will cross reference our results with external healthcare datasets (such as health system performance), aiming to correlate our observations with health biases and disparities around the world.
Thrust Leaders
Core Participants
Upcoming Events:
Artificial Intelligence in Healthcare: Mitigating Disparities, Biases & Misinformation
Monday, October 18, 2021, 10:00am – 4:30pm ET
Location: Boston University
Register on Eventbrite by clicking here.
Past Events:
Winter Workshop: AI in Health: Bias, Misinformation, and Social Determinants of Health
Date: Friday, March 12, 2021, 11:30AM-2:30PM
Location: Zoom
Registration: Please register here
Spring Workshop 2: Race, Socioeconomic Factors, and Misinformation in Disease Outcomes and Public Health
Thursday, May 27, 2021, 1:00PM – 4:00PM
Location: Zoom
Registration: Please register here
How to get involved?
For program specific inquiries and questions, please contact Yannis Paschalidis (yannisp@bu.edu) and/or Gianluca Stringhini (gian@bu.edu.)
Faculty interested in submitting a Focused Research Programs proposal are strongly encouraged to discuss their ideas with the Hariri Institute's Director, Eric Kolaczyk (kolaczyk@bu.edu). 
To learn more details about the Hariri Institute's Focused Research Programs, visit here.