Graduate Student Fellow Hopes to Apply Data Journalism Skills to Study Inequalities
BY: NATALIE GOLD
Si Wu's diverse academic background, from physics to data journalism, provides her with an innovative lens for studying political science as a PhD student at Boston University and a Graduate Student Fellow at the Hariri Institute.
As an undergraduate student, Wu pursued a degree in Physics. But she realized physics research was not what made her the happiest. "I wanted to apply to something completely different here in Boston," said Wu. Rather than conducting scientific research, she began thinking about communicating scientific ideas. It was something new that still utilized her scientific background. She became specifically interested in reporting on the science of climate change to broad audiences and decided to apply to a Master's degree program in journalism.
While studying journalism, Wu combined her scientific background with her passion for writing. She took time outside of her journalism classes and coursework to teach herself how to debug code for analyzing media. Wu's personal interest in coding and analysis then drew her to data journalism. "The idea of data journalism caught my eye because I'm a more data-oriented person," she said. She was able to connect her two major academic interests at the time: journalism and data science.
Wu's interest in data journalism led her to an internship working directly with data scientists. She spent six weeks at Tufts University studying gerrymandering with data science tools. Her work included quantifying the differences between districting plans to better understand how districting influences elections. Two different plans could result in totally different people winning an election within a district. These six weeks gave Wu the chance to work closely with data, and also revealed Wu's interest in quantitative research.
After completing her journalism degree, she began applying to Ph.D. programs in political science with the goal of combining her experiences to perform multidisciplinary research. "When I applied to programs, I wanted to make my PhD interdisciplinary with some politics and some data-driven work," said Wu. The Hariri Institute drew Wu to BU. The possibility that the Institute could help connect Wu to data science researchers and computational tools to assist in her research was exciting. This kind of support for multidisciplinary research was just what she was looking for in a graduate program.
Now a first-year student at BU, Wu is beginning to think about multidisciplinary research ideas for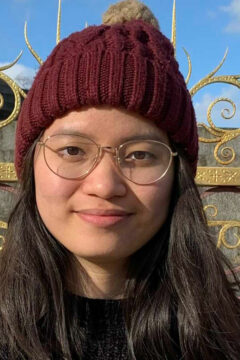 her dissertation. Race and gender studies, journalism, data science, and political science theories will all play a part in Wu's dissertation research. She is interested in exploring the media and its effect on politics and the world at large, using data science to quantify media texts that play into our political system. Wu's physics background is helpful in this political science work. She thinks of her research a bit differently than some other social scientists might. "Every time I look at a project, I feel like I start thinking about quantitative ways to approach it," she said.
This summer, Wu plans to learn more about how she might use computational methods in her political science research by taking a deep learning class. "Natural language processing has increasingly gotten more attention over the last ten years, so everyone is excited to try to use it and see how exactly they can incorporate it in their research," she said. Wu's idea is to use natural language processing, a kind of artificial intelligence that focuses on the interactions between human languages and computers, to comb through media text and figure out if and how different types of media contribute to race and gender inequalities.
Wu's current Ph.D. coursework sparked her interest in studying how media contributes to race and gender inequalities. One of her favorite classes at BU is one focused on race and minority relations. What Wu is learning in this class has pushed her to read more about media bias and the intersection of media and inequalities. Making this connection pushed Wu to focus her research on beyond just politics. "I'm wondering if I can approach inequalities with a political science angle," Wu said.
Each of Wu's experiences has contributed to her work today and has provided her with a new tool to study political science. Without these experiences, her research might not be as multidisciplinary or unique. Wu looks forward to continuing to connect her diverse interests together to answer innovative research questions in political science.
---
Interested in learning more about the transformational science happening at the Hariri Institute? Sign up for our newsletter here.