NoiseScore Launch Event a Big Success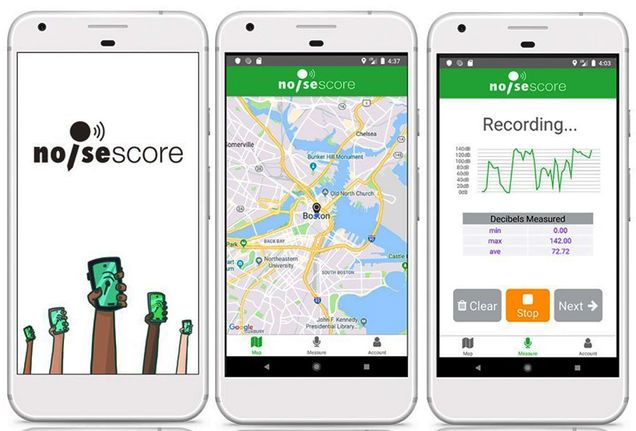 Yesterday afternoon, Erica Walker, Researcher, Environmental Health, BU School of Public Health and Nika Elugardo, Massachusetts State Representative, 15th District gave a talk titled "Technology, Community Activism, and Public Health: Using NoiseScore to Address Community Noise Issues." held at the Hariri Institute for Computing.
The 2-hour seminar started with an introduction from Azer Bestavros, Warren Distinguished Professor of Computer Science and Founding Director of the Hariri Institute. He briefly spoke about the NoiseScore mobile app and the Community Noise Lab (where Erica is the Director and Founder) and how it was a great example of cross-disciplinary research, by bringing together researchers, community leaders, and application developers. He then handed it off to Erica Walker who spoke about noise as pollution and the fact that it can negatively impact our mental state and overall health. When your environment is one where you consistently live in a state of noise: music concerts, college parties, and construction, you're mental health suffers as you feel like your under stress all the time. Erica then gave way to Nika Elugardo who outlined how technology can be used to address community noise issues and the role of activism in combating noise pollution.
Finally, Erica Walker led the audience through the NoiseScore 2.0 mobile app which was developed the Software & Application Innovation Lab (SAIL) and their software engineers, Stathis Karatsiolis and Sarah Leinicke at the Hariri Institute. She highlighted how technology allows the user (community residents) to document and visualize the changing environmental soundscape. 
NoiseScore and The Community Noise Lab in the News
Recently WGBH Boston's Christina Quinn interviewed Erica Walker and discussed the effects of noise pollution in the City of Boston. Read the full WGBH feature here.
---
The Hariri Institute initiates, catalyzes, and propels collaborative, interdisciplinary research and training initiatives for a better society by promoting discovery and innovations through the use of computational and data-driven approaches, and advancing computing sciences inspired by challenges in engineering; social, health & management sciences; and the arts.