Institute Announces 2016 Junior Faculty Fellows
The Hariri Institute for Computing at Boston University is pleased to announce its 2016 cohort of Junior Faculty Fellows. They are: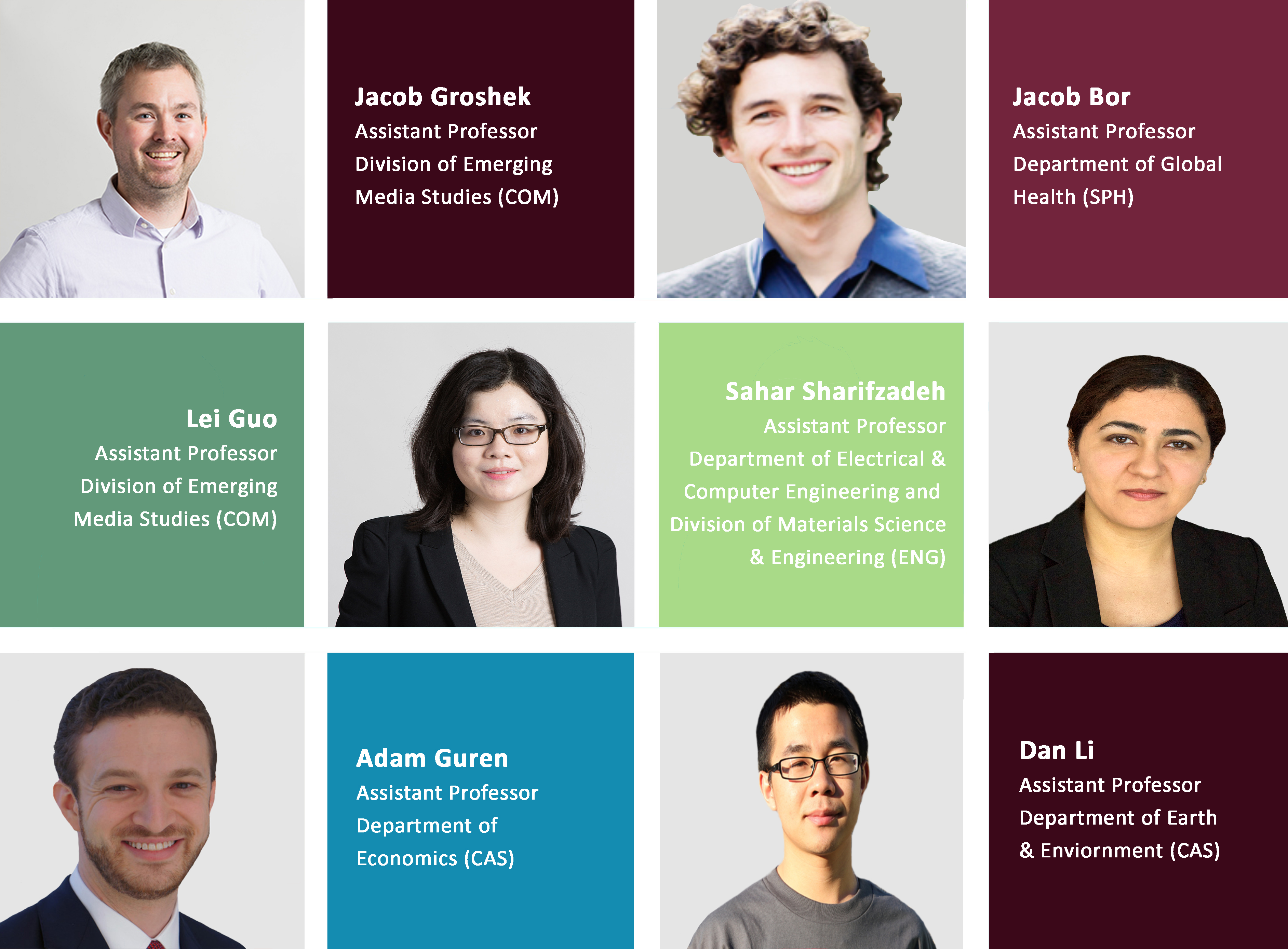 The Hariri Institute Junior Faculty Fellows program was established in 2011 both to recognize outstanding junior faculty at Boston University working in diverse areas of the computational sciences, as well as to provide focal points for supporting broader collaborative research in these areas at BU and beyond. Junior Fellows are selected by the Hariri Institute Steering Committee based on nominations received each spring, and are appointed for a three-year term.
Commenting on the research profile of this sixth cohort of Junior Fellows, Professor Azer Bestavros, Founding Director of the Institute, noted that "as in previous years, it is extremely rewarding to observe the degree to which computing is fundamentally changing various fields," adding that "the research achievements of this particular cohort of fellows demonstrate the benefit from making the leap from quantitative, statistically-driven research to computational, algorithmically-driven research, and is a tell-tale sign about the increasing importance of the Institute's mission of bringing the computational lens to bear on our data-driven world."
Over the next academic year, each of the Junior Faculty Fellows will be giving a Distinguished Lecture at the Institute. For more information and to receive notices about this and other Institute activities, please join our mailing list by becoming an affiliate member or by subscribing to the Institute's mailing list for general announcements.  For more information, please visit our web site or connect via Facebook and Twitter.
About the Fellows
Jacob Bor is an assistant professor in the Departments of Global Health and Epidemiology at the Boston University School of Public Health. His research applies the analytical tools of economics and data science to the study of population health. Research interests include the economic spillover effects of HIV treatment scale-up in southern Africa, population health impacts of policy interventions, and chronic disease management in low-resource settings. Current work involves a novel record linkage of South Africa's national laboratory database, creating a national patient cohort in collaboration with BU and South African colleagues. He is a recipient of BU's Peter T. Paul Career Development Professorship and a graduate of Harvard School of Public Health.
Dr. Sandro Galea, Robert A. Knox Professor and Dean of the Boston University School of Public Health, states that "Jacob is a remarkably promising young academic who has already shown an ability to ask interesting questions, identify novel data sources, develop and apply state-of-the-art analytic techniques, and publish his work in top-tier journals. His scholarship combines methods from economics, epidemiology, and computational data science to study determinants of population health. His broad quantitative training – spanning economics, epidemiology, demography, and statistics – has enabled Jacob to work across traditional disciplinary boundaries to advance population health science. His work with NHLS and the approach he is developing have tremendous potential to improve longitudinal patient care in low- and middle-income countries now faced with large chronic disease epidemics."

Jacob Groshek was selected as an Institute Junior Faculty Fellow in fall 2016. He is an assistant professor of emerging media studies at
Boston University, where his research focuses on communication technologies and the ways in which the structure, content and uses of online and mobile media may influence sociopolitical change at the macro (national) and micro (individual) levels.  Related to these pursuits, his body of work also includes applied econometric analyses, such as time-series and panel models that link democratic change with media diffusion and social media content. He earned his Ph.D. at Indiana University in 2008 and has since published more than 30 peer-reviewed articles, including pieces in Journal of Communication, New Media & Society, Social Scientific Computer Review, and the International Journal of Communication, among others. He has previously held academic appointments at Iowa State University, Erasmus University Rotterdam (The Netherlands), the University of Melbourne (Australia), and was a visiting scholar at the Institute for Advanced Study in Toulouse (France).
Professor James E. Katz, Director of the Division of Emerging Media Studies and Executive Director for the Center for Mobile Communication Studies, states that "Jacob has been an assistant professor at BU since 2013, specializing in the area of data-driven study and visualization of online, social, and mobile media. He has published in over 25 peer-reviewed journals and his work has been cited hundreds of times. Moreover, during his time at BU, Jacob has lead the acquisition of the Twitter Collection and Analysis Toolkit, a cloud-based data collection and analysis software that he has made available to the BU and global scholarly community with approximately 100 users from around the globe on a variety of topics."
Lei Guo was selected as an Institute Junior Faculty Fellow in fall 2016. She is an assistant professor of emerging media studies at Boston University's College of Communication. Her research focuses on the development of media effects theories and methodologies, emerging media and democracy, and international communication. Professor Guo earned her Ph.D. from the University of Texas at Austin in 2014, and recently published a book that she co-edited with Maxwell McCombs, The Power of Information Networks: New Directions for Agenda Setting.
Professor James E. Katz, Director of the Division of Emerging Media Studies and Executive Director for the Center for Mobile Communication Studies, notes that "Lei has been an extremely productive scholar, particularly in the area of data-driven studies of online opinion and agenda-setting in term of mobile media as those uses relate to politics and social movements. She has published numerous articles in top-tier journals, and is regarded as a rigorous methodological innovator who is driving the field of study forward. It is my belief that Lei's appointment as a Junior Faculty Fellow will help to augment her research profile as well as that of the Institute, all to the greater benefit of Boston University."
Adam Guren was selected as an Institute Junior Faculty Fellow in fall 2016. He is an assistant professor of economics at Boston University. Professor Guren is a macroeconomist who uses large microeconomic datasets together with computational models to answer macroeconomic questions, with a focus on the housing market and its interactions with the macroeconomy. Recent and ongoing research includes work on foreclosures and foreclosure policy, house price dynamics, mortgage design, the relationship between home prices and consumption, and the impact of consumer and producer behavior on inflation. Professor Guren received his Ph.D. in economics from Harvard University in 2014, and has been on faculty at BU since graduating.
Professor Barton L. Lipman, Chair of the Department of Economics, notes that "Adam is an extremely promising young researcher who makes good use of advanced computational techniques, and I believe he can bring interesting experience to and benefit from the Junior Faculty Fellows Program. His research focuses on assessing macroeconomic models using microeconomic data and methods. His "big data" approach to macroeconomics requires computational approaches both for solving complicated macroeconomic models and for analyzing large datasets by exploiting microeconomic heterogeneity."
Dan Li was selected as an Institute Junior Faculty Fellow in fall 2016. He is an assistant professor in the Department of Earth and Environment at Boston University. Professor Li works on a wide range of topics in the broad area of boundary layer meteorology and hydrology. His recent research focuses on understanding the impacts of global climate change on cities and the impacts of urbanization on the climate using global and regional climate models. After receiving his Ph.D. in civil and environmental engineering from Princeton University in 2013, he spent two years as a postdoctoral research fellow in the Program of Atmospheric and Oceanic Sciences at Princeton University.
Professor Mark Friedl, Department of Earth & Environment, notes that "Dan brings a remarkable skill set in both theory and application of computational earth system models; in his relatively short career, he has already made fundamental contributions to the understanding of processes that are now being implemented in state-of-the-art weather and climate models that are used to forecast weather and predict the earth's future climate. Based on the computational nature of his research, his excellent record or research productivity, and his interest in collaborative research, Dan has emerged as a national leader in understanding, modeling, and predicting heat waves in urban areas. Because of the linkage to human health, this dimension of Dan's research has many very real and important societal implications."

Sahar Sharifzadeh was selected as an Institute Junior Faculty Fellow in fall 2016. She joined Boston University in fall 2014 as an assistant professor of electrical & computer engineering and materials science & engineering. Her research interests involve understanding and predicting the electronic properties of material using first-principles electronic structure theories. Professor Sharifzadeh obtained her B.S. in electrical and computer engineering from University of California, Berkeley in 2003 and Ph.D. in electrical engineering from Princeton University in 2009. She then joined the Molecular Foundry, a nanoscience user facility at Lawrence Berkeley National Laboratory, as a postdoctoral fellow, and subsequently as a project scientist. Professor Sharifzadeh is also an affiliated faculty member in the Department of Physics at Boston University.
Professor David Coker, Director of the Center for Computational Science, states that "Sahar is a theoretical and computational materials scientist of national standing and a rising star in the international community in the field of many-body perturbation theory and correlated electronic structure methods development. In particular, she is one of the leading researchers implementing novel methodologies for studies of electronic structure of advanced molecular materials for energy research applications. Given Sahar's strong upward trajectory in the highest quality research productivity and her pivotal role in developing research initiatives, I believe she is an excellent ambassador for computational science."