Fellows Headline Mayor's Office-Sponsored Symposium on Women's Financial Empowerment
On Thursday, March 16th, BU Humphrey Fellow Sevgim Çisel Çelik Keskin of Turkey, BU Fellow Pakaiphone Syphoxay of Laos, and MIT Fellow Heba Khalil of Egypt teamed up to present on "Women in the Workforce" at a Mayor's Office-sponsored symposium hosted by Boston City Hall.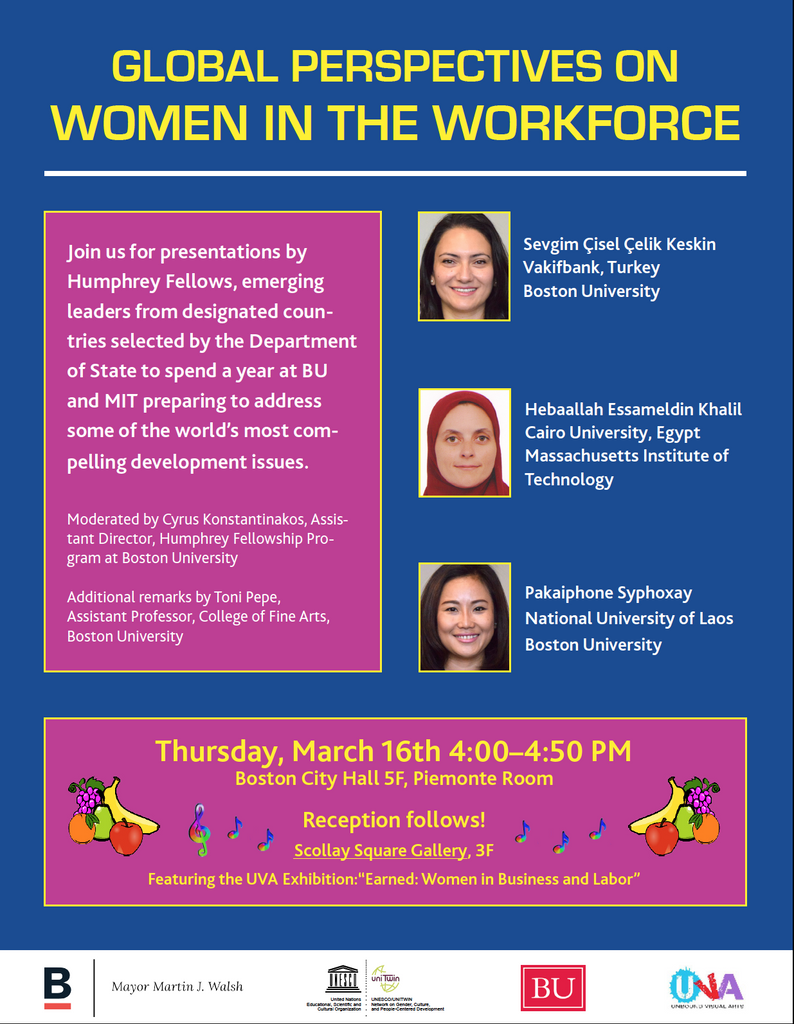 The symposium kicked off a new exhibition entitled "Earned: Women in Business and Labor," which is co-sponsored by the Mayor's Offices of Women's Advancement and Arts & Culture.  Additional support was provided by the Women's, Gender, & Sexuality Studies Program (WGS) at Boston University, Gender & International Development Initiatives of the Brandeis Women's Studies Research Center (GaIDI/WSRC), and the Boston Women's Heritage Trail.
The exhibition coincides with Women's History Month in the United States and International Women's Day on March 8th, which has a 2017 theme of "Women in the Changing World of Work: Planet 50:50 by 2030." It will run until April 6th.
BU HHHP Assistant Director Cyrus Konstantinakos moderated the symposium. After his introductory remarks, BU College of Fine Arts Assistant Professor of Art & Photography Toni Pepe presented a brief introduction to a multi-modal literacy workshop that she and her colleague, CFA Assistant Professor of Art & Graphic Design Laura Grey ran for BU Fellows last fall, which had assisted them in their preparation of a presentation on women's economic empowerment that they delivered in Washington, DC at the Humphrey Program's Global Leadership Forum.
Following Professor Pepe's remarks, the Fellows presented on the following topics:
Women's Labour Force Participation and the Feminist Movement in Turkey
Sevgim Çisel Çelik Keskin
The Role of Space in Mediating Gender Equity
Heba Khalil
Women's Economic Empowerment in Laos: Rural and Urban Dimensions
Pakaiphone Syphoxay
An audience of about 25 attendees included city officials, heads of local NGOs, staff and guests of the BU and MIT Humphrey Programs and the BU Women's Gender & Sexuality Studies Program, and students and staff of the Community College Initiative—another international exchange program sponsored by the U.S. Department of State, which is hosted by Bunker Hill Community College (BU HHHP's Associate Campus Partner). This diverse group of stakeholders enjoyed a discussion following the Fellows' presentations, and conversations continued during the reception that followed in City Hall's Scollay Square Gallery.