Keith Davis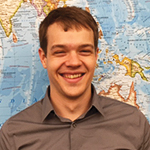 Title

Web Developer & Administrator

Email
As Web Developer & Administrator, Keith Davis is responsible for the professional presentation, functionality, and consistency of the Global Programs websites. In this role, Keith supports website design and maintenance for Study Abroad, CELOP, ISSO, and Global Support, which serve to both promote BU's global identity and to provide up-to-date information for students, faculty, and staff.
Prior to joining Boston University, Keith taught ESL at the ChungDahm Institute in Seoul, South Korea for three years. Since his return to the U.S., he developed a mobile game app, designed a community website, and worked as a search engine consultant.
He holds a bachelor's degree in political science from Iowa State University. Keith has backpacked through several countries in Southeast Asia, including the Philippines, Vietnam, Cambodia, and Thailand.