Hector Lucero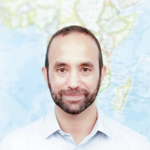 Title

Associate Director, Finance & Operations

Email

Phone

(617) 353-1098
As the Associate Director of Finance & Operations, Hector Lucero provides support on key financial and HR matters for Global Programs. He works closely with the Assistant Vice President of Finance & Operations in support of BU's global initiatives and projects, with an emphasis on managing financial operations and complex budget models. In this role, Hector also oversees the day-to-day Global Programs' Human Resources and Office Administration functions in collaboration with the Special Advisor to the Vice President and Associate Provost.
Prior to joining BU Global Programs Hector worked at Harvard University for 13 years. As the Associate Director of Finance and Administration at the FXB Center for Health and Human Rights at Harvard, he directed the financial and administrative functions of the Center and its programs. He worked closely with faculty, postdocs, and students throughout all aspects of their employee and research lifecycles.
Hector holds a Bachelor of Arts in Business Administration from the School of Management at Boston University (now the Questrom School of Business).
Hector has a passion for human rights, born out of his experience in 2015 when he found himself on the frontlines of the unfolding European migration crisis, helping migrants and refugees as they reached the shores of Lesvos, Greece. His interest in geopolitical dynamics, distress migration, and sustainability drive his belief that a global approach to education and business is critical for positive change.