Study Abroad Internship Leads to Global PR Job Offer 
A London Internship Provides Lasting Relationships, Relevant Experience for COM Major
Pamela Urchel's excitement for her budding career in public relations is unmistakable. As a transfer student to BU's College of Communication, Urchel knew she would be afforded many exciting opportunities to deepen her knowledge of the field and gain critical real-world experience.
What she did not realize until speaking to her advisor is that, even as a transfer student who only had two years at BU – during the pandemic no less – she could study abroad, gain valuable internship experience at an international public relations firm, and graduate on time. On top of that, she was offered a full-time position from her London internship company to work for their New York City office (remotely from her home state of Illinois) upon graduation.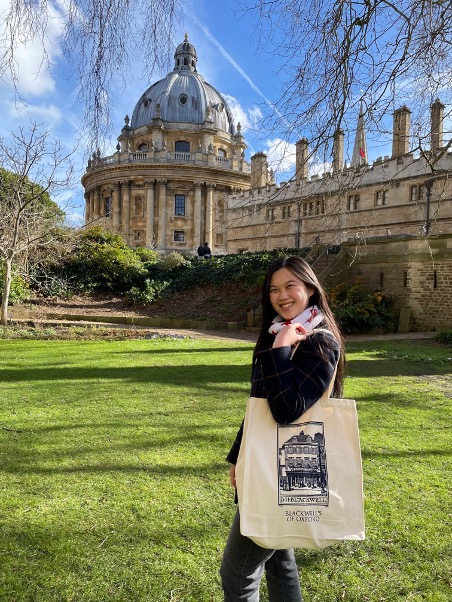 "I heard so many wonderful things about Boston University Study Abroad, especially the London programs for Comm [majors]," Urchel said. "I am so grateful and happy that I could do the London Internship Program especially because of the internship aspect. Being a transfer student, I didn't have as many internships in PR."
Urchel had experience working in BU's award-winning PRLab, a student-staffed PR agency that creates campaigns for paying companies and brands across the private, public, and nonprofit sectors. But she also wanted to gain experience in a different, larger agency structure to get a sense of the similarities and differences across the "agency world."
"In London I was matched with Grayling, a global PR agency, and my time there was amazing," Urchel said. "I worked on the corporate team and spent a lot of time conducting research tasks."
Urchel helped the new business team and felt like her work was appreciated and that it made an impact as senior team leaders researched and pitched new business for the agency. She also updated media lists that her colleagues used to contact and pitch journalists news.
I feel like I've made lasting and strong connections in our Grayling London team, which is why I am eager to continue working with the New York team
Pamela Urchel
"Sometimes I would work alongside an account executive who assigned me a project, so it really gave me insight into the responsibilities of a junior level role at a PR agency," Urchel said. "I was also given the opportunity to draft a press release and ask questions throughout the editing process."
Urchel made great connections with her colleagues in London and looks forward to the potential opportunity to work with them again on future client projects, albeit from the U.S.
"I feel like I've made lasting and strong connections in our Grayling London team, which is why I am eager to continue working with the New York team," she says. "I'm honored and excited to be a part of the Grayling family."
On the opportunity to study abroad, Urchel says, "I can't recommend it enough, especially because you learn a lot, and if you do an internship your experience is so unique and will stand out on your resume or CV. Also, you'll never know what connections you'll be able to make."
Always keen to learn more, it may come as no surprise that, now as a PR Account Coordinator at Grayling NYC, Urchel is becoming well-versed in the differing media and competitive landscapes of her clients. Urchel represents clients in various industries, including fintech, e-commerce, and crypto.