For Two Pakistani Students, A Summer Unlike Any Other
Global Programs hosted two Pakistani women students as part of Sister2Sister Exchange Program
For two young Pakistani women, their time at Boston University during Summer Term 2 marked their first trip to the United States, and they say it lived up to – even exceeded – their expectations. Hosted by Global Programs and selected by the Department of State-funded Sister2Sister Exchange Program, the students embarked on their first, solo journeys to Boston in early July.
They were accepted to the highly selective Sister2Sister Exchange Program, a public-private partnership supported by the Department of State, led by American University, and run in partnership with U.S. universities – like BU – that provide summer scholarships for students to enroll in one undergraduate course in their related field of study and complete a cultural reflections project. The Program is designed to provide Pakistani female college students from underserved backgrounds with academic, personal, and professional development as well as exposure to American culture.
Noor ul Ain Rehman ('24) and Mehreen Khan ('25) soaked up much of what a Boston summer has to offer while also advancing their studies in English and medicine, respectively. Rehman studies at the National University of Modern Languages in Islamabad, and Khan is enrolled at Quetta Institute of Medical Sciences.
"We were delighted to support Noor and Mehreen this summer in Boston University's inaugural involvement with the Sister2Sister Exchange Program," said Willis G. Wang, Vice President and Associate Provost for Global Programs. "This is an important program in collaboration with the U.S. State Department that helps empower Pakistani women college students, and I have no doubt that Noor and Mehreen will continue to meet their academic and career goals."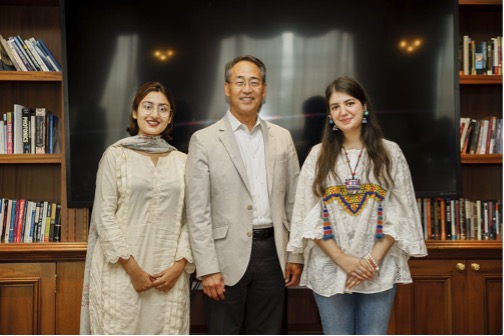 For Khan, the value of an education was instilled in her at a young age by her mother, who has fought for the rights of children, especially girls, in Pakistan to have access to education.
"My mom has faced a lot of challenges; she has fought for those who are not allowed to go to school for various reasons, and she teaches them," Khan says. "She used to be a professor, now she's an administrator and a teacher, and she goes to areas where there are no schools."
Khan hopes for a day when there are no uneducated people in Pakistan or in the world. She views her mother as a role model and is thrilled that her mom is proud of her for being accepted to the Sister2Sister Exchange Program and for reaching her academic goals.
"My mom is so proud…she's always told me you have to do things for yourself and believe in yourself," Khan says. "I've explored a lot here, and it's made me stronger. I'm also getting international experience to see how hospitals here manage and treat patients so that I can take all the good points and apply them in my country."
Khan studies medicine and plans to become a doctor and eventually help build hospitals in the areas of Pakistan that have high poverty rates.
"I want to treat people for free, and it would be an honor to become the first doctor in my family," she says. "Treating the ill has always been something I'm interested in."
At BU, Khan took the course Human Physiology and learned how the human body normally functions and what happens when there are abnormalities. She also met with several Boston University Aram V. Chobanian & Edward Avedisian School of Medicine physicians, medical students, and School leadership, including Dean Karen H. Antman, MD, who is an internationally recognized expert on breast cancer, mesotheliomas and sarcomas, and the Provost of the Boston University Medical Campus.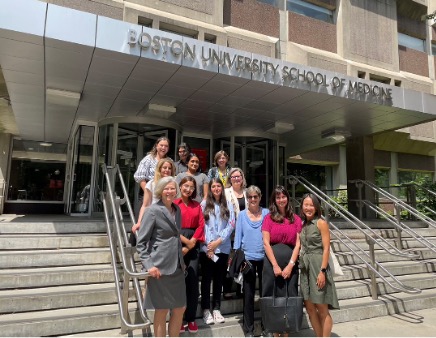 "Several of our women faculty and medical students hosted a lunch for Mehreen and Noor and then gave them a tour of the medical campus," said Dr. Antman. "We are looking forward to hosting other students again next summer."
"I really like the education system that I've been a part of here," Khan adds. "Lab work in Pakistan and in the USA is very different. In Pakistan we perform experiments but here most of things are typing on the computer. I've also been amazed by the people. Everyone is generous to each other and to their work. I want to thank everyone for helping me make my dreams possible."
Like Khan, Rehman has learned how studying in a foreign place has helped her imagine new possibilities for herself and boosted her independence and professional development.
Rehman studies English and took a Creative Writing course at BU during her time, where she not only learned about different forms of writing but also practiced her craft and compiled a short story that she hopes will be published in a book in Pakistan.
"Here, we focus on our own potential; the writing class is different [than in Pakistan] and it's a different approach," Rehman says. "Back home, I didn't get to write much during class. I never thought I could write so well in a limited time and with a prompt. Now I know that if I have even a small idea I can write it down and then go back to it later and write a poem or story."
Rehman aims to earn a masters and doctorate degree in English or Creative Writing. She also has plans to take a CSS exam, which, with a passing score, would give her access to a position in government in Pakistan.
Over the course of her six-week visit, Rehman says she made many friends and has been pleasantly surprised by the open arms that have greeted her.
"People here are so sweet…that will stay with me the most," she says. "No one judges me even though I thought they may. This has made me think about minorities in my country. People here have made me feel so welcomed and have been so kind to me. I am amazed by even the small gestures."
Rehman adds that she thinks it's important for people to experience life in different countries and cultures, if possible, because one can use the opportunity to not only learn from other people but also examine oneself.
"I've been able to learn so much about myself," she says. "I met so many people here – people from all different countries and cultures – and we instantly connected with each other. It didn't matter where we're from or what language we speak. We're more similar than we think, and we should remember that."
An avid reader and someone who's interested in history, Rehman has made many terrific memories exploring Boston and participating in various city tours and museum visits.
"I wore out three of the four pairs of shoes I packed!" she adds. "I had the best time."