CELOP Hosts Georgian Students in Department of State-Funded English Access Program
Students gained insights in leadership styles, English language skills, and American culture
BU's Center for English Language & Orientation Programs (CELOP) recently hosted 28 students and 3 chaperones from the country of Georgia who participate in a Department of State-funded English Access Microscholarship Program (Access). The Access Program provides a foundation of English language skills to bright, economically disadvantaged students, primarily between the ages of 13 to 20, in their home countries, according to the Department of State. While visiting BU's campus for two weeks, the students developed their English language skills and learned about leadership and American culture.
"It's one thing to learn about it [American culture], but it's another thing to experience it," said Kocha Changelia, one of the students who participated in the program and is studying international relations in Georgia.
Students studied leadership and gained an understanding of different leadership styles as well as how their personal qualities relate to leadership. They also toured some of Boston's historical landmarks and learned about American history and the role that Boston played in it. In addition to walking the Freedom Trail, they visited the Institute of Contemporary Art and took tours of BU, Harvard, and MIT.
"This was my first time in a foreign country," said student Lasha Tchanturishvili. "I met a lot of people – different personalities, different cultures. The most memorable for me in Boston will be our tours and seeing the JFK Library."
"We were incredibly fortunate to have had the opportunity this summer to partner with pH International on delivering this high-impact, two-week program to their talented group of Access students," said Maria Arruda, Managing Director of CELOP. "Not only is it helpful for CELOP to bring in new partners post-pandemic, but also hosting this particular group of students helped to enhance the diversity of CELOP's student population."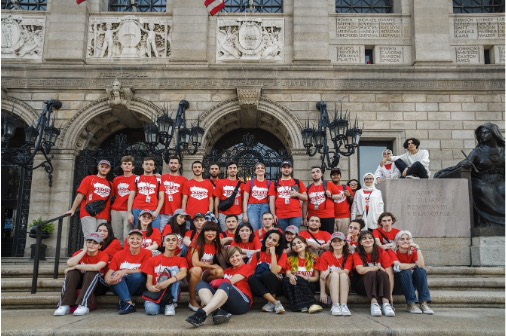 Another student, Zaur Tchikaidece, who is studying computer science and English in Georgia, echoed the excitement of visiting the U.S. and reflected on learning more about life in America. "This was my first time ever leaving my country," Tchikaidece said. "It's exciting in every way possible. I can't help but notice the movies make the U.S. seems so different than it is…the U.S. seems like a place of heaven in the movies."
This group of young college students was one of CELOP's first from the country of Georgia, where aspects of their culture date back to medieval times. The history of the Georgian people runs deep, and some students gave presentations – as part of their program – about the differences between the U.S. and Georgian governments. They also investigated, analyzed, and gave presentations on successful leaders.
"For Americans it is simple because they are born here and move through the years…sometimes I think people don't realize the responsibility they have when it comes to voting," said student Kocha Changelia. "We take it seriously in Georgia. [During this program,] we talked about the Electoral College [in the U.S.] and how it functions. The differences in popular vote and Electoral College. Can they be replaced and changed? What are the implications that they have?"
"This program made me realize that there are so many great teenagers who are future leaders of my country," said Lizi Astavishvili. "They are really enthusiastic about their careers, and I made great friends here." Astavishvili is in her second year of studying for her bachelor's degree in Georgia, and she hopes to become a lawyer. She also aims to pursue a master's degree in the U.S.