On the Journey to Med School, a Stop in Madrid for an Exciting Semester
Isabella Pompa (CAS '22) knows the power of saying "yes" to not just easy, straightforward opportunities, but also to things that challenge her. A biology major with goals to attend medical school and become a pediatrician, Pompa's desire to push past her comfort zone and embrace new challenges with a growth mindset will undoubtedly serve her well in the medical field.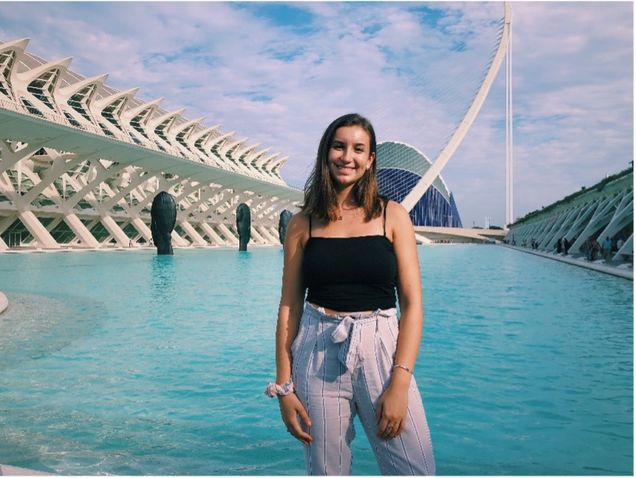 Saying yes and leading with her curiosity led her to take advantage of a study abroad opportunity during fall 2019 in BU's Madrid Science Program. Combining science coursework taught in English with Spanish language and culture studies, the program design allowed Pompa to take science courses that fit neatly into her curricula.
"I learned all the material I needed to learn; I took Organic Chemistry I and Cell Biology along with a Spanish course," Pompa says. "I took classes at the Universidad Autónoma [de Madrid] and upon coming back to BU I had to take Organic Chemistry II, and I realized I was even a little bit ahead because we had gone so far in Organic Chem I while in Madrid."
Pompa says she also took a culture class and went to museums, like the Prado Museum, and explored literature, art, and history, which greatly expanded her knowledge in these areas and allowed her to practice her Spanish. This course also fulfills a unit in the BU Hub areas of Global Citizenship and Intercultural Literacy and Historical Consciousness.
"Because of Study Abroad I definitely improved my Spanish," says Pompa, who continued her Spanish studies even after studying abroad. "I wanted to experience as much as I could; I lived with a host family so I could immerse myself as much as possible."
Pompa's host family helped her practice her Spanish every day, and they invited her to go everywhere with them, helping Pompa experience life as a true Spaniard and utilize her Spanish speaking skills. Developing a strong relationship with her host family, Pompa says she hopes to return to Spain to visit them.
Gaining a deep understanding of how people's daily lives affect their health is something that Pompa is keen to understand. She already understands and appreciates how different lived experiences can shape a person's health and their relationship with the medical field.
"I think that everyone should go to a country or area that they're unfamiliar with," Pompa says. "In medicine, you're going to be taking care of a very diverse patient population, and you should understand how language and daily life can affect people's health. Being exposed to different people and different cultures can help you understand how and why people may behave in certain ways."
Someone as driven, thoughtful, and curious as Pompa, it may seem a forgone conclusion that she would want to work in healthcare. With her expanded worldview and having been able to nurture her Spanish while in Madrid, there's little that she won't be able to do for her future patients, especially when it comes to empathizing with the challenges they may face.
With plans to apply to medical school in May 2022, Pompa hopes to work at a community health center in Boston during her gap year as she makes it one step closer to her dream of becoming a pediatrician.