How Study Abroad in Paris Shaped an Architectural Designer's Career Interests
Karen Wang returned to her beloved Paris for an exciting career in heritage architecture
You could say Karen (Kai-chun) Wang (CAS '13) came to BU with a big imagination. As someone who identifies as a "third culture kid," she experienced cross-cultural transitions early in life, during her formative years.
"I was born in Taiwan, spent a part of my childhood in Vancouver, then returned to Taiwan for elementary and high school," Wang says. "Then I enrolled at BU for college."
While at BU, she took an active role in building and tailoring her educational experience, taking design classes in the College of Communication and architectural and French classes in the College of Arts & Sciences. Wang spent her years immersed in several subjects that fascinated her. "I even took a book making class," she says.
On top of that, she studied abroad during her junior year in one of BU's Paris programs. She chose the program because she had been studying French as a third language, and she wanted to take some classes at a French university.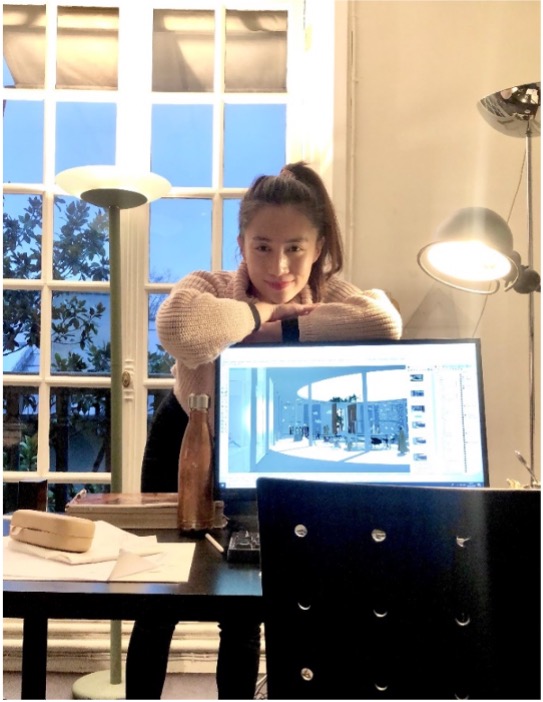 "We split our time between BU in Paris [BU's Paris Academic Center] and a French University," Wang says. "I even joined the volleyball team at the French university and managed to communicate well enough with my teammates. I wasn't used to speaking French all day, and it was still a challenge to understand but you pick up the language so quickly when you're immersed in it. I was surprised how quickly I came along."
On the academic side, she took poetry and architecture classes, among others. She fell in love with architecture while in Paris, enjoying her architecture classes as well as the beautiful and varied architectural styles of the city and its landmarks. The City of Light offers a stunning backdrop for this field of study.
In the course Paris Architecture and Urbanism, students traced the development of Parisian architecture and urbanism, from the Roman era to the present, focusing on the nineteenth and twentieth centuries and emphasizing dynamic relationships among architecture, urban development, and socio-political history.
Wang credits her study abroad experience in Paris with shaping her academic major and career interests. "It's one of the best decisions I made," she says. "I became an architectural studies major and paired it with CFA and COM."
She graduated Magna Cum Laude with her Bachelor of Arts in Architectural Studies and French Literature. After commencement, Wang moved back to Taiwan to work in an architecture firm and then applied to graduate school in architectural design. She enrolled at Cornell University and spent three and half years there, graduating with her Master of Architecture degree in 2017.
When she came across the opportunity to return to Paris in late 2019 to work for the architecture firm Guinamard-Casati Laurent she seized it. Previously, she had been working in a global architecture and design company in Shanghai, China.
"I would not be here today had I not studied abroad in Paris," she says speaking from her apartment in Paris. "During my time abroad as an undergrad I had thought to myself I could really live here one day. I had such a positive experience."
In her current position in Paris, Wang leads many different projects and tasks as an architectural designer because it is a small firm and "there isn't much hierarchy so you find yourself doing more, which I like," she explains.
The firm focuses on heritage architecture, which specializes in design contributing to heritage, history, and culture. Most projects are within the domain of museums, art galleries, and preservation.
"There's an artistic point of view here that I'm learning," she says of her work.
In addition to gaining a career path and nurturing her ability to think outside the box, studying abroad taught Wang how to "connect with people and how to have empathy. I also learned how to cope in a new environment and find another way forward."
She talks about her learning experiences – both domestic and international – with joy and gratitude. Experiencing joy in learning put her in the driver's seat early on, capitalizing on opportunities to think across disciplines and study abroad.
"Try stepping out of your college because you're not limited to your studies there," she says. "It's what you make of it in a lot of ways. You never know how something will help you in the future – both personally and professionally."