Cycling
Cycling is popular in Switzerland and Europe and a lot is done to encourage this eco friendly way of getting around.  The weather is normally good enough for cycling from March until October.  You can rent or borrow a bike, or buy a second hand bike for the few months you are here.
Borrow a bike for free
With Geneveroule you can borrow a bike for up to four hours,  you must give them your ID and a 20chf deposit.  Please note that these bikes are only for local touring and not for off road.  There are locations around Geneva – the nearest is the Place du Rhone.
http://www.geneveroule.ch/en/rent-loan
In some other cities you can borrow bikes with PubliBike.  It is a bike sharing scheme with bicycles and e-bikes that operate via self-service stations. You can use your customer card to hire a bike from one station and return it to a different station, 24 hours a day, 7 days a week.  Even though borrowing is free you must join the scheme first.  You can join using your Swisspass card and a one month enrollment costs about 20chf.  This scheme offers an alternative to public transport for exploring cities.
https://www.publibike.ch/en/publibike/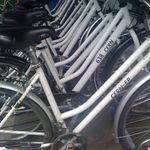 Physics students can borrow bikes for free while interning at CERN.  These are only for commuting to CERN. In the summer they charge 1chf per day.
Rent a bike
You can rent bikes for longer periods, from half a day to 2 months. The closest shop for rental to the residence is 4, ruelle des Templiers ( off rue de la Terrassière).
If you hire a bicycle make sure it is in good condition.  Check that the brakes, gears and suspension function correctly.  Look at the tires and make sure there is no excessive wear or bulging in them.  Make sure there is no rust on the bike.  If you have doubts about the bike ask for another one otherwise walk away.  Do not endanger your safety by using a bicycle which is defective.  Make sure the bike is suited for what you intend to do:
Vélo de ville – City Bike if you just want to cycle around Geneva city and the immediate lake.   Distances 5-10 miles.
Vélo de randonnée – Trekking Bike for longer distances on the road.  For example going around Lake Leman, weekends away.
VTT – Mountain Bike for going off-road.  If it's not tarmacked road or bicycle path you are considering then you should get one of these.  Remember you will have to pay if you damage a bike.
Vélo de course  – Road Racing Bike if you want to enter the Tour de France.
Do not leave it to the last minute to reserve a bike otherwise you may not get the one you want.  Buy a spare inner tube in case of a puncture.
Buy a second-hand bike
Buying a second hand back may be a cheaper option, but you must make sure it is in good condition ( see above).  We advise you to go to a dealer who will give a guarantee with the bike.
Sold Sports: rue cardinal mermillod 50 – www.soldsports.com
Geneveroule: https://www.geneveroule.ch/en/second-hand-bikes
Bike shops
For new bikes, accessories and repairs try:
Veloservice  – Rue du 31 Décembre 41 http://veloservice.blogspot.ch/
Veloland – Route des Acacias 33  Les Acacias/Carouge https://www.veloland-shop.ch/
Decathlon  – 14 rue de la resistance 74100 Annemasse France https://www.decathlon.fr/
Some rules about cycling in Geneva
Always wear a cycle helmet!
Use cycle lanes and paths where they exist.  Avoid busy main roads and take the calmer routes, even if this may not be the quickest.
Do not cycle on the tram lines.
You must have lights and a bell on your bike or you can get fined!
When cycling in the dark you must wear a yellow vest.
Use a bike rack if possible. The police can remove badly parked bikes.
Buy a big lock. Secure your bike to something. PLEASE NOTE WE DO NOT ALLOW BIKES IN THE RESIDENCE.
More information on bikes and rules about cycling in Geneva: Cycling in Geneva
Cycle routes
Switzerlandmobility have cycling routes on their website and you can download their app to your smartphone for free.  For an additional fee you can download maps for use off-line:
http://www.veloland.ch/en/cycling-in-switzerland.html
Geneva cycle lanes: https://www.ge.ch/document/carte-velo
See also: www.pro-velo-geneve.ch
La Voie Verte
La Voie Verte is a dedicated bicycle and pedestrian track linking Annemasse in France to Eaux-Vives in Geneva.  It recently opened and runs above the new CEVA subway which should be operational end 2019. Great for cycling, jogging and walking!
The best way to get to it is to go along the lake to the Parc des Eaux-Vives.  Go up through the park and tennis club and you will come out onto a main road.  Turn right and then left where you see a sign – Pharmacie de Richemont.  Follow through to the right and you will find yourself on the other side at the beginning of the Voie Verte.
https://www.google.com/maps/@46.2038884,6.1719416,20z
It is about 6kms long.  There is a break at Chene-Bourg where you will have to follow a diversion to get back on it.  There are several road crossings where you don't have priority, although cars most often give way. The border crossing is at the river Foron and is indicated on the bridge with a letter G for Geneve and an S for Savoie – France.