Announcing the 2019 Summer in the Field Fellows of the GDP Center
We are proud to announce our Summer in the Field Research Fellows for 2019: Amelia Dangerfield, Emily Hammel, Jonathan D. Shaffer, Hiwote Solomon, Kehan Wang, and Zeying Wu. The Summer in the Field Program offers summer stipends up to $4,000 to qualified Masters and PhD students to participate in internship opportunities and field research related to the mission of the Global Development Policy (GDP) Center. The mission of the GDP Center is to advance policy-oriented research for financial stability, human well-being, and environmental sustainability across the globe.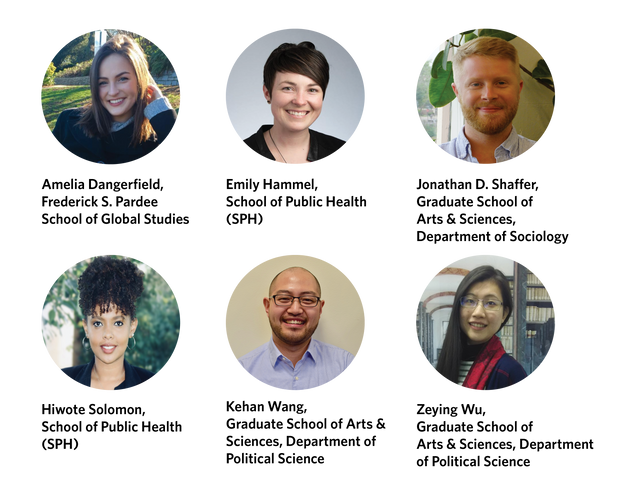 This year, our recipients represent three different schools across Boston University: the School of Public Health (SPH), the Frederick S. Pardee School of Global Studies and two departments within the Graduate School of Arts and Sciences (GRS) – the Department of Sociology and the Department of Political Science. The GDP Center strives to support interdisciplinary research and partner with students, faculty, & staff across schools and disciplines to provide opportunities for experiential learning.
Each fellow has a unique area of research focused on a topical area for the GDP Center: Amelia Dangerfield's field research aims to evaluate contraceptive decision-making in Lilongwe, Malawi; Emily Hammel's role as a field representative for Saha Global addresses environmental sustainability issues in Northern Ghana;  Jonathan Shaffer's pilot fieldwork in collaboration with Partners in Health aims to study expansion of clinical care for noncommunicable diseases (NCDs) in Kono District, Sierra Leone; Hiwote Solomon's project with Africa Centres for Disease Control and Prevention (CDC) supports the establishment of the Africa CDC Institute for Workforce Development in Addis Ababa, Ethiopia; Kehan Wang's research tracks the development of China's automobile industry in different regions throughout China, and Zeying Wu's research at the Asian Reading Room of the Library of Congress in Washington D.C and field research in Shenzen, China focuses on Japanese public opinion on trade conflicts in the early 1980s. The 2019 Summer in the Field Fellows will present their experiences and research at the GDP Center this fall.
We encourage all to join our mailing list to receive updates about upcoming GDP Center events. Visit here for more information about the Summer in the Field Program application process and read more here about last year's fellows.