Summer in the Field: Fighting for an AIDS-free Generation in Uganda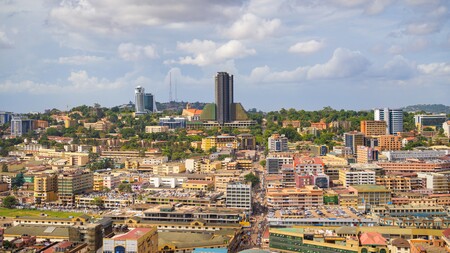 By Emily Lamunu
Significant progress has been made in eradicating childhood AIDS in Uganda; however, there is still much more work to be done. While new infections are decreasing annually, a 2022 UNAIDs report revealed that there were still as many 53,000 new infections in Uganda.
Many of these infections are preventable. Universal access to HIV testing, prevention and treatment services are necessary to end childhood AIDS, but the current health infrastructure to provide these services is insufficient. What is more, this infrastructure needs to evolve into providing even more robust support, ensuring that its patients have the support they need to stay in prevention care or on HIV treatment throughout pregnancy and breastfeeding.
Nonprofit organizations play a critical role in helping to eliminate childhood AIDS. By bolstering the existing health infrastructure, they can better serve the affected population and ensure they get the care they need.
As part of the Summer in the Field Fellowship Program sponsored by Boston University Global Development Policy Center, I successfully concluded an internship at the Uganda Country Office of the Elizabeth Glaser Pediatric AIDS Foundation (EGPAF) in Kampala, covering 18 districts in the southwestern region of Uganda. It was an invaluable and transformative experience; one that has left an indelible mark on my professional growth and also impacted my perspective on life.
During this immersive ten-week journey, I was not only granted the privilege of acquiring practical knowledge and honing essential skills, but also afforded the honor of making substantial contributions to EGPAF's Mission to end HIV/AIDS globally in children, youth and families. This enriching experience allowed me to delve deeply into the intricacies of EGPAF's program operations. I had the privilege of collaborating closely with a cadre of exceptionally talented professionals, whose mentorship and guidance became the core of my understanding of the field. Together, we tackled a diverse array of tasks and projects, providing me with a holistic perspective on EGPAF's multifaceted initiatives.
As I embarked on my internship journey, I carefully outlined a set of key objectives that would guide my path and aspirations throughout this pivotal experience. These objectives were not mere ambitions but tangible markers of growth and learning that I aimed to achieve during my time with the organization. First and foremost, my primary goal was to immerse myself in the intricate world of Project Closure Documentation and Knowledge Management. Additionally, I sought to enrich my existing skills in writing, research and documentation. These were the tools I knew would be indispensable in my professional journey, and I was determined to hone them further.
Beyond personal development, I was committed to making a meaningful contribution to the ongoing projects and initiatives within the organization. Being a proactive team member and driving positive outcomes became part of my mission. One of the most exciting prospects of my internship was the opportunity to participate in the organization's Project Close-Out Event. I eagerly anticipated the chance to play a pivotal role in its planning and execution. These objectives not only guided my journey throughout the internship but also served as the foundation upon which I built my contributions and accomplishments during this enriching experience.
During my internship, I undertook various projects and made significant contributions that highlighted my skills and commitment. One notable achievement was my role in the documentation and knowledge management of the USAID Regional Health Integration to Enhance Services in Southwest Uganda project close-out. I excelled in communication and coordination, facilitating smoother collaboration among team members, partners and health facilities. This improved project workflows, ensuring an efficient and effective project closure. I also took part in coordinating the 2023 Ariel camp, a five-day event focused on leadership development and psychosocial support. My achievements included integrating the camp's theme into all activities, conducting a valuable session on crafting elevator pitches and authoring compelling stories and a blog post about the camp experience, which enhanced its visibility and impact. In addition, I contributed to writing and editing program technical briefs, ensuring their alignment with the program's goals and objectives.
My internship at EGPAF was a transformative journey filled with significant milestones and invaluable lessons that greatly impacted my professional growth and aspirations. I had the privilege of actively participating in strategic projects at the core of EGPAF's mission, involving tasks like data analysis, research, program evaluation and strategy development. A standout feature of my internship was the culture of cross-functional collaboration at EGPAF. Working alongside professionals from diverse backgrounds widened my perspectives and allowed me to tap into collective knowledge, fostering a collaborative environment that enriched my perspective.
The most rewarding aspect of my internship was the realization that my contributions made a tangible impact. I directly contributed to initiatives addressing pediatric AIDS, aligning with EGPAF's mission to eliminate pediatric HIV. Each project I undertook played a role in ensuring that children in Uganda have the opportunity for a healthy life.
Mentorship and guidance played a pivotal role in my growth. EGPAF's culture of mentorship provided access to experienced professionals who shared their insights and wisdom, shaping both my internship experience and my career trajectory. As I reflect on these internship highlights, I'm grateful for the experiences, people and lessons that have shaped me into a more capable and empathetic professional. My time at EGPAF was a transformative journey guiding my path in global health and pediatric AIDS advocacy, leaving a lasting impact on my career and personal development.
In conclusion, my internship at EGPAF has been an incredibly enriching journey, equipping me with practical skills, knowledge and a profound sense of purpose. It has opened my eyes to the complexities and challenges of healthcare on a global scale while highlighting the resilience and determination of individuals and communities to create positive change. This internship has ignited a lifelong passion for global health, and I am committed to continuing this journey to contribute to a healthier, more equitable world.
*
Learn more about the Summer in the Field Fellowship Program.