Netting Investment Flows: The Push and Pull Determinants of China's Overseas Aquaculture Investment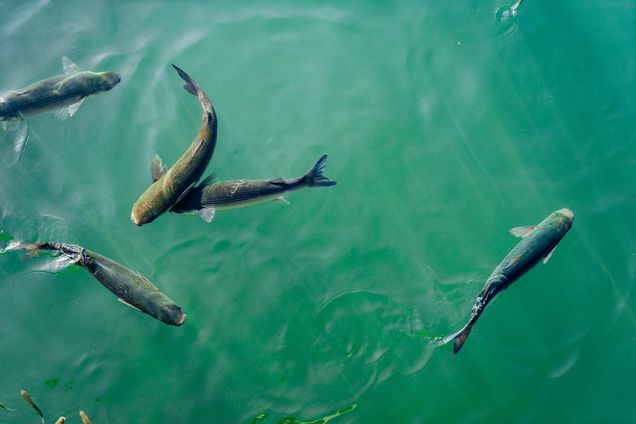 By Laura Gormley
Over the next decade, Chinese demand for imported seafood is projected to grow dramatically. China currently hosts the world's largest aquaculture production, growing more than 60 million tons of aquatic plant and animal food products in 2020. However, the growth of local demand is already outpacing production and the resulting shortfall is projected to grow to 18 million tons by 2030.
This unmet demand presents an attractive opportunity for foreign producers to expand their sales to the Chinese market and for Chinese investors to support the growth of foreign aquaculture industries. Yet, despite the industry's potential, aquaculture receives little investment compared to other sectors targeted by China's outbound finance. Both investor incentives and host-country policies dictate the scope of Chinese investment in aquaculture. Understanding these investment dynamics is essential to establishing policy frameworks that unlock financing opportunities and align foreign investment with host country priorities.
In a new working paper, Rebecca Ray, Hua-Ke (Kate) Chi, Anjali P. Kini and Yudong (Nathan) Liu compile data on China's investment in foreign aquaculture industries and provide the first assessment of push and pull factors shaping investment outcomes.
Push factors
Two of the main drivers motivating China's interest in expanding outbound aquaculture investment are Chinese consumers' increasing demand for seafood and growing public concern over aquaculture's environmental impact. Chinese government policy has promoted outbound investment in aquaculture while simultaneously introducing environmental regulations on domestic industry. Stronger regulations have cut out some of the industry's more environmentally harmful production methods, contributing to slowing fish production in recent years, as shown below in Figure 1.
Figure 1: Chinese Seafood Supply, 1990-2020
China's most recent Five-Year Plan sets targets to increase domestic aquaculture production. However, even this anticipated increase in production is unlikely to meet projected demand. Consumer tastes have recently trended towards a preference for imported over domestic seafood, reinforcing this shifting market structure. Foreign aquaculture investment appears poised to help close the gap in unmet demand.
Pull factors
Chinese investors have responded to this new market potential by searching for investment opportunities in foreign markets. However, host country aquaculture industries have not yielded the same level of investment opportunity. Two of the primary factors constraining investment potential are government capacity to manage environmental safeguards and the alignment of investments with development goals. The governments of countries such as Indonesia and Vietnam have articulated support for expanding their aquaculture industries in policy. Yet, the environmental and social impacts of aquaculture have caused dissatisfaction among local communities, creating conflict over foreign investment in the industry.
Another factor determinate of aquaculture investment outcomes is the alignment of investment impacts on domestic industry with host countries' economic development goals. The extent to which investments contribute to domestic seafood supply and increase economic activity and export revenue are important to local acceptance and success of a given project. These pull factors, along with the push factors detailed above, are summarized in Table 1.
Table 1: Push-Pull Forces of Chinese Investment in Overseas Aquaculture
Current landscape of China's overseas aquaculture investment
Due to the difficulty of coordinating investments with host country objectives, relatively few investments have reached closure. The authors find that China's overseas aquaculture investments amounted to $1.3 billion in total, across ten transactions. However, one deal accounts for most of this investment total, Joyvio Agriculture Development Co's 2019 acquisition of Chilean company, Australis Seafoods, for $987 million.
Beyond direct aquaculture investments, Chinese actors have participated in complementary activities with host countries by providing technical and grant assistance, funding technology development centers and donating aquaculture stock. Many of these initiatives directly address investment bottlenecks by supporting host countries' domestic industries with training and technology. China has also supported the growth of parallel industries with spillover benefits to capture fishing, by funding the construction of ports and seafood processing and the purchase of boats.
Investment outcomes
Investments were concentrated in higher-income nations such as Sweden, Malaysia, Japan and Australia. These countries have already established robust policy frameworks to safeguard regional socio-economic and environmental interests prior to China's investment in the industry. Most of the transactions were investments in existing aquaculture projects, rather than new greenfield projects. Acting through mergers and acquisitions allows Chinese firms to circumvent the bottlenecks mapped out in Table 1, by limiting any expansion of production. Of the investments in the data sample, only one was a new greenfield investment. However, this project remained dormant until it was dissolved in 2019.
Notably absent from the list of countries receiving investment are the Philippines and Sierra Leone. Chinese actors attempted to support the growth of local industry in both countries for export to the Chinese market. The authors explore these case studies and find that the lack of policy strategies to maximize the economic benefits and mitigate environmental and social risks associated with the aquaculture sector deterred the formation of these supply chain links. Other countries, such as Indonesia and Vietnam have recently overhauled their aquaculture strategies and may be better positioned to support new investments in the future.
Room for growth
Based on the regulatory environments of countries with finalized investments, the existence of industrial policies and environmental regulations do not appear to create a conflict with Chinese investors' incentives. In fact, these policy safeguards appear to be a necessary precursor for maximizing the chances of a successful partnership. Thus, Belt and Road Initiative (BRI) host countries interested in attracting Chinese aquaculture and seafood-related investment have the opportunity and policy space to establish their own industry strategies and mitigate environmental and social risks.
On China's part, continued progress towards a "Green BRI" and the alignment of outbound investment with international best practices will help to achieve better synergy with host country interests, reducing barriers to investment success. Recent pronouncements from Chinese central government agencies, including the National Development and Reform Commission, acknowledge the value in aligning investments with both host country and international standards.
As China develops environmental protections for its domestic aquaculture sector, outbound investment through the BRI can also serve as a channel for sharing research and industry best practices. In particular, the whole-lifecycle approach championed by China's Ministry of Ecology and Environment and Ministry of Commerce in their 2021 "Green Development Guidelines," holds the potential to address investment bottlenecks. As the relative success of technical cooperation initiatives demonstrate, using the BRI as a platform to share best practices is a core precursor to maximizing economic benefits while mitigating environmental and social risks.
In conclusion, the new working paper provides an important evaluation of the dynamics surrounding Chinese investments in environmentally sensitive industries. As China pursues an ambitious agenda to green the BRI, it will be necessary for actors to navigate many of the points of tension explored by this study. There is room for host countries to direct Chinese investment toward sectors that are in line with their domestic seafood strategies and to regulate it according to their own local environmental and social priorities. Chinese actors will also play a decisive role in achieving greater cohesion with host country interests to realize successful investments.
Read the Working Paper
Laura Gormley is a Research Assistant with the Global China Initiative and an MA Candidate in Global Policy at Boston University.
*
Never miss an update: Subscribe to the Global China Initiative Newsletter.