'The Uber-meets-Salesforce for Tractors': Using Blockchain Technology to Increase Access to Machinery for Farmers in Africa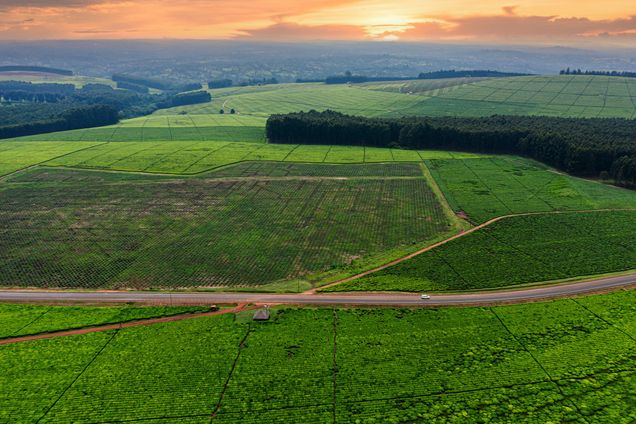 The world's farming sector is struggling to feed the world which, without major technological and organization innovations, will lead to an upcoming global food shortage. Food production must grow by nearly 60 percent to feed the world's population by 2050.
Africa's inefficient farming techniques and the poverty of its farmers are a key reason for the upcoming global food shortage. Africa is home to 60 percent of the world's arable land, with 900 million hectares suitable for agricultural activities (The Economist). However, many small holder farmers lack the machinery necessary to plow their fields. As a result, most farmers in Sub-Saharan Africa, around 60 percent, plow their crops by hand. Productivity is low, which means African farmers remain poor – 220 million farmers live on less than $2 – and Africa, alongside other developing regions, struggles to feed itself and the world.
How could technology be harnessed to improve farmers' access to essential machinery? A new partnership between Boston University, Hello Tractor and the Algorand Foundation will use blockchain technology to develop an application to unlock access and support farmers in Africa.
Hello Tractor is a Kenya-based firm explicitly seeking to build a digital ecosystem in the agricultural sector. Founded in 2014, Hello Tractor aims to create the largest technology services marketplace for agricultural equipment operating in Africa and other developing regions based on partnerships between technology partners, mechanization service providers, manufacturers, input providers, farmer organizations and other actors.
Often termed "Uber-meets-Salesforce for tractors," Hello Tractor's digital ecosystem connects smallholder farmers seeking machinery with fleet managers looking to improve their tractor service delivery. The service is beneficial on both sides of the transaction, as farmers can access tractor services at much lower prices than if they were working individually, while tractor owners earn strong profits servicing farmers and access to  trained tractor operators and technicians for maintenance support.
Here's how it works. Hello Tractor uses live 'booking agents' who operate as traveling marketers for Hello Tractor, signing up farmers, troubleshooting problems and facilitating payments. Once a farmer signs onto the service, she interacts with a tractor owner in a manner similar to Uber, the popular ride-sharing application. Hello Tractor installs a GPS monitoring device onto every tractor, enabling the owner to track their equipment, usage, and minimize fraud as their operator services farmers along their pre-booked route. After each job, the tractor owner and farmer can rate each other's performance, providing information for future transactions. Farmers are 40 times more efficient and incur one-third the cost of labor when using Hello Tractor compared to hand-based farming tools.
Figure 1: Basic Overview of Hello Tractor
Hello Tractor's results are impressive, enabling the firm to contribute to a range of the United Nations 2030 Sustainable Development Goals, including goals to eradicate poverty, end hunger and promote decent work and economic growth. Originally launched in Nigeria, Hello Tractor now serves over 500,000 farmers across seventeen developing countries.
However, Hello Tractor's digital ecosystem contains numerous bottlenecks impeding the firm's ability to reach its inclusive growth goals in rural and frontier areas of Africa and other developing regions. Usually, external factors cause these bottlenecks and impede the flow of information around Hello Tractor's digital ecosystem. In many communities, this includes poor roads, extensive use of cash rather than electronic-based payment systems and a lack of privacy laws. Such bottlenecks cause challenges mobilizing farming equipment, under-use of available tractors, duplicate bookings, signing up agents and discouraging existing agents to service such communities. Collectively, these problems reduce farmers' and tractor owners' trust in the system.
Funded by the Algorand Foundation, Boston University experts will use blockchain and contract theory to help Hello Tractor 'leapfrog' institutional and infrastructure problems in Africa and other developing countries and drive the formation of pro-poor, inclusive digital ecosystems.
The new blockchain-based solution, termed 'Tokenomics,' will develop and protect information on all bookings and tractor activities of tractor owners, streamlining the entire digital ecosystem. Access to tokens will improve Hello Tractor's current mobile and web app platform by creating incentives for farmers, tractor owners, booking agents, and investors to address the bottlenecks to access.
The partnership involves Hello Tractor, Jonathan Greenacre, Assistant Professor at the Pardee School of Global Studies as Principal Investigator and project lead, Will J. Tomlinson, Director of the BU's Software and Application Innovation Lab (SAIL) and Graham Epstein of the University of Waterloo.
To begin, Boston University and Hello Tractor will determine what jobs Hello Tractor's booking agents need to perform as a means of addressing current bottlenecks. These will likely revolve around encouraging booking agents and other actors to produce information, enforce agreements, provide infrastructure and/or take other steps to build users' trust in the Hello Tractor system. Second, Boston University and Hello Tractor will design the Tokenomics applications to generate those incentives. Third, Boston University will help Hello Tractor advance appropriate governance structures for implementing the Tokenomics app across different communities in Africa and other developing regions. This technology will help Hello Tractor deepen their current markets, as well as expand services to other developing countries, and reach their goal of 15 million small holder farmers by 2025.
The Tokenomics project will have several benefits. Most directly, the project aims to better support Hello Tractor's mission of supporting farmers in Africa and, by extension, helping feed the world into the 21st century. In addition, insights from the project could support the work of other firms trying to provide healthcare, clean energy and other services to rural communities. Over 1.7 billion people still lack access to an account with a formal financial organization, over 2 billion people lack access to safely managed drinking water and 2.5 billion lack access to clean fuel for cooking. Firms aiming to reach such communities face many of the same challenges as Hello Tractor. Reaching and effectively supporting these communities is a big job and technological innovations such as blockchain will be important for making it happen.
*
Never miss an update. Subscribe to updates from the Global Development Policy Center.