The Evolving Landscape of Chinese-financed Power Plants: Updates to the China Overseas Finance Inventory Database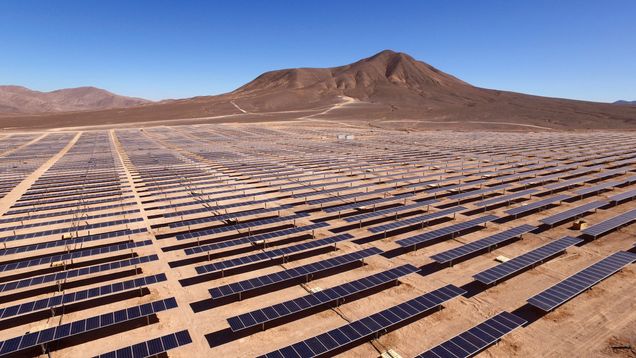 By Oyintarelado (Tarela) Moses
On July 6, 2022, the World Resources Institute (WRI) released an updated version of the China Overseas Finance Inventory (COFI) Database, which tracks Chinese-financed power generation projects in Belt and Road Initiative (BRI) countries. The COFI Database draws from the Boston University Global Development Policy (GDP) Center's suite of five interactive databases focused on Chinese loans and investment. Data from the Refinitiv Eikon Merger and Acquisition Database, the fDi Market Database from the Financial Times and a new source — the IJ Global Infrastructure Finance Database — were also incorporated into the COFI Database. WRI collaborated with the GDP Center, the China-Africa Research Initiative at Johns Hopkins University School of Advanced International Studies and the Inter-American Dialogue on the COFI Database.
The updated version of the COFI Database tracks 509 power plants representing 179.3 gigawatts (GW) of installed capacity financed from 2000-2021. Power plant capacity spans multiple fuel types: coal with 84.2 GW, gas with 34.3 GW, hydropower with 33.1 GW, solar photovoltaic (PV) with 11.7 GW, onshore wind with 4.7 GW, oil with 4.6 GW, nuclear with 3.3 GW, geothermal with 2 GW and offshore wind with 0.3 GW. The new updates entail a significant increase from the old version of the COFI Database, which tracked 430 power plants with 149.3 GW of capacity from 2000-2020. New entries came from updates to previous years and China-financed power plants in countries that signed a BRI memorandum of understandings (MOUs) with China since April 2021. Adding new BRI host countries introduced 12 new power plants from Argentina, Central Africa Republic, Eritrea and Malawi.
In addition to providing power plant specific information, the COFI Database breaks down the financing of recorded power plants. There are 584 financial transactions, of which 319 are debt investments and 265 are equity investments. China's policy banks – China Development Bank and the Export-Import Bank of China – are the primary debt investment lenders and are joined by Chinese commercial banks, such as Bank of China, the Industrial and Commercial Bank of China and others. Overall, $123.4 billion in loans financed power plants in the COFI Database. China's Silk Road Fund, state-owned enterprises and other companies are primarily involved in the greenfield and mergers and acquisitions equity investments. The data on equity investments is incomplete, due to missing information from commercial databases, therefore, conclusive results cannot be drawn on equity finance amounts.
Based on available information for installed capacity in the COFI Database, Figure 1 shows that debt financed power plants had the highest installed capacity for coal, gas, hydropower, nuclear, oil and geothermal fueled power plants. Conversely, equity financed renewable energy (e.g., solar and wind) plants had more installed capacity, specifically solar PV and onshore wind projects. While there are 48 debt-financed renewable energy plants, there are 120 equity-financed renewable energy plants. Several plants were financed by both equity and debt finance, and specifically, coal and hydropower fueled plants in this financing category represented a large amount of installed capacity.
Figure 1: Debt and Equity Financed Power Plants by Fuel Type (GW)
According to the COFI Database, as shown in Figure 2, the countries with Chinese debt-financed power plants with the highest installed capacity are Indonesia, Vietnam, South Africa, Thailand, Pakistan, Saudi Arabia, Nigeria, Ethiopia, Angola and Kazakhstan. Each country has Chinese debt-financed power plants with varied types of fuels. Of Chinese debt-financed power plants, coal-fired power plants' installed capacity dominates in Indonesia, Vietnam and South Africa while gas-fueled plants have more installed capacity in Thailand and hydropower plants have more installed capacity in Nigeria, Ethiopia and Angola. Overall, Chinese debt-financed plants tend to be fossil fuel plants with large generation capacity.
Figure 2: Top Ten Countries for Debt-financed Power Plants by Capacity and Fuel Type
As shown in Figure 3, the top ten countries with Chinese equity-financed power plants with the highest installed capacity are Indonesia, Pakistan, Malaysia, Bangladesh, Vietnam, Myanmar, South Korea, Egypt, Cambodia and the Philippines. Although each country has Chinese equity-financed plants with various fuel types, renewable energy plants have comparatively higher capacity than Chinese debt-financed clean renewable energy plants. Notably, solar PV plants exist in eight of the ten countries while solar PV plants existed in only three of the top ten countries receiving the most installed capacity of Chinese-debt financed plants. This shows the potential for Chinese equity financing to expand as a source of clean energy finance throughout BRI countries.
Figure 3: Top Ten Countries for Equity-financed Power Plants by Capacity and Fuel Type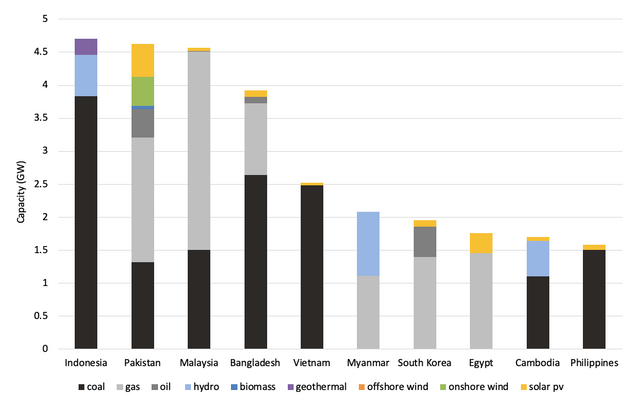 The COFI Database depicts the evolving landscape of Chinese-financed power plants and highlights the opportunities for Chinese institutions to shift finance to greener energy through both debt and equity finance.
Check out the updates and download the data to gain more insights about Chinese-financed power plants in BRI countries.
Explore the Database
*
Never miss an update: Subscribe to the Global China Initiative Newsletter.