Trends in Trade and Investment: China and Latin America and the Caribbean in 2021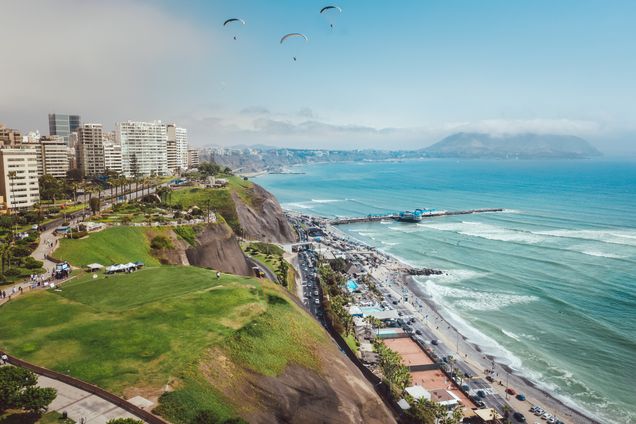 In 2021, for the second year in a row, China and Latin America and the Caribbean (LAC) agreed to no new official financing commitments from the China Development Bank (CDB) or the Export-Import Bank of China (CHEXIM).
Rather, the China-Latin America and the Caribbean Economic Bulletin, 2022 edition, published by the Boston University Global Development Policy Center, shows the China-LAC economic relationship continues to be dominated by commodities trade and infrastructure investment.
The study demonstrates that China remains a major buyer of extractive and agricultural exports, while Chinese investment is concentrated in the electricity sector. The bulletin also highlights two new areas of trade cooperation: commodities for renewable energy and COVID-19 vaccines. Despite the lack of new financing commitments, debt renegotiations are ongoing between China and Ecuador, and may begin with Argentina and Suriname in the coming year. Finally, 2021 was an active year on the diplomatic front, with several LAC countries joining the Belt and Road Initiative (BRI) and the Asian Infrastructure Investment Bank (AIIB).
China-LAC trade: Commodities, new and old
China's trade surplus with LAC grew to 1.2 percent of regional GDP, a record high, as Chinese production began to rebound from the pandemic-induced slowdowns. This pattern was not limited to LAC, and China's trade surplus with the world also grew significantly in the past year. Much of LAC's exports to China consist of agricultural and extractive products; China accounted for 34 percent of LAC's extractive exports and 20 percent of agricultural exports in 2021.
Figure 2: China's Share of LAC Exports, by Sector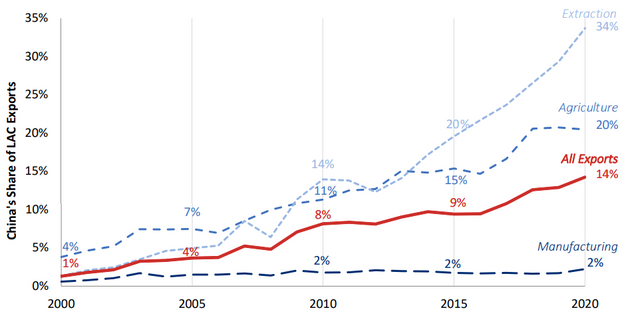 Even as China has followed through on its commitment to purchase $200 billion in agricultural goods from the United States, China's share of LAC agricultural exports remained flat, notably for soy and meat products. China's demand for soy rebounded after the African swine fever epidemic among hogs subsided, increasing the demand for hog feed. Even as Chinese imports of beef and pork have declined, its imports from LAC fell much less sharply than imports from the rest of the world, indicating a continued reliance on LAC for these products. Land conversion to support soy and beef production has been one of the primary drivers of deforestation in the Amazon basin in recent years, so this sustained high level of exports has important environmental implications for the region.
Figure 4: China's Imports of Bovine and Porcine Meat, by Source
Traditional products such as soy, copper, iron and oil have been joined in recent years by new commodities for renewable energy, including balsa wood, bauxite and alumina, and newly important metals such as lithium, molybdenum and niobium. China's annual imports of balsa wood from Ecuador, used in the interior of wind turbines, grew 57 percent between 2012-2016 and 2017-2021. Even more striking has been the growth in Jamaican alumina imports, which skyrocketed nearly 3,000 percent in the same period. Alumina has numerous applications in electric vehicle batteries, wind turbines and solar panels. Chinese companies have also begun investing in Guyanese mining, Jamaican refining and Mexican manufacturing of bauxite and alumina.
LAC has a long history of mining, concentrated in copper and iron, but renewable energy requires new metals such as lithium, molybdenum and niobium, all of which are found in large quantities throughout LAC. The lithium triangle countries (LTCs) of Argentina, Bolivia and Chile have seen a 91 percent increase in China's imports of lithium carbonate, a key component in electric vehicle batteries and in energy storage technology for solar and wind power sources. Molybdenum has applications in solar panels and the steel frames of wind turbines, while niobium alloys are used in steel alloys and electric vehicle batteries. Molybdenum is mined alongside copper, and Chinese companies have significant investments in Peruvian copper and molybdenum mining at the Toromocho and Las Bambas projects. In Brazil, Chinese mining companies have invested in niobium extraction and production of the ferroniobium steel alloy.
Also of note in 2021 has been trade in COVID-19 vaccines; LAC contracts with Chinese vaccine manufacturers totaled over 1.5 billion doses as of January 2022. Chinese vaccines account for 29 percent of the region's COVID-19 vaccine purchases. While there is variation between countries, this is roughly in line with China's share of overall merchandise imports to the region, 31 percent. Most LAC countries source their vaccine imports from diverse sources, including China, Russia, the United Kingdom and the United States, likely to minimize the risks of shortages from any one source.
Box A, Figure A: China's Share of LAC Countries' COVID-19 Vaccine Contracts and Share of Overall Merchandise Imports from Vaccine-Source Countries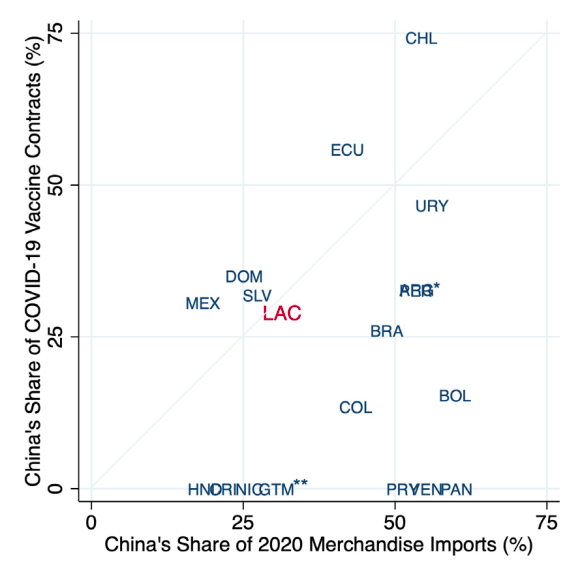 China-LAC foreign direct investment: Electricity mergers dominate
FDI projects can arrive in one of two avenues: new "greenfield" projects, or mergers and acquisitions (M&A) deals, the acquisition of, or merger with, existing projects. Greenfield (GFDI) projects often take years to occur after an announcement, while M&A deals are one-time purchases that have already taken place. As such, each avenue is examined separately.
In 2021, Chinese M&A deals totaled nearly $6 billion, compared to only $646 million in new Chinese GFDI projects in the region. Many of these M&As come as Western investors are leaving the region in the wake of pandemic-induced economic difficulties, and Chinese capital is willing to take on the higher risk for the long-term benefits.
In keeping with recent trends, M&A deals have been overwhelmingly in the electricity distribution sector, totaling $5.5 billion in 2021 and accounting for 71 percent of China's total M&A investment in LAC from over the past five years. This is especially noteworthy considering that for the rest of the world, this sector only makes up 7 percent of total deals, while extraction accounts for 30 percent. In 2021, two major deals characterized this trend:
China Three Gorges Corporation (CTG) purchased a 13.5 percent stake in Peru's Luz del Sur utility for $561 million in February, adding to its 2020 purchase of an 83.6 percent stake.
State Grid Corporation of China acquired a 96 percent stake in Chile's Compañía General de Electricidad for approximately $5 billion, purchasing it from Spain's Naturgy Energy Group. This deal was originally announced in 2020 and finalized in July 2021.
Figure 6: Chinese and Other M&A Deals in LAC, 2017-2021, by Sector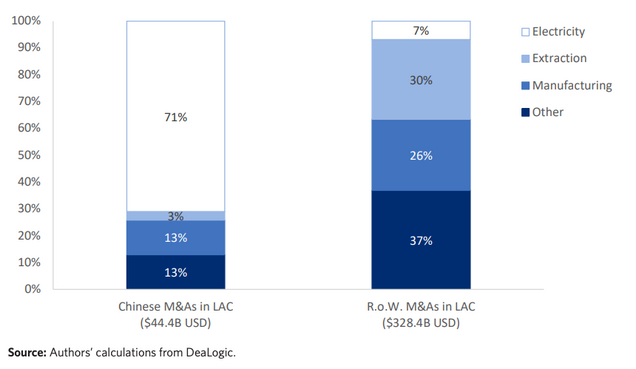 Chinese GFDI in LAC fell for the second year in a row, down from $2.6 billion in 2020 and a high of $13.5 billion in 2019, and for the first time since 2005 registered below $1 billion. Huawei and Tencent Cloud data centers in Brazil and a Hisense home appliance manufacturing plant in Mexico accounted for $500 million of the $646 million total. Chinese GFDI follows a larger trend of declining GFDI in the region, with totaled only $35 billion, less than half of the $75 billion invested in 2020.
Figure 7: Top Five Sources of GFDI Announcements in LAC, 2017-2020
China-LAC development finance: Renegotiations take center stage
China's two policy banks, CDB and CHEXIM, traditionally comprise the vast majority of official Chinese financing in LAC. For the second year in a row, neither bank finalized any new loans or credit lines with LAC governments. Many LAC countries still have significant debt obligations from previous years however, leading to concerns about debt sustainability in some countries, particularly Suriname and Ecuador.
Suriname's bilateral public and publicly guaranteed (PPG) debt to China amounts to 17 percent of GDP, and its total external debt amounts to 100 percent of GDP. In June 2021, Suriname proposed a 30 percent debt reduction in principle from its official creditors, including China, but as of March 2022, there has been no formal agreement. It did, however, report that China has assured its willingness to work together on restructuring Suriname's debt.
Figure 8: Total PPG Debt Exposure to China and the World, Most Recent Data
Ecuador's suspension of $891 million in debt payments has now expired, and following President Lasso's trip to China for the Beijing Olympics in February, further negotiations are planned for later this year. Ecuador has also explored the possibility of a debt-for-nature swap with China to support the creation of a 60,0000 square kilometer marine reserve surrounding the Galapagos Islands. This proposal comes after an illegal fishing incident in 2020, where China and Ecuador cooperated to toughen regulations and increase monitoring of China's international fishing fleets. President Lasso presented the swap at the 2021 United Nations Climate Change Conference (COP26), and as of March 2022, no Western creditors have offered to fund it, leaving China as an attractive option for Ecuador.
Explore Chinese loans to Latin America in the China-Latin America Finance Database.
China-LAC diplomacy: A banner year
This past year saw a flurry of diplomatic activity from Latin American states joining the BRI and AIIB and establishing relations with China. As of March 2022, sixty percent of LAC countries – 21 of 35 – are BRI members and five countries are also full members of the AIIB. In December, Nicaragua broke relations with Taiwan and established relations with the People's Republic of China. Parallel to this announcement, the two countries agreed that China would donate 200,000 doses of its Sinopharm COVID-19 vaccine to Nicaragua, the first shipment of a promised 1 million doses. Nicaragua also joined the BRI, alongside Costa Rica, El Salvador, Panama and ten other Caribbean countries who have BRI membership.
Argentina also joined the BRI, though the announcement came in early 2022. Argentina and China have already signed a Memorandum of Understanding (MOU) outlining over $23 billion in financing, focused mainly on infrastructure projects including railroads, hydro- and nuclear power facilities, water and sanitation and housing.
In 2021, two LAC countries became full members of the AIIB after having been prospective members: Argentina and Chile, joining Ecuador and Uruguay. Peru also took on full membership in January 2022, becoming the fifth LAC country to join both the BRI and AIIB. Bolivia and Venezuela remain prospective AIIB members as well as BRI members, while Brazil is a full AIIB member without joining the BRI. Even as six countries are full members of the bank, the only loan approved to the region was a  COVID-19 Crisis Recovery Facility for Ecuador, approved in 2020.
Figure 10: AIIB and BRI Memberships in LAC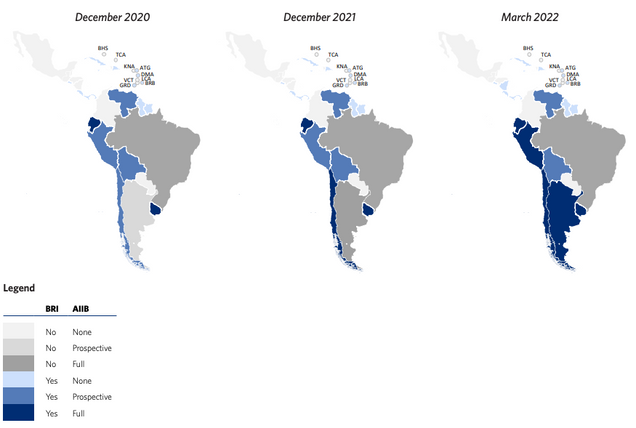 Outlook for 2022 and beyond
2022 is off to an active start, with Peru joining the AIIB in January, Argentina's announcement to join the BRI in February and the presidents of Argentina and Ecuador visiting China in February for the Beijing Olympics. Considering these diplomatic events, 2022 is likely to see China's official financing to LAC re-enter the picture, especially after the $23 billion MOU with Argentina.
Trade in 2022 is likely to continue its uneven rebound, amid uncertainty in the prices for key commodities, especially copper and iron. As new commodities such as balsa wood, alumina and lithium grow in importance for the Chinese and global economies, revenue from these exports may provide some stability to LAC economies.
Figure 9: Prices of LAC-China Export Commodities, Actual and Forecast
Renegotiations of existing debts are likely to continue with Ecuador, following an announcement in February 2022 that the two countries agreed to initiate formal talks this year. Suriname and Argentina may also seek renegotiations following the International Monetary Fund's formal restructuring plan for Suriname and verbal agreement with Argentina at the time of writing.
In summary, the economic relationship between China and Latin America and the Caribbean is poised to continue growing and strengthening in 2022, driven in part by the continuation of earlier trends in commodities trade and electricity sector M&A deals. In addition, trade and investments in new commodities for renewable energy, innovative financing mechanisms such as debt-for-nature swaps and deeper multilateral cooperation have also come to the forefront in the past year, setting the stage for an evolving economic relationship. The success of this relationship will depend partially on China and LAC's joint governance of economic, environmental and social aspects of these new investments, financing agreements and trade patterns.
Read the Bulletin
 Never miss an update: Subscribe to updates from the Global China Initiative.