Chart of the Week: Brazil's Slide into Deindustrialization
In the midst of the COVID-19 shock, further trade liberalization has been presented as a pathway to economic recovery, exemplified by the proposed EU-MERCOSUR free trade agreement (FTA).
A June 2021 working paper published by the Boston University Global Development Policy Center assessed the prospects of the FTA, finding the agreement may compound economic stagnation and lead to higher inequality, especially in MERCOSUR.
In the case of Brazil, a major economy within the MERCOSUR bloc, the findings were especially pronounced, as Brazil's economy has been sliding into strong deindustrialization for years. For example, between 2000-2014, growth rates of GDP per capita and labor productivity in Brazil were on a downward trend, averaging 2.9 percent and 1.8 percent per year, respectively.
Additionally, employment expanded in more stagnant than dynamic sectors of the economy, which reverses key development dynamics. Indeed, the authors found the manufacturing sector featured low productivity and output growth, while the FIRE (Finance-Insurance and Real Estate) sector has boomed.
This Chart of the Week, featuring Figure 6 from the working paper, visualizes the growth of stagnant over dynamic sectors in Brazil: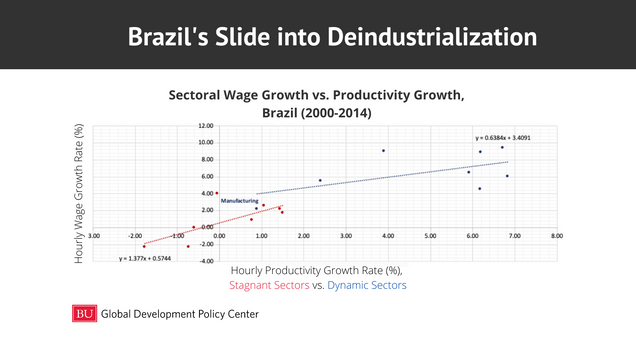 According to the authors, "this retreat of manufacturing and the increasing share of FIRE in value added and profits, provide evidence for strong deindustrialization," noting that, "increased financialization and trade liberalization were among the main forces pushing manufacturing into the stagnant zone."
In terms of other impacts to Brazil, the authors estimate the FTA would accelerate the expansion of the agri-food and mining sectors, which will have negative impacts on development and will likely increase pressure on carbon energy reserves and other natural resources.
Read the Working Paper
Explore the Brazil Toolkit