Letter to the USTR and EU Trade Commissioner: Support Pandemic Recovery for Least Developed Countries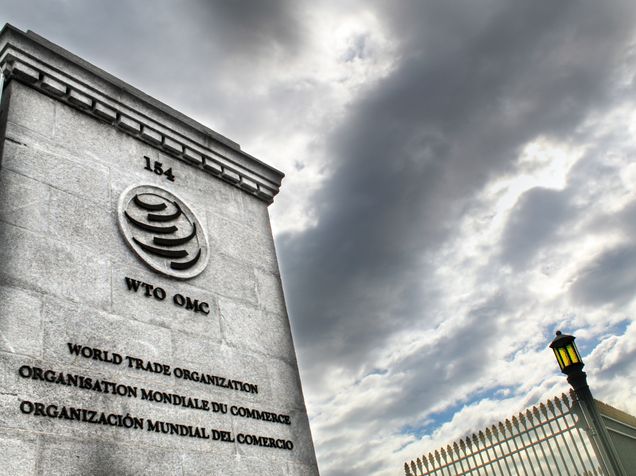 On April 22nd, 2021, members of the Boston University Global Development Policy Center's Working Group on Trade and Access to Medicines called upon United States Trade Representative, Katherine Tai and the European Union Trade Commissioner, Valdis Dombrovskis with an urgent request to extend the transition period for Least Developed Countries (LDCs) under Article 66.1 of the World Trade Organization's Trade Related Aspects of International Property Rights (TRIPS) Agreement:
Dear Ambassador Tai and Commissioner Dombrovskis,
We, the undersigned, a collective of researchers and academics with expertise and experience in economics, public health, political science, law and a host of other fields, are deeply committed to promoting widespread access to health products, educational resources, green technologies and other public goods. These goods are inextricably linked to the United Nations' Sustainable Development Goals and the advancement of human rights, food security, climate action, and sustainable and equitable technological and industrial development, especially for Least Developed Countries (LDCs). In light of these concerns, we urge you to support the transition period requested by the LDC Group to the WTO's Council for Trade Related Aspects of International Property Rights (TRIPS) (IP/C/W/668).
Article 66.1 of the TRIPS Agreement accorded LDC Members of the WTO an initial ten-year transition period with an automatic right of further extension. This grants LDCs exemption from implementing most TRIPS obligations in view of their special needs and requirements, including their economic, financial and administrative constraints, and their need for flexibility to create a viable technological base for their own innovation. The general transition period was originally due to expire on December 31, 2005, but has since been extended twice following the LDCs' requests. However, each time, the full demands of LDCs have not been met, with high-income countries only willing to give impractically short extensions. The most recent transition period extension granted in 2013 is again set to expire on July 1, 2021. On  October 1, 2020, the LDC Group submitted a duly motivated request to the WTO TRIPS Council (IP/C/W/668) seeking an extension of the LDC transition period, for as long as a country remains an LDC and an additional period of 12 years as a country graduates from its LDC status to ensure smooth transition. We are firmly of the view that this request is fully justified.
Short extensions granted to date have proven to be ill-considered and unrealistic, requiring LDCs to repeatedly seek extensions from the TRIPS Council. They are also impractical given that LDCs require development of their own industrial policy and a viable technological base to overcome capacity constraints, all of which requires a long-term strategy. Further, even as LDCs graduate from the LDC category, these challenges persist. This flexibility is also vital for countries to be able to respond effectively to emerging global challenges, including the pandemic and the ongoing climate crisis, and to uphold the rights of their people. In recognition of this situation, United Nations General Assembly resolutions have called on WTO Members to consider extending the existing special and differential treatment measures and exemptions available to LDCs to graduated LDC Members.
The pandemic has had a severely destructive impact on the economic prospects and long term development of LDCs, which forecloses a sustainable strategy to meet TRIPS obligations. While advanced economies have benefitted from historically low interest rates to fund response packages, sources of income for LDCs have dried up with remittances plummeting, global supply chains collapsing and tourism halted. The G20 offered a postponement of bilateral debt payments due from LDCs, but this fell far short of the fiscal space necessary to combat the virus and protect lives with no similar treatment for private or multilateral debt. To put the inequality of the economic crisis in perspective, the global stimulus response has amounted to more than $13 trillion, but less than 1 percent of this has been made available to lower income countries.
The year 2020 marked the final year of implementation of the Programme of Action for the Least Developed Countries for the Decade 2011–2020 (Istanbul Programme of Action). While some very modest progress may have been made, LDCs continue to face daunting development challenges, now aggravated by the COVID-19 pandemic. The United Nations Development Programme (UNDP) estimates that global human development, as the combined measure of the world's education, health and living standards, is on course to decline for the first time in 30 years. The World Bank has estimated that a quarter of a billion more people will slide into poverty (on a $3.20 daily benchmark) as a result of the pandemic. Moreover, most LDCs are not likely to have access to widespread COVID-19 vaccination and effective treatments for several years. Many other health services have been halted or decreased due to the pandemic such as child immunization efforts. By all accounts, LDCs will be most affected by the COVID-19 pandemic for many years to come. In this context, the economic, financial and administrative costs associated with the current deadlines for TRIPS implementation are unacceptable.
In conclusion we request that you honor the obligation under Article 66.1 and unconditionally accord to the Least Developed Countries their properly motivated and requested extension and adopt the decision text proposed in IP/C/W/668. Any attempt to refuse or weaken the LDC's request will be unconscionable given the social and economic hardship at this unprecedented moment. Instead, adopting the LDC request in its entirety will strengthen the credibility of the WTO as an institution that can benefit the poorest and most vulnerable segment of the international community and meet the collective challenges we face.
Signed,
Kevin P. Gallagher, Professor, Frederick S. Pardee School of Global Studies, Boston University; Director, Global Development Policy Center
Veronika Wirtz, Associate Professor, Department of Global Health, Boston University School of Public Health; Director, World Health Organization Collaborating Center in Pharmaceutical Policy; Director, Certificate in Pharmaceutical Development, Delivery and Access.
Warren Kaplan, Clinical Assistant Professor, Department of Global Health, Boston University School of Public Health; Member of the World Health Organization Collaborating Center in Pharmaceutical Policy
Joseph E. Stiglitz, Professor, Columbia University
Mariana Mazzucato, Professor, University College London
Jose Antonio Ocampo, Professor, Columbia University
Ha-Joon Chang, Reader in the Political Economy of Development, University of Cambridge
Philip Alston, Professor of Law, New York University
Rachel Thrasher, Researcher, Global Development Policy Center, Boston University
Brook Baker, Professor of Law, Northeastern University School of Law; Senior Policy Analyst, Health GAP (Global Access Project)
Deborah Gleeson, Senior Lecturer, School of Psychology and Public Health at La Trobe University
Jayati Ghosh, Professor, University of Massachusetts at Amherst
Chiara Piovani, Associate Professor, University of Denver
Joel Lexchin, Professor Emeritus, York University
Richard Elliott, Executive Director, HIV Legal Network (Canada)
Mauricio Aragno, PSM specialist, UNDP/MSF
Farida Khan, Professor of Economics, University of Colorado, Colorado Springs
Susan Craddock, Professor, University of Minnesota
Anis Chowdhury, Adjunct Professor, Western Sydney University and University of New South Wales, Australia
Ellen 't Hoen, Global Health Law Fellow, Law Faculty, University of Groningen
Nicolas Pons-Vignon, Professor, SUPSI
Hans V Hogerzeil, former WHO Director of Essential Medicines Policies, Professor Global Health, University of Groningen, Netherlands
Marzia Fontana, Research Associate, IDS at Sussex
Raffaella Ravinetto, Senior researcher, Institute Tropical Medicine Belgium
Elisa Van Waeyenberge, Co-Head of Department, SOAS University of London (Economics)
Scott Burris, Professor of Law and Public Health, Temple University
Abiodun Awosusi, Health Economist, Health Systems and Development Enterprise
Kristof Decoster, Knowledge Manager and Health Policies Newsletter Editor, ITM
Erlend Grønningen, Consultant and Researcher, University of Bergen
Sharan Burrow, General Secretary, ITUC
Alison Tate, Director, Economic and Social Policy, ITUC
Xavier De Bethune, Retired Public Health Physician
Pritish Behuria, Lecturer and Assistant Professor, University of Manchester
Michael Palmedo, Assistant Director for Interdisciplinary Research, Program on Information Justice and Intellectual Property, American University
Richard Hill, President, Association for Proper Internet Governance
Thomas Pogge, Professor, Yale University
Ilene Grabel, Distinguished University Professor, Josef Korbel School of International Studies, University of Denver
Claudia Marcela Vargas-Peláez, Director, Fundación IFARMA
Jeff Rudin, Research Associate, Alternative Information & Development Centre (AIDC), Cape Town, South Africa
Bing Han, Senior Research Fellow, Department International Investment, Institute of World Economics and Politics, Chinese Academy of Social Sciences
Pedro Mendes Loureiro, Lecturer, University of Cambridge
Deepak Nayyar, Emeritus Professor of Economics, Jawaharlal Nehru University, New Delhi
Gita Sen, Professor, Public Health Foundation of India (PHFI)
Isabel Ortiz, Director Global Social Justice, Initiative for Policy Dialogue (IPD) at Columbia University
Gabriele Köhler, Independent Development Economist
Bodo Ellmers, Director, Financing for Sustainable Development Program, Global Policy Forum Europe
Frances Stewart, Professor Emeritus of Development Economics, University of Oxford
Dr. Dan Gay, Advisor, United Nations; Advisor, Organisation for Economic Co-operation and Development (OECD)