China's Global Power Database – Data Download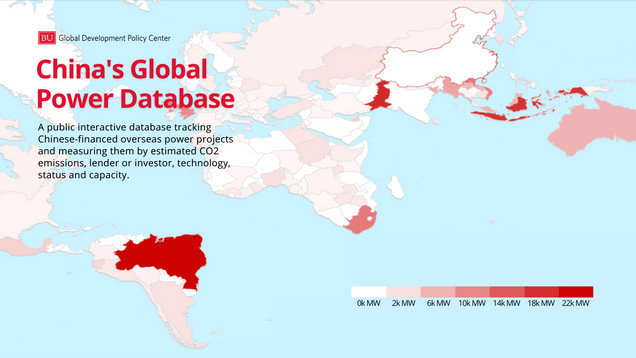 The China's Global Power (CGP) Database tracks global power plants outside of China financed by Chinese foreign direct investment (FDI) and/or China's two global policy banks, the China Development Bank and the Export-Import Bank of China. The database also tracks and displays the deal types, Chinese investors and/or lenders, percentage of ownership by investor, amount of capacity in megawatts, type of technology, operating status and the estimated annual CO2 emissions of the power plants.
As of mid-2022, Chinese capital has supported 648 power plants overseas, representing 1,423 individual power generating units providing a total of 171.6 GW of power generation capacity. Among these power plants, Chinese capital participation includes FDI in the form of greenfield investments or mergers and acquisitions and debt finance.
Suggested citation: Boston University Global Development Policy Center. 2022. China's Global Power Database. Retrieved from https://www.bu.edu/cgp/.
For media inquiries, contact Maureen Heydt, mheydt@bu.edu.
Read the 2022 Policy Brief
Download the Data
下载数据库