Webinar Summary: China's Global Energy Finance and China-Latin America Finance
On Weds., Feb. 24, the Global Development Policy (GDP) Center and the Inter-American Dialogue (IAD) hosted a webinar discussion to highlight new research on Chinese overseas development lending to both global energy projects and Latin America and the Caribbean (LAC). The webinar covered updates to two different interactive databases, both with supporting policy materials:
China-Latin America Finance
China's Global Energy Finance
The webinar included GDP Center Director Kevin P. Gallagher, Senior Researcher Rebecca Ray, China Research and Project Lead Xinyue Ma, and Margaret Myers, Director of the Asia & Latin America Program at the IAD.
To start, Kevin Gallagher introduced the panelists and framed the discussion in the context of ensuring a green and inclusive economic recovery from COVID-19 around the world. He noted, "The key to a successful COVID-19 recovery is not simply growth, but the kind and composition of that growth – that it is both inclusive and climate sustainable." 
Next, Xinyue Ma presented findings from the China's Global Energy Finance Database, stating that last year China's overseas energy financing decreased by 43 percent, from $8.1 billion in 2019 to $4.6 billion in 2020. Despite this dip in financing, Ma pointed out that this amount is roughly on par with energy sector lending by the World Bank last year: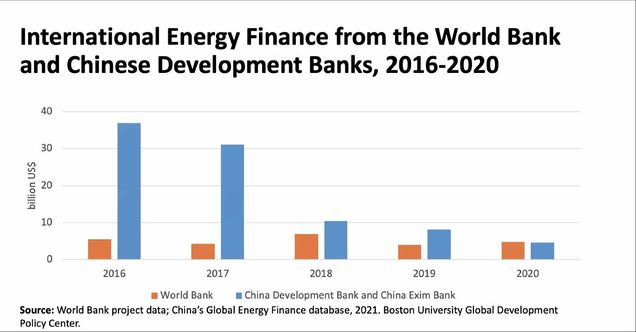 Ma also explained where the 2020 financing went – in eight loans to eight countries, half of them in Africa:
From there, Ma also summarized the energy source and sectoral distribution of China's global energy finance in 2020 and commented on the impact of a series of climate action commitments also signed in 2020.
Next, Margaret Myers from IAD summarized the new research on China-Latin America finance, noting that, "For the first time since 2006, China Development Bank (CDB) and Export-Import Bank of China (CHEXIM) gave no new loans to LAC governments in 2020."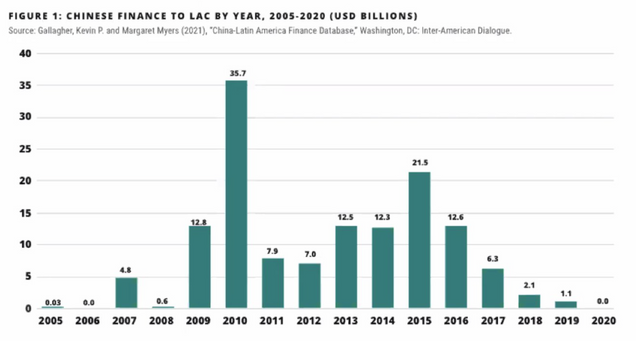 Discussing the drop in financing, Myers commented on the difficulties of the pandemic-era project management process. She also discussed past lending from CDB and CHEXIM, noting that CDB has historically been a larger funder to the LAC region than CHEXIM.
To conclude, she commented that with the drop in financing, China's record of sovereign lending no longer surpasses that of other major development banks and that it is possible some financing may come back in 2021.
Next, Rebecca Ray discussed the broader economic context of the China-LAC relationship in 2020, drawing on insights from the GDP Center Economic Bulletin.
To begin, Ray discussed "China-led multilateralism" in the region, meaning which countries in LAC are members of the Belt and Road Initiative and/or the Asian Infrastructure Investment Bank (AIIB):
She also presented three different viewpoints on China's $214 million aid in COVID-19 supplies and equipment to LAC last year, commenting that while the aid was widespread it was heavily concentrated in Venezuela in particular: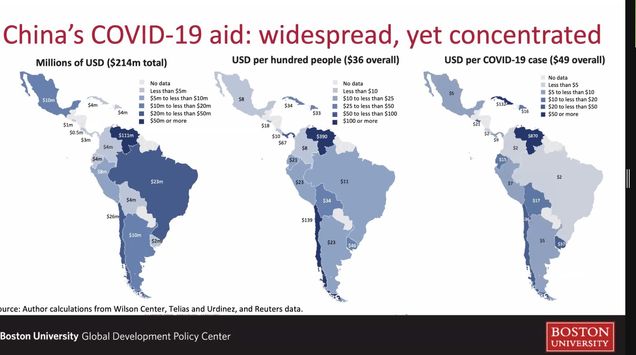 Among other highlights, Ray commented that 2020 did not see evidence of any "debt traps closing," suggesting that the narrative is not a useful frame for discussing China-LAC economic relationship.
The discussion ended with a Q&A session with the audience. More highlights are available on Twitter from the GDP Center.