Five Policy Priorities for an Internationalist Climate President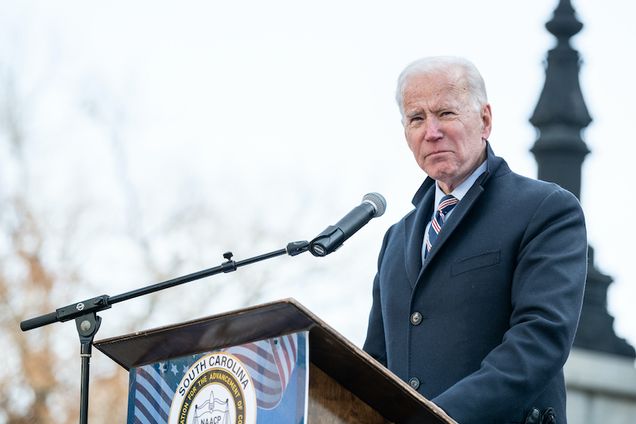 Winning more votes than any other presidential candidate in American history, Joe Biden has pledged to tackle the interlinked crises of COVID-19, economic recession, racial injustice, and climate breakdown.
The incoming administration's green stimulus plans would make the United States the world's biggest investor in a low-carbon future, according to recent analysis of COVID-19 response packages. Independent assessment from Moody's has also shown that this plan also makes good economic sense, and will lead to millions of new jobs and higher wages for US workers. While there is an ongoing policy discussion on how to transform the US into a green economy with racial and social justice at its core, leaders from around the world are convening this weekend for the Climate Ambition Summit. Biden's horizon for action needs to urgently extend to the international plain.
Biden will be keen to carve his own path in the multilateral system after four years of the Trump approach. This should not be a return to the pre-Trump status quo on foreign policy and diplomacy, which delivered vast inequality and interlinked injustices for the poorest Americans and people around the world, who continue to bear the brunt of climate damage. Nor should US climate policy become isolated in its own tightly sealed silo. Such an approach has stalled necessary action for decades and prevented a truly systemic and structural approach that connects global climate action to civic and economic transformation and an anti-racist and anti-colonial agenda.
If Biden is to make good on his climate platform, he needs to be committed to global action. To set him off on the right foot, here are five priorities for his first days in office:
Energize and Exceed the Paris Agreement.

The President-elect has already promised to re-join his peers in global climate talks and will be expected to make a net-zero by 2050 commitment. The US will be the last G7 country to set this target; however, the International Energy Agency has calculated planned emissions cuts globally amount to only 15 percent of the reductions needed to fulfil the Paris Agreement, never mind keep warming below 1.5C. As the US is the biggest historic carbon emitter and built its wealth from extraction, it should now take the lead and commit to exceeding the Paris Agreement.
With the renewed ambition of a Biden administration and US economic firepower, his presidency could shift the dial and ignite a race to zero that ripples beyond rhetoric. This approach must be underpinned by significant funding commitments for the poorest economies who are dealing with devastating climate impacts. Commitments must not be watered down with false solutions, like carbon capture, carbon trading and monoculture nature-based solutions, which displace indigenous people, sustain the fossil fuel industry, and delay green transitions. A starting point is to commit the $8 billion of unpaid commitments during the Trump presidency to the Green Climate Fund (GCF), and to make sure commitments to the GCF are scaled up in the years ahead.
Secure Fiscal Space for Climate.

The COVID-19 response should also be a green reset, but not all countries are able to achieve the first, never mind the latter. While the richest countries have been able to deliver more than $12 trillion in response packages, the poorest countries simply don't have access to the same fiscal and monetary powers. Compounding this squeeze is the debt crisis at their doorstep, which is looming for reasons largely out of their control. Some countries are on the verge of default and many are spending vastly more on debt service payments than health budgets.
So far, the G20 has offered debt suspension covering just 3.65 percent of total debt payments due this year, which has ensured private creditors continue to collect rents. Earlier in the pandemic, the UN Conference on Trade and Development (UNCTAD) and the International Monetary Fund (IMF) estimated Emerging Market and Developing Countries (EMDEs) needed $2.5 trillion to mount similar protections for their own citizens, but Boston University's Global Development Policy Center research has found the global community has failed to deliver with the levers at their disposal.
One concrete action a Biden administration can take is to reverse the Trump administration block and advocate for a broader issuance and reallocation of Special Drawing Rights (SDRs), which would provide crucial fiscal space to respond to the virus and prevent development rollbacks. Another would be to call for a new program of debt relief and debt restructuring with compulsory private sector participation that can redirect countries' saved payments into their own green and just transitions.
A Climate Retrofit for Trade and Investment

. If he wants to deliver on pro-worker commitments, like bringing supply chains back to America, Biden will be up against a rule-based system at the World Trade Organization (WTO), which has prioritized footloose capital. A dogmatic approach to increasing trade and investment as a fundamental good ignores the current reality: offshored jobs, a race to the bottom on rights, untethered corporate power over policy space, the financialization of vital social and physical infrastructure, inequality within and between states, and climate devastation.
COVID-19 has shown the international trade system is not fit for purpose, with the collapse of global supply chains, unprecedented capital outflows for fragile economies, and blockages in the rapid and equitable distribution of medicines and equipment.
Biden should take the chance to offer a progressive vision of international trade that can retrofit the system for a climate just world and ensure the Global South has a fair chance at technological upgrading for their own green transitions.
One immediate action is to call for a 'Peace Clause' as proposed by UNCTAD on all trade and investment rules on pandemic-related actions to ensure governments have the policy space to overcome barriers to emergency measures. Moving away from the Trump administration's combative tariff tensions, Biden could pursue a new moment for trade multilateralism with progressive voices from every region at the helm. The objective should be to invigorate a transformation of the WTO to ensure every country – including the US – has the policy space to use trade and investment as engines of green and just transitions.
Reverse support for the fossil fuel industry

. It is an economic dead end to consider the fossil fuel industry as partners in combatting climate change, yet they have garnered more dollars from global pandemic stimulus packages than renewable energy. While the fossil fuel industry's purposeful obfuscation of climate impacts is widely known, the US continues to subsidize extractive practices at home and abroad to the tune of hundreds of billions per year, according to the IMF. To keep warming below 1.5C, 84 percent of fossil fuel assets simply cannot be burned, which should mean a brisk end to the fracking industry.
With the oil industry on its knees, these subsidies should be redirected to stimulate rapid decarbonization, training and green job creation for affected communities – a plan that already has Biden's backing. However, poorer countries shouldn't be left to pick up the bill for writing down stranded assets. The Global South will need more support to transition away from dirty energy and should be afforded extra room within remaining carbon budgets to ensure a transition does not devastate communities or development. If the US committed to stopping all fossil fuel subsidies and brought the international community with it, trillions of dollars could be redirected to industries of the future and to communities adversely impacted by the transition.
Rebalance Power for the People.

While CEO pay balloons and billionaires increase their fortunes during a pandemic, regular working people in the US and around the world have more precarious jobs and less social protections, if any at all. This inequality has led to a deep mistrust in established political processes, manifesting in the surge of extremist movements around the world that threaten security and safety for all, particularly marginalized communities in the Global South. One consequence is a popular cynicism with climate action that falls heaviest on household budgets, which is unsurprising when 71 percent of total emissions since 1988 come from 100 companies alone.
Power of people over the vagaries of the market should be rebalanced, not only for the equitable economic prosperity, but if talk of repairing the social contract is to mean anything. This includes strengthening worker power and protecting inequity-busting public services from privatization. Currently, governments have been unable to take necessary economic and climate actions for fear of capital outflows, credit downgrades, or corporate lawsuits. To ignore this democratic deficit is to shelf ambitious climate industrialization and policies that uphold and strengthen rights.
A determined Biden administration should spearhead an agenda proposing a global competition authority, coordination on reining in the power of digital giants, a truly international approach to corporate tax avoidance and evasion and move to end the private financing of fossil fuels.
While challenges lie ahead in implementing Biden's agenda, over two thirds of the US public back increased spending on green and renewable energy. But like the coronavirus, carbon emissions have no regard for borders, and climate breakdown requires unprecedented global solidarity to tackle this existential crisis and build back better.
If Biden wants to go down in history as the Climate President, he will also have to be an internationalist.